Bridgerton-Inspired Period Piece Dresses and Accessories
Want to emulate the regal fashion featured in Bridgerton on your wedding day? We have compiled 12 dresses and jewellery pieces from empire waist gowns to luxurious jewellery sets to help you live out your Regency fantasy!
We have included third party products to help you navigate and enjoy life's biggest moments. Purchases made through links on this page may earn us a commission.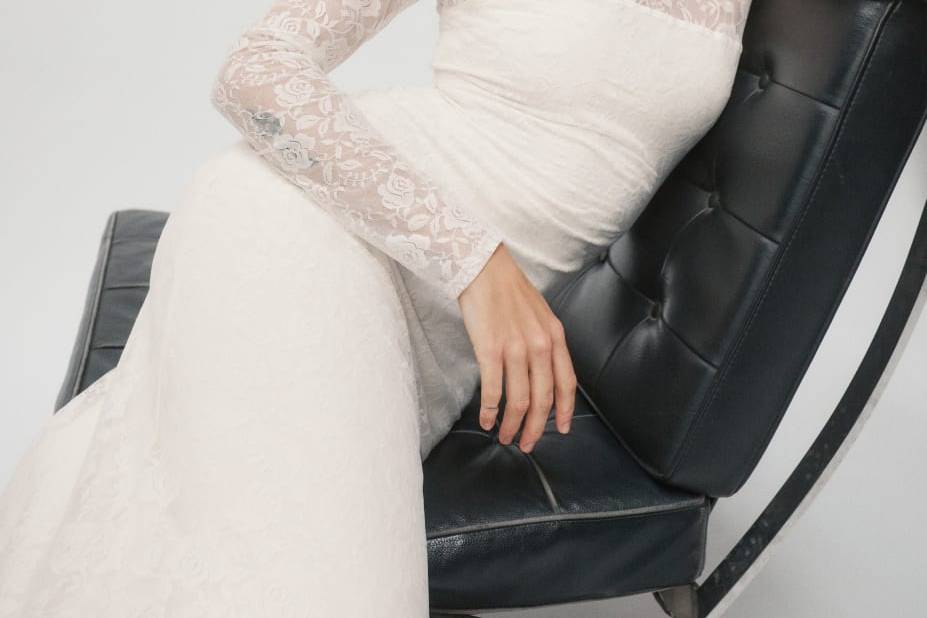 The whirlwind drama Bridgerton is making a much-needed comeback, and if you're completely hooked like us, then you're ready to get into the thick of the romance, the drama, and of course, the fashion. Most can agree that the stand-out element of this series, aside from the secret romances and conspiratorial Lady Whistledown, is the opulent fashion that graces the screen at every turn. If you're a newlywed-to-be and completely drawn to the extravagant gowns and accessories featured in Bridgerton, why not consider incorporating Regency fashion into your own wedding wardrobe?
Luckily, with a variety of designers sourcing inspiration from Bridgerton, period-style bridalwear has become quite accessible. So your dream of dressing like the Duchess of Hastings is more than attainable! Whether you have your sights set on the Bridgerton clan's signature empire-style dress or prefer to add opera-style gloves to your look, we have you covered!
Browse through our 12 best Bridgerton-inspired bridal gowns and accessories and fall head over heels in love with these luxuriant 19th-century inspired pieces.
Bridgerton-Inspired Dresses
1. Luxury Satin Regency Dress – €215, Robedexception
Let's start off with a classic regency-style satin wedding gown. Featuring the coveted empire waist and delicate puff sleeves, this Daphne-esque dress from Robedexception is the epitome of 19th-century fashion. This understated wedding gown is perfectly beautiful as is, but if you prefer a bit more bling you can easily embellish it to your tastes with bejewelled belts, necklaces, and earrings.
2. Edition Beth Square-Neck Linen-Blend Cloqué Dress – €1,090, Cecilie Bahnsen
If you have something less traditional in mind, why not go for this square neck dress by Cecilie Bahnsen? This designer gown is silk lined to give you that luxurious feel, while the textured fabric adds a unique element to its design. In keeping with Bridgerton's famous silhouette, this dress offers you the classic empire waistline, while its dainty straps and ankle-length hemline make it a perfect option for a summer wedding!
3. Silk Satin Ruffled Midi Dress – €2,028, Alessandra Rich
Queen Charlotte brings the drama to Regency wear with her endless ruffles and ribbons. If you love the details in her dress on the show then you'll adore this midi dress by Alessandra Rich! This flowy silk-satin dress features a deep ruffled neckline, cinched waist, and free-flowing skirt that will be sure to flatter all body shapes.
4. Morgan Cutout Crepe Jumpsuit – €2,198 Alex Perry
Let's face it, Lady Danbury is one of the most iconic characters in Bridgerton, as are the looks she pulls throughout the series. Known for her high-neck coats and collared dresses, she represents the edgy side of Bridgerton's fashion. If you want to make a statement on your special day, consider this cream-collared cut-out jumpsuit by Alex Perry.
5. Otrano Dress – €595, Reformation
If you love Lady Danbury's more modest take on gowns in the series but want something a bit more playful, then Eloise's style is sure to hit the spot. Eloise is known for her tulle, mesh, or lace long sleeves which she wears under her everyday gowns, and this high neck lace dress by Reformation represents a modern take on her statement look. This dress features elegant floral details throughout and delicate button closures at the neck, giving the gown a refined touch.
6. Portia Gown – €1,083 Jenny Yoo
If it's the trademark square neckline that has you falling in love with Bridgerton's gowns, then we've got you covered! This stunning square neck fit and flare gown by Jenny Yoo is just the dress you need to make a subtle nod toward the Regency style on your wedding day. This gown features a low back with a lace trim which beautifully accents the dress. Pair with a pearl necklace to elevate the sophistication of the look.
Bridgerton-Inspired Accessories
Now that you've found your perfect dress, you surely need some accessories to match! Read on to see our top picks of Bridgerton-worthy accessories.
7. Olive Branch in Full Bloom Tiara – €57, Kariannessecret
Moving from head to toe, first up we have the tiara and earring bridal accessory set from Kariannessecret. If there's one thing we love about Bridgerton's jewellery, it's the matching sets often worn by Daphne Bridgerton. This olive branch-themed tiara topped with Austrian crystals offers the best of Daphne-inspired headpieces. Paired with matching classic drop-down earrings, these accessories are bound to add to the luxury of your wedding look.
8. Silver Bridal Set – €109.34, Bridalglamourandmore
This matching necklace, bracelet, and earring set by Bridalglamourandmore is everything you need to look just like royalty on your wedding day. The floral necklace sits just above the collarbone like many of Daphne's most coveted jewellery pieces, and the drop-down earrings will add an exquisite touch to your romantic look. If you prefer fewer jewellery pieces for your wedding look, worry not! All pieces can be purchased separately, so you can tailor your bridal accessories to match your vision.
9. Long Satin Evening Gloves – €34, Dents
Nothing says Regency like a good pair of satin evening gloves. These elegant gloves by Dent are the perfect accessory to tie together your Bridgerton-inspired wedding day look. Whether you want to go traditional and buy their white gloves or wish to channel your inner Featherington and go for some of their brighter colours, Dent's versatile range will be sure to satisfy your creativity.
10. Lace Gloves – €21, Dents
While over-the-elbow gloves are the most common type seen in the series, many of Bridgertons cast were also seen wearing short lace or tulle gloves. If long gloves are not your taste, but you still love the sophisticated modesty they offer, why not have a browse through Dent's selection of short lace gloves? When it comes to accessories in Bridgerton, more is always more! Stack the gloves with a Swarovski bracelet for an extravagant touch.
11. Marguerite Mules – €605.95, Malone Souliers
Malone Souliers worked in collaboration with Netflix to create a range of one-of-a-kind Bridgerton inspired footwear. The white mesh Marguerite mule features a stunning blue velvet ribbon detail which ties in with the pastel blue colour scheme often worn by the Bridgerton family in the series. Step into these handmade heels to walk a day in Daphne's shoes!
12. Marion Slingback Heel – €849.95, Malone Souliers
If an all-white wedding outfit is just not your style, why not try spicing it up with these lilac satin heels by Malone Souliers? Adorned with purple embroidered organza flowers, these heels will give you a pop of colour worthy of the Featherington clan! Pair with matching gloves to tie together your showstopping bridal look.
Outfit all set but still looking for the perfect setting? Browse our directory of stately homes and manor wedding venues to find the location that will tie your entire look together.