Wedding Planning Tools
Equip yourself with the most reliable wedding planning tools that will accompany you throughout this exciting process.
Tools that make wedding planning a piece of cake
Create your free Hitched account to start planning
Checklist
You can count on the most complete wedding checklist so you don't miss any important tasks you hadn't thought of.
Discover more
Personalise your tasks
Create new tasks or modify existing ones to personalise your Checklist.
Follow your progress
Control every detail through every stage of wedding planning.
Sync with your budget
Lucky for you, your Hitched Budget Planner syncs with your Checklist.
Supplier Manager
Don't lose time. Find and stay in contact with all your wedding suppliers.
Discover more
Contact suppliers
Write to your suppliers whenever you need to, straight from Hitched.
Keep a record
Take notes so you don't forget any important details about your suppliers.
Save your favourite suppliers
Easily compare the pricing and reviews of different suppliers.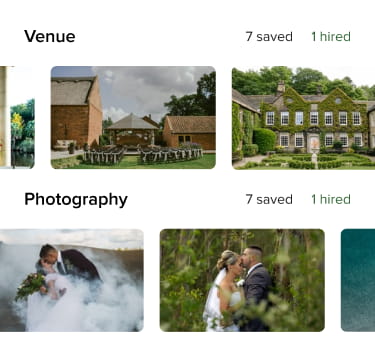 Wedding Website
Build your own Wedding Website that you can share with your guests.
Discover more
It only takes a few minutes
Make your website personal with wedding details, photos and more.
Update as you go
Keep guests informed about any changes, updates or relevant information.
Collect RSVPs
Your RSVPs will be easy to manage as your Guest List is synced.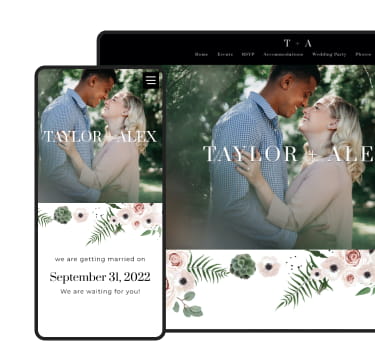 Time to create your free, customiseable Wedding Website
White you're having fun putting together your website, you can start thinking about your guest list
Budget

Let Hitched run the numbers and keep your spending on track

Revise budget

Seating Chart

Drag and drop guests from your list to assign everyone the best seat.

Sort your tables

Guest list

Build and handle your guest list and RSVPs seamlessly.

Add new guests
Get started and plan your big day

It couldn't be any easier to create a wedding website to share with your guests. Choose your own template to match your wedding style and start adding your details and photos.

Build your wedding website

Make your website feel personal with an engagement photo, messages for your guests, and maybe tell the story of how you first met. Customise the look and feel of your site by choosing a design and colours that reflects your wedding style.

We'll handle the RSVPs

All your RSVPs will automatically sync with your Wedding Website so that you don't have to lift a finger. Simply share your wedding website and let guests RSVP from there.

Yes, you can choose your own domain name

Have fun exploring domain names to pick one that feels personal to you as a couple. You'll want to choose a URL that is easy for guests to remember, so that they can go back to your website to consult your wedding information.
Frequently Asked Questions
Questions about our planning tools? Look no further!
Can I use the wedding planning tools free of cost?

Of course! All the tools you'll need to plan your wedding on Hitched.ie are free of cost. All you have to do is sign up with a free account and get started planning your big day.

What are the benefits of the Planning Tools?

The Planning Tools offer you everything you need to plan your wedding from anywhere. Stay on top of your tasks, budget, RSVPs, and keep track of your wedding suppliers. Each interactive tool is interconnected, so your Budget Planner is synced with your Checklist and your Guest List is synced with your Wedding Website. It couldn't be easier to plan your wedding.

How can I use the Planning Tools to plan my wedding?

Take control of your wedding plans. Start by looking at your Checklist. You'll see our task suggestions, but you can personalise them to your liking. Next, set a budget for each wedding cost you could possibly expect with the Budget Planner. You can also modify this as needed. As you hire suppliers, you can keep them neatly organised in the Supplier Manager. Once you have an idea of who you'll invite, start adding your loved ones to the Guest List tool, then use the Seating Chart to easily assign seats and create an easy seating plan that you can download and share with your venue or caterer.

How do these Planning Tools make wedding planning easy?

When you register for free, you'll be able to add your partner, giving them access to the planning tools as well. It's teamwork after all! Another way the planning tools make your life easier is that each tool can be personalised. You can edit the Checklist, include categories, expenses, you name it. Plus, all your tools are interlinked, meaning when you change a guest's attendance status, for example, it will reflect when you're dragging and dropping guests into their seats. That way, you don't seat someone who isn't attending. Certain items on your Checklist are also synced with your Budget. The Planning Tools are a time saver and a life saver.
Special thanks: Laura Ford Photos