7 Unmissable Mini-Moon Destinations
Unmissable mini-moon destinations in Europe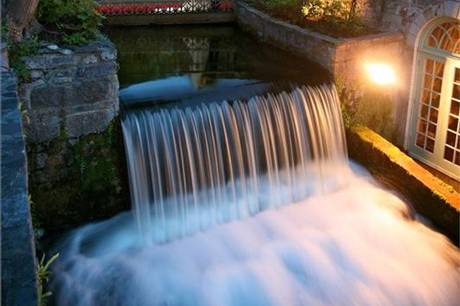 Sometimes, due to time or budget constraints, it's just not possible to go on honeymoon for an extended period of time, so why not consider a mini-moon? We've rounded up seven of the best European mini-moon locations so you can still enjoy a romantic break away to celebrate your marriage without breaking the bank...
The Village at Lyons, Co. Kildare, Ireland
If leaving Ireland isn't on the cards for you after your wedding, you can still have a truly amazing mini-moon at home. The Village at Lyons is only 20 minutes from Dublin, so you can escape from the city easily.
It's an ideal destination for foodie couples as there is an exclusive restaurant and even a cookery course, should you want to learn some new skills together. The 20 luxurious suites boast four-poster beds, have no televisions, and housekeeping won't disturb you until after 11am, so you can have lots of luxurious lie-ins and enjoy each other's company. If you do decide to venture out, you can explore the manicured grounds and take leisurely walks around the lake.

Prague
The capital of the Czech Republic is a charming city to visit all year round. It's just a two and a half hour flight from Dublin, and can be a winter wonderland or a warm getaway with plenty to see and do.
If you decide to visit Prague for your mini-moon after a winter wedding, prepare yourself by packing cosy scarves and gloves (Mr and Mrs customisation optional). The City of a Hundred Spires, as Prague is known, gets very cold and snowy — but this will add to the magic as you wander around Christmas markets, sampling traditional Czech food and very affordable mulled wine.
In the summer you can climb the hill to the castle and take in the views across the city, before enjoying a rewarding beer at one of the many breweries and beer houses in the city.

Brussels
Belgium is home to chocolate, beer and chips (amongst other things of course), which makes it the ideal location for a mini-moon break. Brussels is particularly wonderful as it offers so many sights. There is plenty to see and do in Belgium's capital city, useful if you need to walk off some of that beer and chocolate!
Photo credit: © WBT G. Batistini
Browse gourmet chocolate shops for the very best treats, and enjoy some French fries (often drenched in mayo) from a street vendor — Belgium is where the French fry was invented! There are also lots of museums in Brussels, including a comic museum, a museum devoted to surrealist art and a musical instrument museum — something for everyone! It is also pretty much an obligation to take a selfie next to the mannekin du pis — if you don't know why now, you will when you get there.
Photo credit: © J.P. Remy — www.opt.be
Photo credit: © Emmanuel Mathez — www.opt.be

Paris
Paris is the city of love, making it a popular choice for a mini-moon. You can visit iconic sights such as Notre Dame, and climb the Eiffel Tower — it's most romantic at night when you can look out over the twinkling lights of the French capital. It's also worth climbing to the top of the Sacré Cœur at sunset — one of the best spots to see the Eiffel Tower silhouetted against the changing sky.
Other perks of Paris include the food, the wine and the rich history. Whilst it can be expensive to dine in Paris, many of the back streets reveal authentic bistros which usually serve set menus at affordable prices. It's pretty much an accepted fact that the Parisians don't do bad house wine either. If you're looking to splash out — it is your mini-moon after all — Paris has plenty of Michelin-starred restaurants to tempt you. Try Benoit or Le Sergent Recruteur for the ultimate dining experience.
Bookish couples will love the city's history of famous authors and luminaries — in the Latin Quarter you can wander the street both James Joyce and Hemingway lived on, and sip cafe au lait in cafes once frequented by Scott and Zelda Fitzgerald.

Yorebridge House, Yorkshire, UK
This boutique hotel in the Yorkshire Dales recently won 'Most Romantic Venue' in the Mills & Boon The Romantics awards, and we can see why!
The venue, which has won numerous other awards such as Restaurant of the Year, is the only restaurant with rooms to hold three rosettes from the AA. The rooms themselves have to be seen to be believed — each one is uniquely decorated and features a super comfy bed. Some of the rooms even boast hot tubs — for the ultimate in mini-moon luxury!
As Yorebridge House is situated in the picturesque Yorkshire Dales, you can enjoy plenty of scenic walks, reminiscing about your wedding, as you work up an appetite ready for your return!

Ackergill Tower, Ackergill, Scotland
Ackergill Tower in Scotland is the ideal mini-moon destination for newlyweds who want something a little different. This amazing 15th century castle boasts 21st century luxuries, but it also has the largest tree house with a bedroom in Europe.
From your secluded tree house, you can enjoy 180 degree views of the surrounding woodland. Banish from your mind thoughts of drafty wood shacks perched on branches; this luxury location includes a circular bath and a 7ft rounded bed and a view of a twilight ceiling so you can stargaze as you both lie there together.
At certain times of the year, the Northern Lights can be witnessed at Ackergill, but even if you attend at a different time, there's still plenty to see and do — from long walks on the beach and fishing to afternoon tea and gourmet dining.

Amsterdam
Your husband to be might be considering Amsterdam for his stag, but that doesn't mean it's not an amazing mini-moon destination.
If you love cycling, Amsterdam could be the destination for you. There are 400km of cycle paths waiting to be explored, and scenic routes along the canals. The city boasts more bridges than Venice, so you're guaranteed good views (and great selfie opportunities) along the waterways.
Photo credit: © JL Marshall
Culture vultures will love the range of museums — you can visit Anne Frank's poignant hiding place, the Van Gogh museum and even the museum of bags and purses...and if you'd rather see nature than art, the famous flower market is unmissable (and very Instagram-worthy).
Photo credit: © Amsterdam Marketing
Visit our honeymoon section for more European mini-moon inspiration!