15 Timeless Wedding Gowns
Are you looking for a wedding dress brimming with timeless charm? From the glamour of the 1920s to the contemporary style of today, our selection features dresses that represent the fashion styles of times gone by and today.
We have included third party products to help you navigate and enjoy life's biggest moments. Purchases made through links on this page may earn us a commission.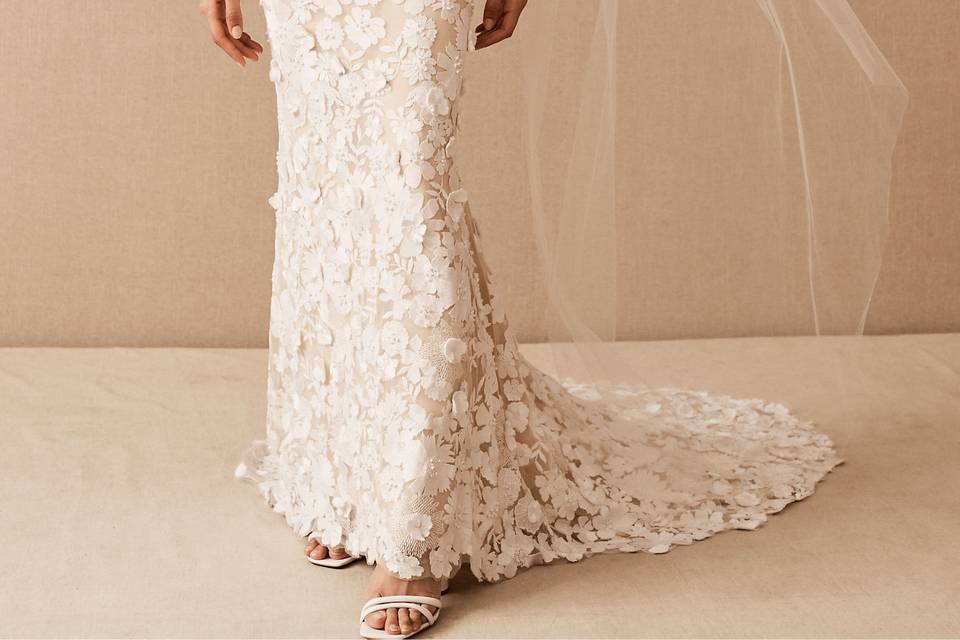 When you're trying to choose your wedding gown, take a look back in history for inspiration. From stylish Art Deco-inspired designs from the 1920s to the voluminous shoulders of the 80s, each era has something unique to offer. Or do you prefer the kitsch style of the 50s? Or perhaps you even want to be thoroughly modern with your wedding dress and take some influence from present-day styles. We understand that choosing your wedding attire can be a lengthy process, so we hope that this article makes it a little easier for you. Take a look through 15 of our favourite wedding gowns that take a leaf out of fashion history's book, each of which embraces the look of a certain decade. While you scroll, take a moment to think about how you're going to look as you walk down the aisle to your "I do" moment. See our bridalwear section for even more inspiration.
1. Remington Gown - €424.82, BHLDN
The Remington wedding gown from BHLDN is the perfect style if you want to channel a bit of 1920s glamour. The sleek sheath silhouette is given a vintage edge with panels of Art Dec-inspired beading and lace. Complete the look with a 1920s-style veil.
2. Gatsby Dress - €555, Reformation
Tip your hat to the artful draping of classic 1930s wedding gowns with the Gatsby Dress from Reformation. This sleek style puts a relaxed, modern spin on the typical styles of the era. It's perfect for anyone who can't decide between minimalism and vintage when it comes to their look.
3. Lace Maxi Dress - €245, Coast
This lace maxi dress is the ultimate definition of timeless. The tulle sleeves exude bridal elegance and the subtle neckline is soft and romantic. The best part? It's decorated with detailed lace patterns, making it ideal for nearlyweds who love lace!
4. Backless Spaghetti Strap Boho A-Line Wedding Dress - €357.55, JusBridal
This stylish wedding dress is a great way to add some timeless kitsch to your bridal attire. Though featuring some classic elements, it has an undeniably contemporary quality that you are bound to love. If you are planning a vintage wedding theme, you can complete the look with white gloves, a sleek up-do and vibrant lipstick.
5. Flutter Sleeve Backless Lace Bridal Wedding Dress in White - €378, Chi Chi London

The dress from Chi Chi London is ideal for adding a bit of 60s style to your wedding day. Its vintage style is perfect for soon-to-be newlyweds who appreciate a touch of retro charm. Complete your sixties bridal look with a beehive hairstyle finished with a white headband.
6. Prairie Maxi Dress - €312.62, Swinging Chick Shop
This floaty and feminine dress from Swinging Chicks Shop will add some laid-back 70s influence to your day. Made from silk chiffon, the gown has a light and delicate feel so you will appear to float down the aisle.
7. Alexander McQueen Puff-Sleeved Crêpe Gown - €2,900, Mytheresa

This puff-sleeved crêpe gown from Alexander McQueen is great for adding a stylish and unusual twist to your wedding attire. Its opulence and tradition will lend an 80s touch to your look.

Shop Now
8. Anika Dress - £495, Ghost London
The Anika Dress from Ghost London has a sleeveless design and a wonderful retro sheen reminiscent of old-world glamour. You will feel comfy and stylish in this gown as you walk down the aisle towards your "I do" moment!
9. Lace Vintage Wedding Dress - €107.98, Monica Margery
Are you a lover of eye-catching floral patterns and timeless sophistication? If so, this lace vintage wedding dress from Monica Margery is sure to suit your tastes! We had to take a second to admire its intricate lace patterns and romantic tulle.
10. Brigitta Gown - €1,694.57, BHLDN
With celebrity brides choosing tulle wedding gowns, this new decade sees a revival of lace dresses. This dress from BHLDN is perfect for creating an elegant and modern look.
11. V-Back Long Sleeve Dress With Train - €272, Coast

Now here's one for you train-lovers out there! This long sleeve dress from Coast is defined by its simplicity and sophistication, featuring a boat neckline and a longline skirt.
12. Cassie Embroidered Cape Wedding Dress - €441.25, Raishma

If you think that this embroidered wedding gown by Raishma has an air of royalty about it, then you'd be spot on! When planning this beauty, the designer was inspired by a gown they had created for a royal wedding guest. We think its intricate embroidery and high-quality materials are certainly fit for royalty!
13. Ethereal Lace Wedding Dress - from €388.85, Mimètik

As you can probably tell, we cannot get enough of lacey patterns. They are pretty and timeless, just like this beautiful gown by Mimètik! Perfectly blending classic and contemporary elements, it has an age-defying elegance that's very hard to ignore.
14. Tie Back Maxi Dress - €259, Whistles

Fans of modern minimalism are bound to be won over by this Whistles maxi dress. Effortlessly chic in so many ways, this gown is most notable for the understated elegance of its tie back and full-length silhouette.
15. Bohemian Linen Wedding Dress - €1,027.57, The Prancing Hare

Last but not least, we think it's time for a dress that makes a boho-chic statement. And what better gown to do it than this refined design from The Prancing Hare? Made from high-quality linen, this dress has it all: style, elegance, and a little bit of romance thrown in for good measure.