20 Pastel Bridesmaid Gowns
Pastels can give your wedding a whimsical and romantic feel, making them ideal for bridesmaid dresses. Our edit features a range of styles that can suit glamourous, garden-themed, classic, and other wedding themes perfectly.
We have included third party products to help you navigate and enjoy life's biggest moments. Purchases made through links on this page may earn us a commission.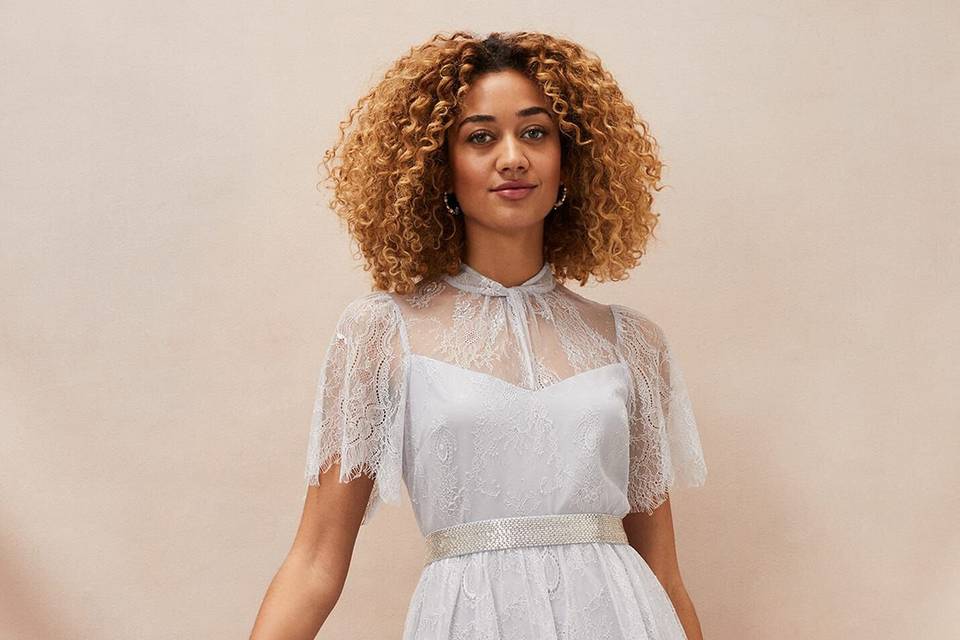 If you want to add a bit of whimsical romance to your big day then bridesmaid dresses in dreamy pastels will set the mood and tone of your day beautifully. These shades have a particularly softness that can really enhance your theme. We have selected 20 stunning gowns in mint greens, powdery blues, lemon yellows, and pastel pinks that would all work perfectly into your romantic nuptials.
These sherbert hues and variety of cuts are especially perfect for spring and summer weddings, but there is no reason they can't make an appearance in any season. Pastels are pretty versatile and they come in so many dress styles that you can easily find the one that suits your theme best.
You can view more bridesmaid gowns here if you are looking for more inspiration. The options feel almost endless.
And while you are at it, here are our tips and tricks for planning your hen do.
1. Evelyn Dress - €390, Reformation
We begin this edit with a stylish number that looks wonderfully perfect for a wedding and high tea. The subdued white floral details of this blue dress make it ideal as a bridesmaids gown. The simple cut is sophisticated too and is well suited for spring and summer soirees.
2. Evonna Dress, €205.34, BHLDN
This gorgeous cocktail-style bridesmaid dress in a dusty lilac colour has us thinking of spring! The midi dress features a pretty cutout and charming twist around the bust and is crafted from a crepe fabric for a chic drape.
3. Ginnie Lace Tiered Midi Dress - €229, Phase Eight
The lace tiers of this dress are so romantic, that it makes it perfect for a wedding celebration. Plus, we love how the material flows over the shoulders while providing a little hint of skin.
4. Ingrid Dress - €428, Reformation
Seriously, sometimes it is the simplest of cuts that make the biggest statement. This elegant bridesmaids gown in celadon features removable straps and a fitted bodice that gently flows into the skirt. Gorgeous? We were thinking so too!
5. Luana Lime Tiered Mesh Midi Dress - €114, Little Mistress
This tiered number features a fitted draped bodice, giving it a beautiful fit. Plus, the flowy midi skirt is perfect for hot summer days or for if you are planning a destination wedding in a more tropical or Mediterranean locale.
6. Tie Back Maxi Dress - €259, Whistles
Not only does this dress have an amazing mint colour, but the back is simply stunning. The wrapped tie-back is so very contemporary and chic. Plus, the mint colour is very cool, if we don't say so ourselves!
7. Embroidered Midi Cami Dress - €179, Coast
There is something gorgeously delicate about this cami-style dress. We love how the simple cut is paired with the intricate floral embroidery and we have to say it, that colour has us blushing!
8. Beckett Dress - €204.53, BHLDN
We love the blouson top of this stylish dress, which flows down into a slim skirt. Plus, that light peachy colour is so very pretty, which is all accentuated by the satin finish!
9. Andee Dress - €320, Reformation
A stunning buttercup yellow gown, this dress will work beautifully with a wedding that is using a palette of pastel shades. Although yellow is a notoriously difficult colour to wear, this delicate shade will work well on various skin tones.
10. Molly Maxi Dress - €259, Whistles
There is something incredibly sweet about this maxi dress in a light pink tone. The buttons down the front are stylish but also give it a sort of vintage look that we can't help but love.
11. Bridesmaid Hand-Embellished Halter Maxi Dress- €186, Boohoo
This peachy number features beautiful embroidery along the bodice that gives it a glamourous feel. Plus, that sleek fit is gorgeous!
12. Embroidered Floral Cami Maxi Dress in Mint - €207, Chi Chi London
We don't know what we love more, the mint colour of this dress, the floral design, or the overall high-low cut. There is something delicate and classic about it, but all with a twist that makes it ideal for those looking for traditional pastels but wanting to have a little fun with it too.
13. Art Deco Sequin Evening Blouson Dress in Mocha - €162.95, Danaya
Got a 1920s theme in your head? This dress might just be perfect then! The art-deco inspired design gives it a flapper feel while the pastel colour is sweet and sophisticated.
13. Lindsay Dress - €271, Revolve
The texture of this dusty sage dress has a contemporary look that is chic and modern. The simple cut helps showcase the beauty of the fabric, striking just the right balance.
14. Cream Smudge Print Maxi Dress - €60.74, Quiz
We love the dreamy look of this ruffled dress. The pastel florals in blues and pinks are romantic and eye-catching while the overall cut is classic.
15. Isobel Tapework Dress - €259, Phase Eight
The floral detail on this sky blue dress is wonderfully unique and ornate. The timeless shape makes it ideal as a bridesmaid dress, while the length is perfect for when the weather is warmer. If you are planning a pastel wedding for late spring and summer, this dress might be it for your wedding party!
16. All Over Pleated Maxi Dress - €169, Coast
Hosting a formal wedding? The pastel green of this dress is soft and romantic, and goes beautifully with the elegant draping. Simple and refined, this dress is sure to impress!
17. Esta Cold Shoulder Cowl Front Midi Slip Dress - €325, Ted Baker
When life gives you pastels, make gorgeous bridesmaid dresses! This yellow dress has us thinking of lemons and summery days. The off-the-shoulder details are especially great for warm weather while the overall understated cut keeps things formal.
18. Blush Botanical Border Print Silk Cotton Maxi Dress - €363, Karen Millen
With this dress, your wedding theme will be in full bloom! Just how gorgeous is the blush pink colour mixed with the illustrative botanical motifs? It would be especially perfect for garden-themed celebrations.
19. Lace V-neck dress - €69.99, H&M
Lace? Check. Classic cut? Check. In general, a fabulous pastel number for your wedding entourage at a great price? Check, check. There are many things to love about this midi dress, the price being only one of them!
20. Premium Delicate Lace Maxi Dress - €187, Oasis
The delicacy of this lace on this dress is stunning and the sage colour brings to mind fresh foliage in the spring. Plus, the floaty sleeves give it a romantic feel perfect that's for a wedding.
Now that you have taken a look at some pastel confections, be sure to check out our edit of our floral favourites for your wedding party. You may find yourself opting for a mixed match look!