15 Gorgeous Dresses for your Winter Wedding
Winter weddings can be magical and you'll want a gown to match! Check out our selection of seasonally inspired dresses that are sure to stun. From glittery details to elegant long sleeves, there is plenty of room to get creative with your look.
We have included third party products to help you navigate and enjoy life's biggest moments. Purchases made through links on this page may earn us a commission.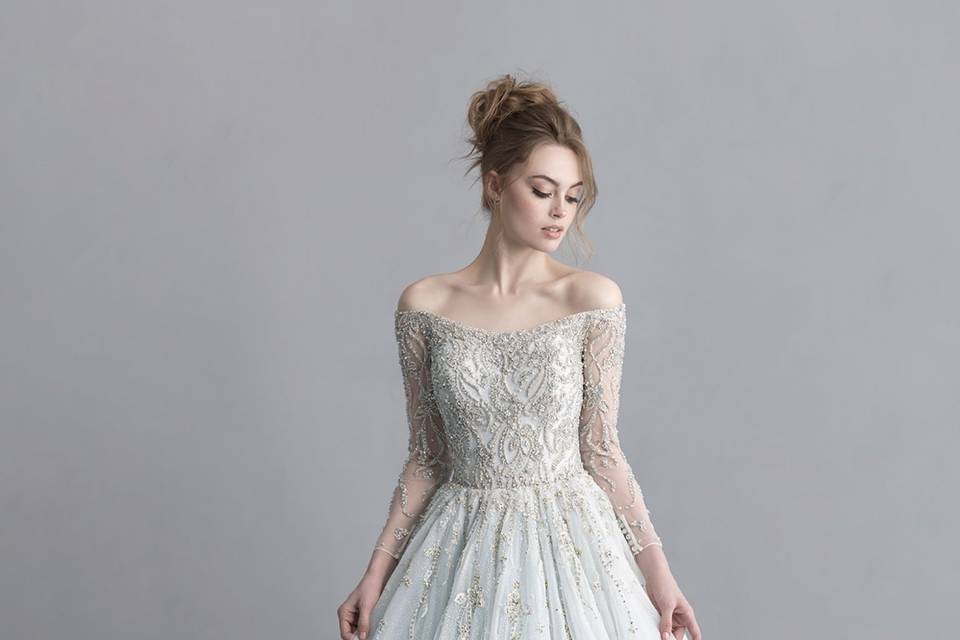 Springtime and summer weddings may offer the opportunity to play with your wedding attire, but that doesn't mean you can't get creative in the cooler months too. While you may want to carefully consider the weather, but there are plenty of wedding dresses to choose from that can still keep you warm. Sleeves are often a great choice, but don't discount the chance to incorporate accessories into your look! It can be the perfect chance to really make a wedding dress your own while adding practicality to a dress that otherwise is suited for warmer times of the year.
We've done some scrolling and searching for you to bring together 15 of our favourite winter wedding dresses. From gowns with chic sleeves to sparkly details that make one think of snow, the possibilities feel endless!
And once you have taken a look, don't forget your shoes! You can check out our edit of some iconic pairs here.
1. Allure Bridal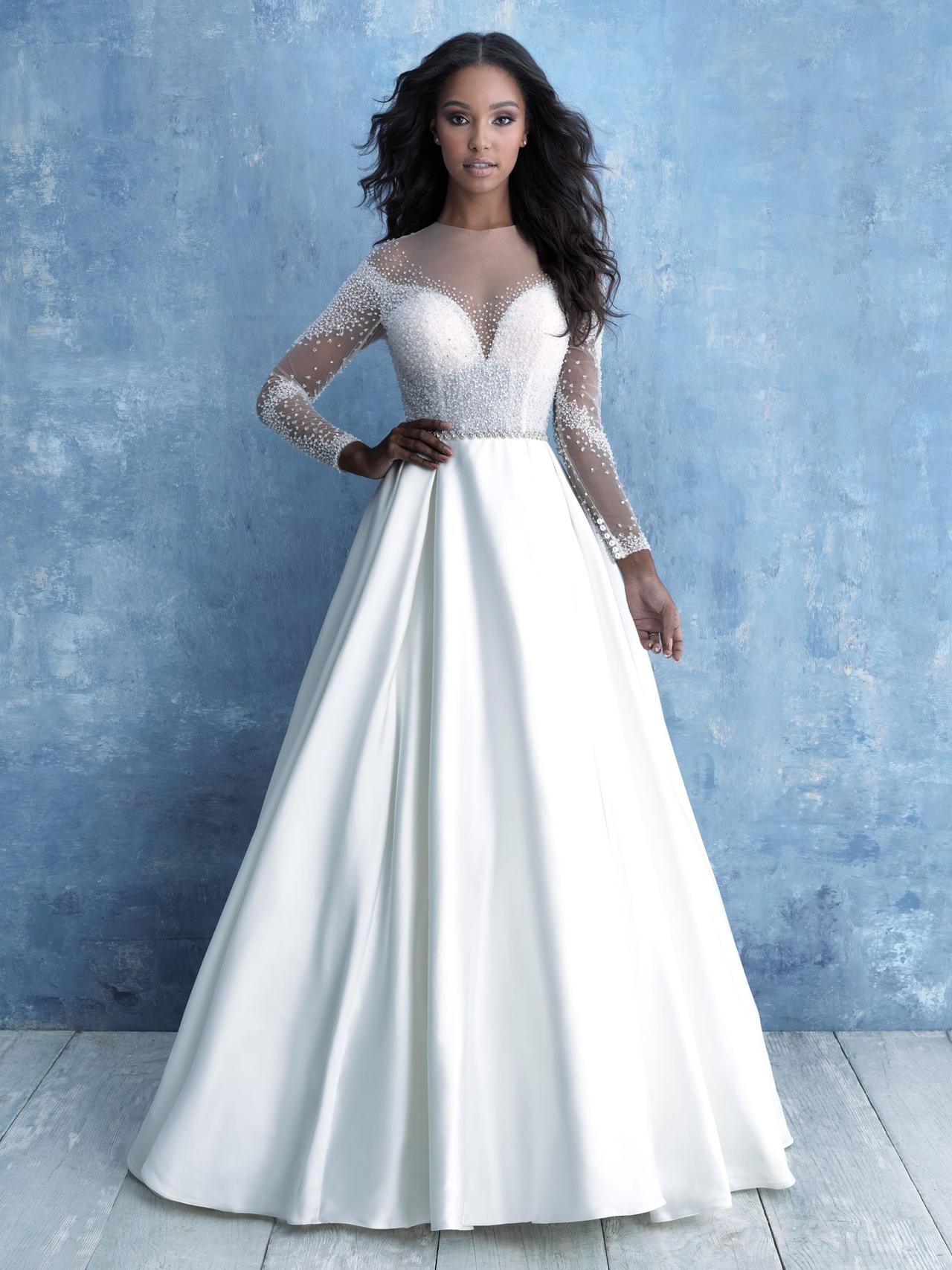 This gown from Allure Bridal has snow monarch written all over it. The beaded details along the bodice, illusion neckline, and sleeves brings to mind images of the gentle snowfall while the silky ballgown skirt feels luxurious. You'll be looking for a snowflake tiara next!
2. Durham Organdy A-Line Gown with Pleated Straight Neckline - Justin Alexander
You may be wondering how a strapless gown made it into this edit, but hear us out. This simple and floaty dress made with an organza fabric is understated and stylish on its own but super easy to accessorize with. Winter weddings can offer a really fun opportunity to play with outfit additions, like fur collars, capes, and cardigans, which would all pair beautifully with this simple confection.
3. Plunging Wedding Dress - €138.20, Thea James Bridesmaids
This dress from Thea James Bridesmaids on Etsy would perfectly suit a wintery wedding wonderland! It is handmade and has elegant pleating and a concealed slit in the front that makes it sophisticated and chic. We especially love how it falls to the ground and those long sleeves are sure to help keep you warm in the cooler temperatures.
4. High Neck Long Sleeve Bridal Maxi Dress in White - €147, Chi Chi London
While the front of this high-neckline gown is gorgeous too, we couldn't help but show off the back. It gives this otherwise modest dress a sexy touch while still suiting the winter weather. We also love how it comes just a little up off the ground, which can help you keep your hemline clean as you walk through rainy or possibly snowy conditions into your venue.
5. Satin Dress - €59.99, H&M
A winter wedding offers the chance to play with tradition. While many wedding dresses are white, a silver colour could suit just as well and it would complement the icy tones that are often found in this season's wedding palette.
6. Donna Wedding Dress - Mori Lee Madeline Gardner
If this dress doesn't say winter princess, then we don't know what does! The satin ballgown features a flouncy layered skirt that contrasts beautifully with the clean lines of the v-neck bodice. And those sleeves are perfect for keeping you warm!
7. Riva - Sassi Holford
The Riva dress from Sassi Holford is a winter wonderland dream. The sleek long sleeves are balanced by the deep V-neck and open back, showing off just enough skin without going overboard. Complemented by the pearl-beaded tulle skirt, it has a sense of sophistication that is hard to beat.
8. Elaine - Sassi Holford
Sassi Holford does it again with the Elaine dress. The contemporary touches with the cloqué detail make us think of snow but also gives the dress a modern twist. Add the button-cuff sleeves to this otherwise strapless gown and you've got a garment fit for an ice queen.
9. Annie Embellished Wedding Dress - €425, Phase Eight
Winter weddings don't have to be all about floor-length gowns and thick long-sleeves. This elegant dress comes down mid-calf and would suit perfectly for a courthouse wedding. The sheer long sleeves feel warm, but the icy beaded detailing makes this a lovely choice for celebrations held in the colder season.
10. Midi Dress with Buckle - Zara, €49.95
There is something so couture about this dress it had to make its way into our edit. We love it for its structured shape, clean lines, and buckle detail. The dress would especially work well for dancing later on in the night!
11. Carson Beaded Long Sleeve Ball Gown with Mikado Skirt and Pockets - Justin Alexander
This dress features an illusion bodice that is fully beaded with moonstones, pearls, and crystals that are sure to glitter in the light beautifully. This then flows down into a sleek circle skirt which is complete with pockets so you have a place to put your hands when they get cold!
12. Style: DP253 - Cinderella - Allure Bridal
We don't know if it is the beading (which includes 4,600 crystals and 44,000 additional sequins and beads) or the mix of ivory, blue, and silver, but this dress does more than invoke images of Cinderella. A part of Allure Bridals' Disney Fairytale Wedding Collection, this gown also brings to mind snow and ice in a truly magical way. It comes in an ivory and silver palette as well, for those not keen on the blue.
13. Sapphira Wedding Dress - Mori Lee Madeline Gardner
Yes, we know, there are no sleeves on this dress, but hear us out! With its fitted mermaid shape, this dress can easily be paired with a variety of winter wedding wear accessories, such as cardigans or even a feathery coat to complement the feather skirt. And with the pearls and crystals, the gown is sure to give off a sparkling glow.
14. Needle & Thread Margot Ankle Gown - €989, Zalando
Frills, sparkle, and tulle, what more could you ask for? This dress by Needle & Thread makes us think of snow gently falling on a beautiful winter's night, which makes it perfect for "I dos" held during the season!
15. Style T232070 - Jasmine Bridal
Inspired by vintage designs, this dress from Jasmine Bridal has us in awe. The soft organza skirt paired with the balloon sleeves feels timeless and sophisticated, which is only enhanced by the lace and pearl details. The cummerbund around the waist helps accentuate the figure as well, making this a flattering gown.
Feeling inspired and looking for more? Check out our edit of glittery gowns, which would also suit during this season.
Happy dress hunting!