A Diamond Dictionary
Our guide to diamond shapes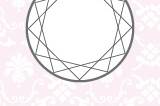 Traditionally the groom gives an engagement ring when he proposes, however more and more couples are making this special purchase together. If you are about to go and make one of the most important purchases of your life then take a look at our guide to diamond shapes and styles.
Round Brilliant Cut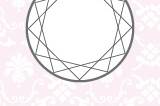 Created by Belgian Engineer Marcel Tolkowsky, this circular shape is cut in a specific way to maximise the amount of sparkle your diamond gives out. This traditional style is one of the most popular diamond shapes.

Oval Cut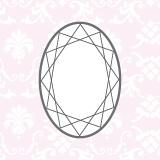 Oval cut diamonds follow a similar style to round brilliant cut diamonds, allowing the light to pass through and bounce off the diamond facets. The oval shape of this diamond is a really flattering style and a good quirky alternative to the traditional round cut.

Princess Cut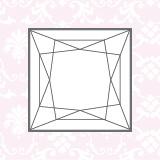 Another popular shape of diamond, the princess cut, is a square shaped diamond that then tapers down into a pyramid. It's very popular as it sits well as a single stone but is also sits beautifully between smaller stones.

Emerald Cut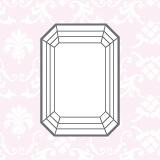 Emerald cut diamonds are stylish and perfect for a bride with some vintage style. The emerald cut diamond has rows of facets cut around the edges in a step-formation, a technique that was originally used to cut emeralds.

Pear Cut
Also known as teardrop diamonds, pear cut diamonds have an unusual shape — mixing the circular style of a round brilliant cut diamond with the length of a marquise cut stone. If you are looking for something unique then a pear cut diamond could be your perfect choice.

Cushion Cut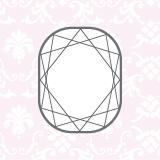 Cushion cut diamonds are also referred to as pillow cut diamonds, due to their square shape with rounded edges that resemble a pillow or cushion. It is a softer version of a princess cut diamond.

Heart Cut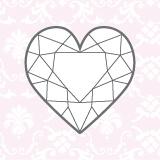 Heart cut diamonds have become popular in recent years. They take a very skilled cutter to create the exact symmetrical heart shape that is needed for the stone to look perfect.

Marquise Cut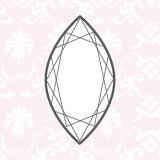 This stylish cut of diamond is commonly believed to have first been commissioned by King Louis XV of France who wanted a diamond to reflect the shape of his mistresses smile. This shape of diamond is also referred to as a navette, meaning 'little boat'.

Trillion Cut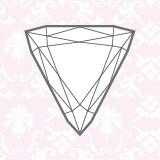 Trillion cut diamonds can also be called trilliant cut — this diamond is a triangle shape and the three sharp edges work perfectly to capture the light and maximise shine and sparkle. This stone is more commonly used as an accent stone rather than a central stone.

Radiant Cut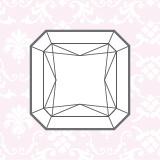 Radiant cut diamonds have a square shape with each of the four corners having a flat cropped edge. This unique design makes for a really unusual and stylish engagement ring.

Baguette Cut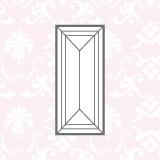 Baguette cut diamonds are slim and rectangular in shape and are commonly used as side stones to a central diamond. Due to their shape, they work very well alongside emerald cut diamonds.

Asscher Cut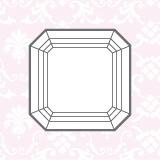 A similar shape to the radiant cut diamond, the difference being the asscher cut diamond has more step-cuts at the side, giving the diamond more sparkle as the light is able to bounce from the flat edges.