20 Princess-Cut Engagement Rings
These diamonds are fit for royalty! Consider a princess-cut engagement ring if you're a fan of classic, refined jewelry styles that will sparkle for years to come.
We have included third party products to help you navigate and enjoy life's biggest moments. Purchases made through links on this page may earn us a commission.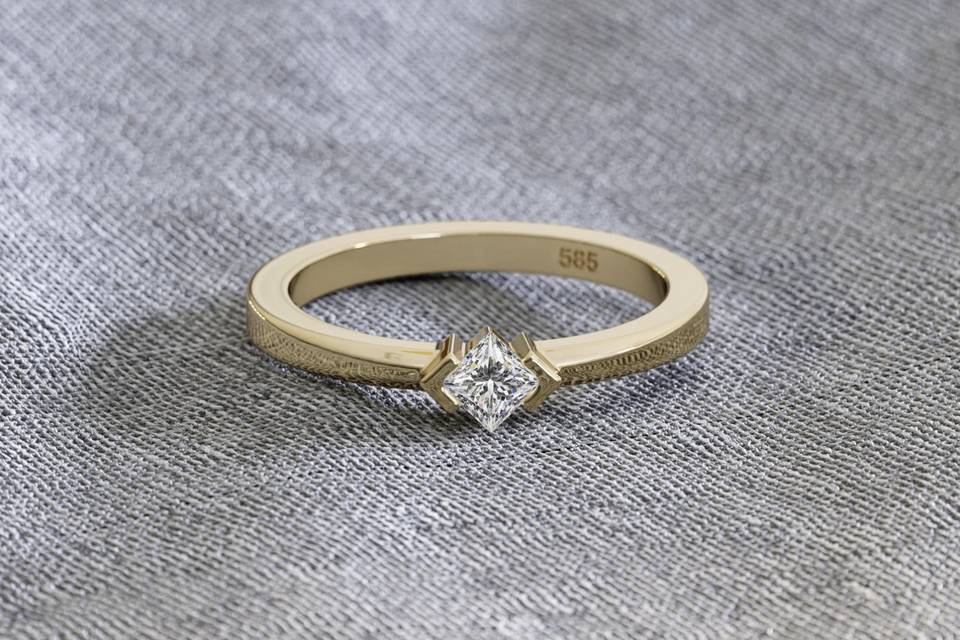 If you want an engagement ring that'll stand out from the usual solitaire diamonds, then a princess-cut ring could be perfect for you. Princess-cut diamonds are square in shape and have a classic, refined design that never goes out of style. Whether you adore fairytale happily ever afters or contemporary romances, this design offers a timeless aesthetic that you'll surely love for many years to come. The sparkling cut comes in a variety of silhouettes and is easily complemented by gold, rose gold, platinum, and silver bands, allowing you to personalise the versatile style to fit your unique preferences. You can even opt for a ring with multiple stones, for even more glamour.
We understand that choosing an engagement ring can feel overwhelming at times, so to simplify the decision-making process, we've narrowed down a list of our 20 favourites. These stand-out princess-cut engagement rings are sure to make you feel like a royal as you prepare for and celebrate your one-of-a-kind love story.

1. Platinum 0.50ct Princess Diamond Orchid Setting Engagement Ring - €3,700 Fields
This white gold engagement ring is perfect if you want an engagement ring that's exquisitely timeless. The single sparkling diamond is held in place with an orchid-style setting, adding a touch of romance to the ring.

Shop Now
2. Northern Star 0.38ct Four-Claw Diamond 18ct White Gold Ring - €3,300, Fields
This white gold and diamond ring is perfect for adding a bit of contemporary style. The brilliant cut of the stone means it will continue to shine for years to come.
3. Princess-Cut Diamond Ring - €5,862.20, Diamonds Mine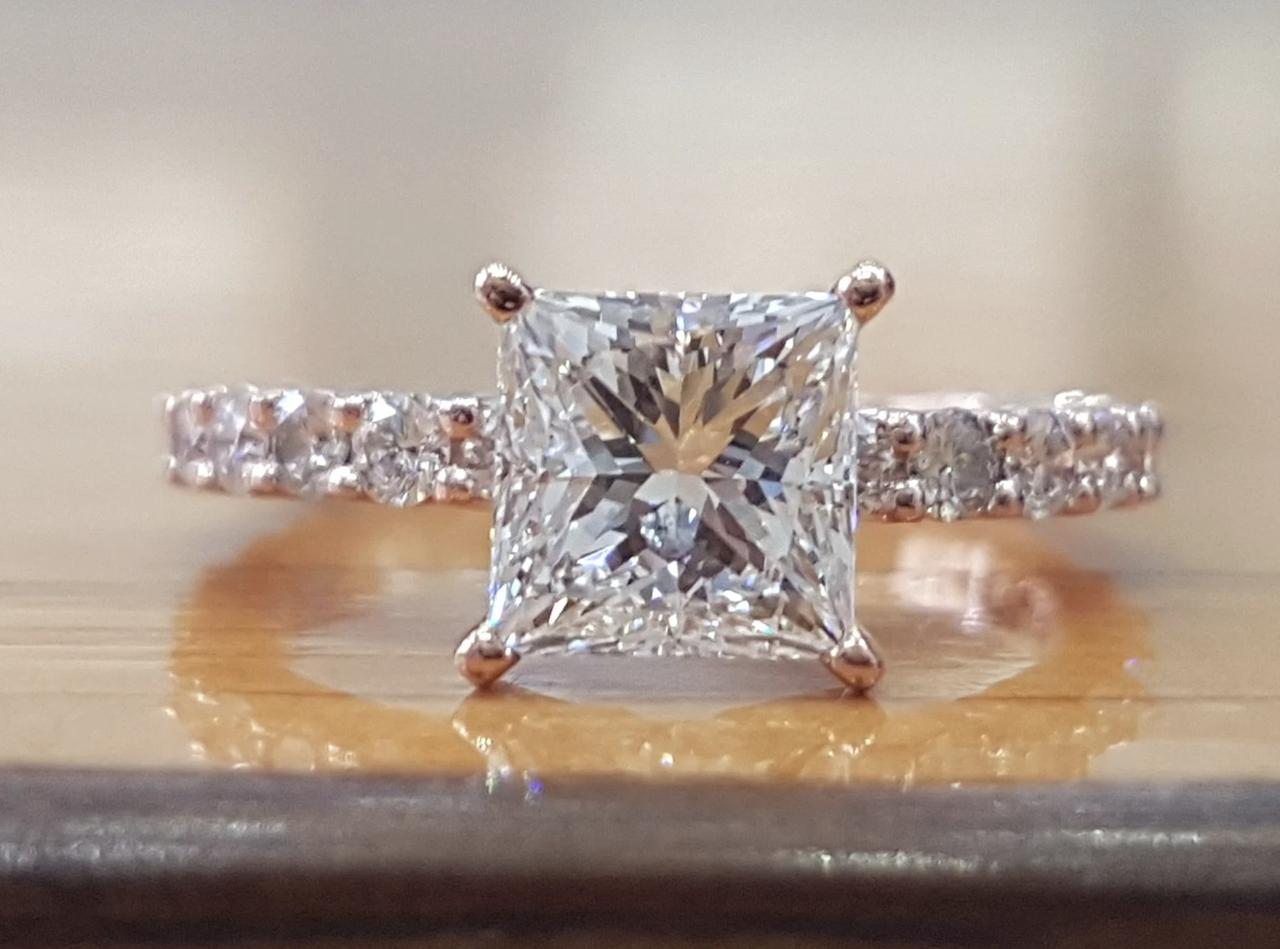 This stunning ring is shown here in rose gold morganite and diamond but can be customised and created using a variety of metals and precious or semi-precious stones. The style of this ring also means it's stackable, so it can fit beautifully with your wedding ring and an eternity ring.
4. Princess-Cut Diamond Three Stone Ring - from €1,952, Angara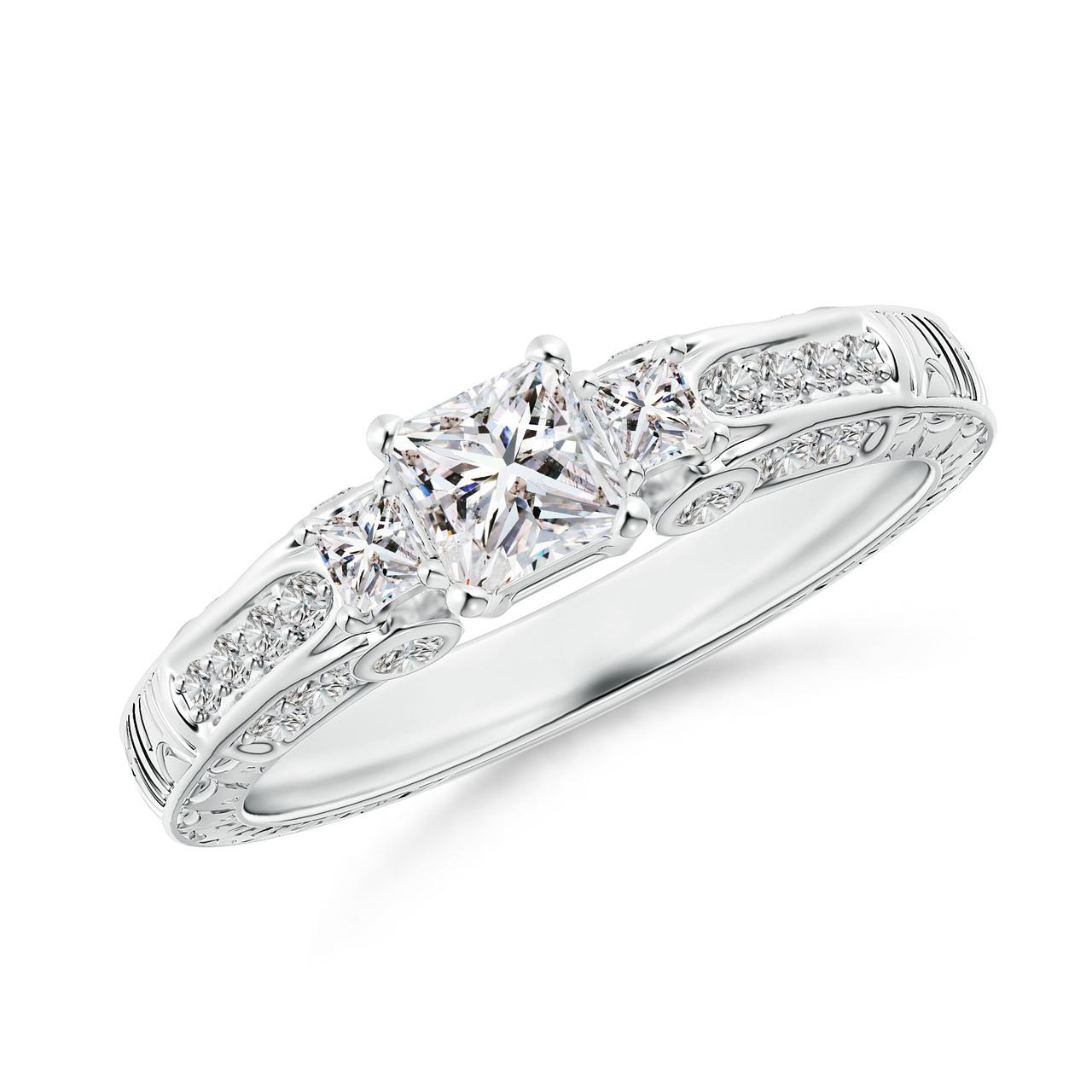 Dreaming of an engagement ring with some real sparkle? Then a trio of diamonds could be the perfect style for you! This princess-cut three-stone ring can be set in your choice of metals, and is a stylish piece that's sure to complement your everyday apparel, black-tie outfits, and everything in between.

Shop Now
5. Classic Solitaire Princess-Cut Diamond Bypass Engagement Ring - from €612, Angara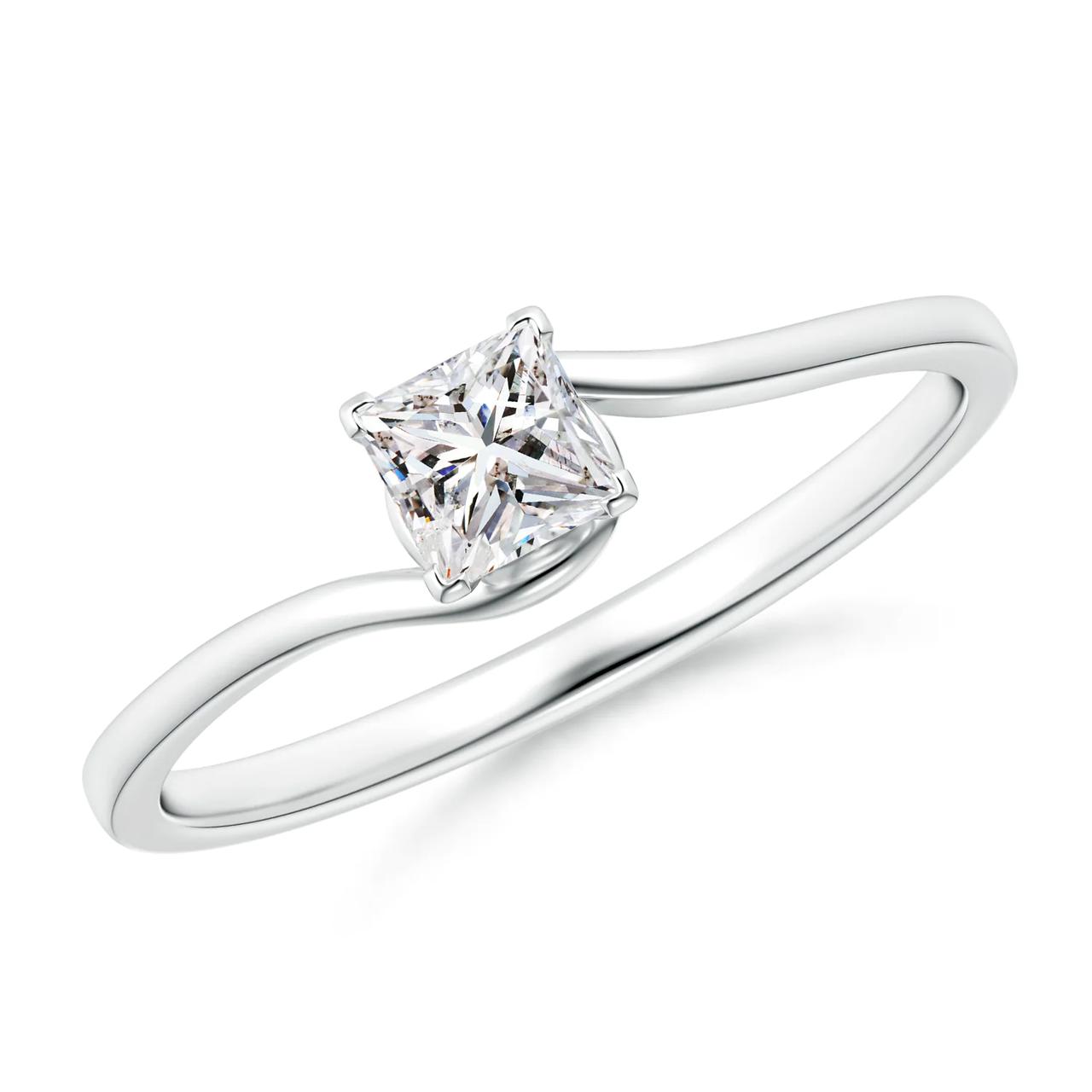 If you want an engagement ring with a contemporary twist, then this princess-cut diamond ring could be perfect for you. The sleek band around the diamond makes this ring unique and stylish. It's even available in a variety of metals, so it can be tailored to fit the style you want.

Shop Now
6. Princess-Cut Diamond Tapered Cathedral Ring - from €646, Angara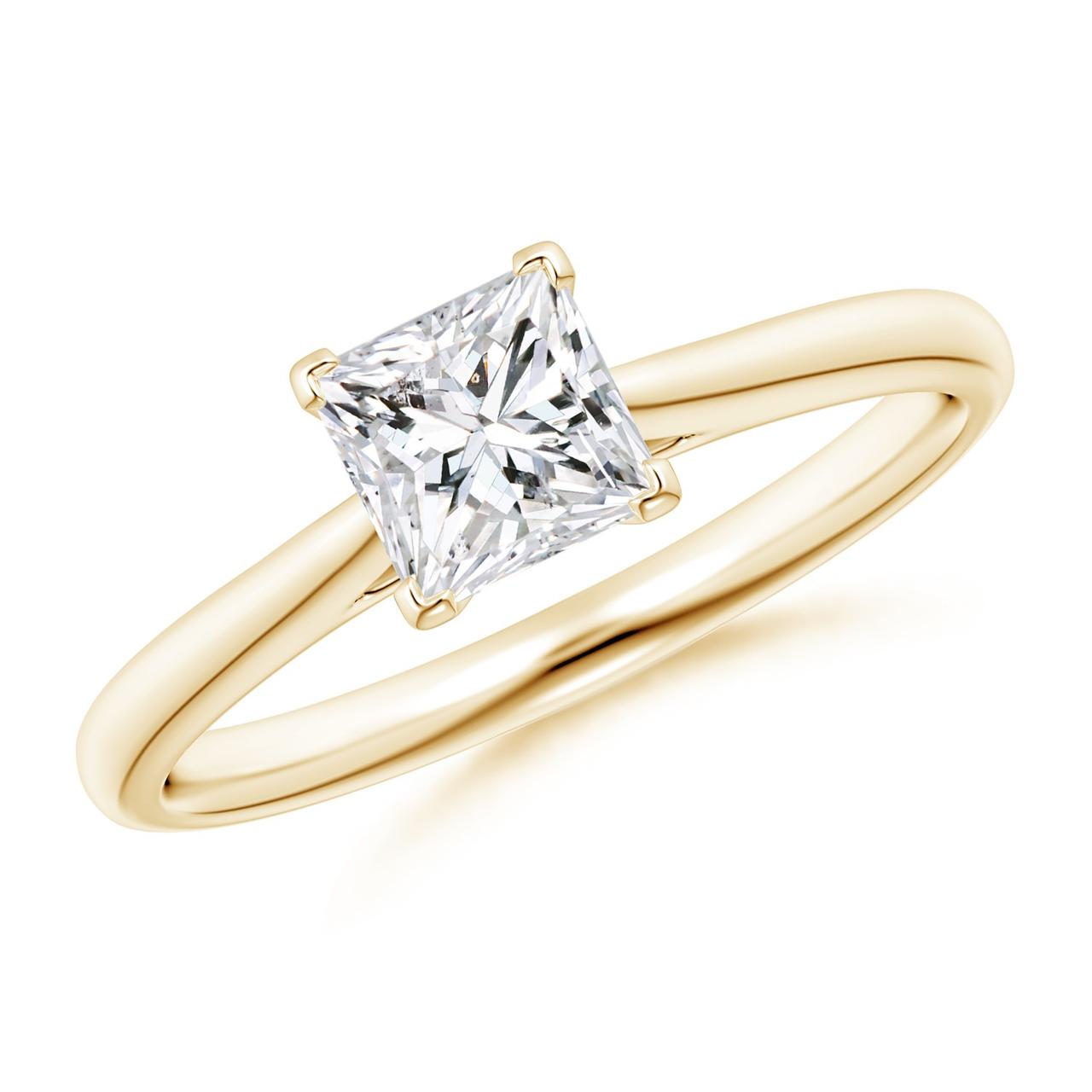 Looking for something traditional for your engagement ring? Then this simple style in yellow gold will suit the occasion perfectly. Also available in 14k rose or white gold, the simple and elegant style will be timeless for many wears to come.

Shop Now
7. Aquamarine Princess-Cut Engagement Ring - from €415, She Said Yes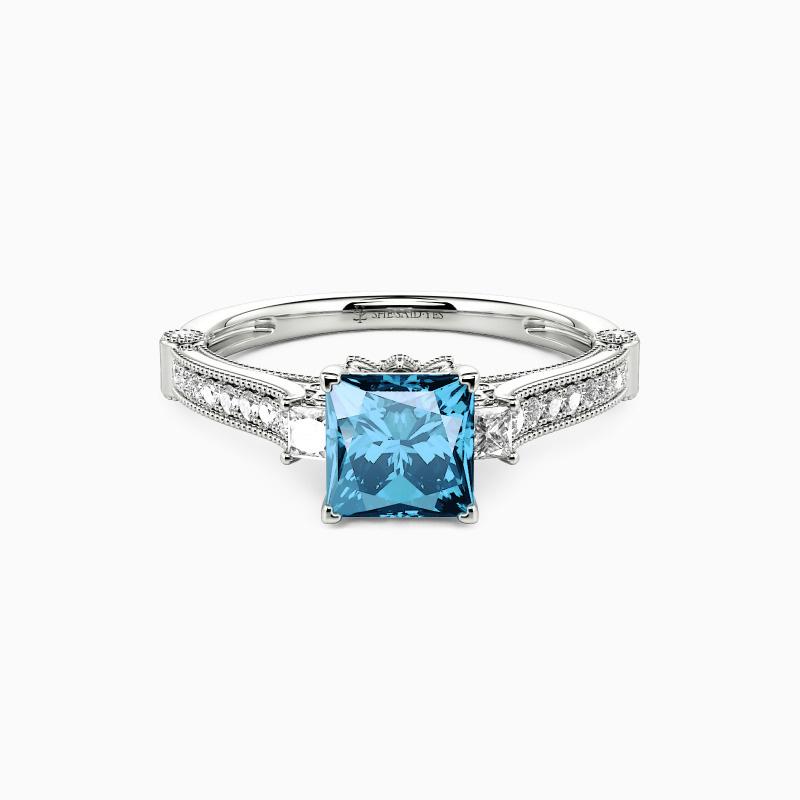 Take a step away from the norm with this aquamarine and diamond engagement ring. The 14k white gold band holds a setting of a princess-cut aquamarine with three small round set diamonds on either side.

Shop Now
8. Princess Cut Halo Diamond Engagement Ring - €2,057, Blue Nile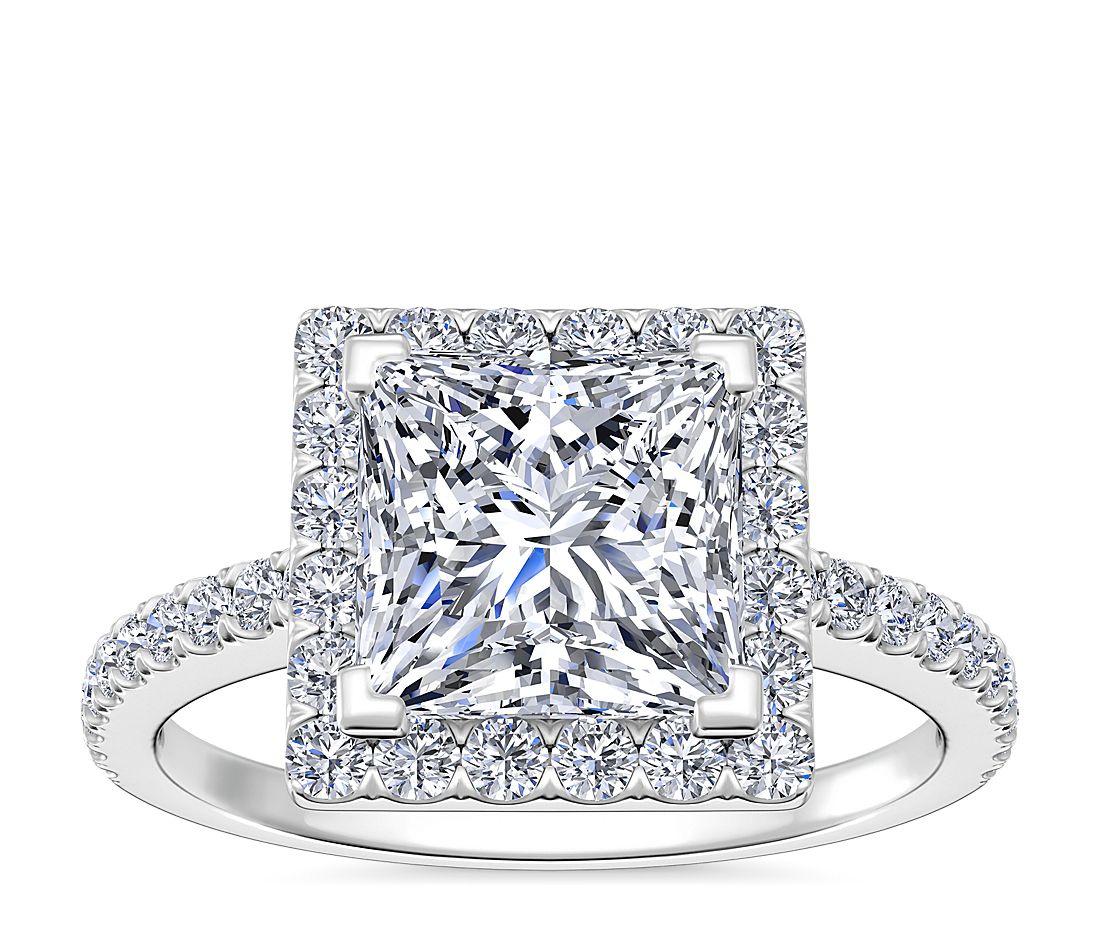 This glittering engagement ring has a platinum band and diamond shoulders that lead up to a single striking diamond. This is the perfect style if you want something with lots of sparkle that will catch everyone's eye.

Find Out More
9. Vintage Princess-Cut Engagement Ring - €2,965.09, Diamonds Mine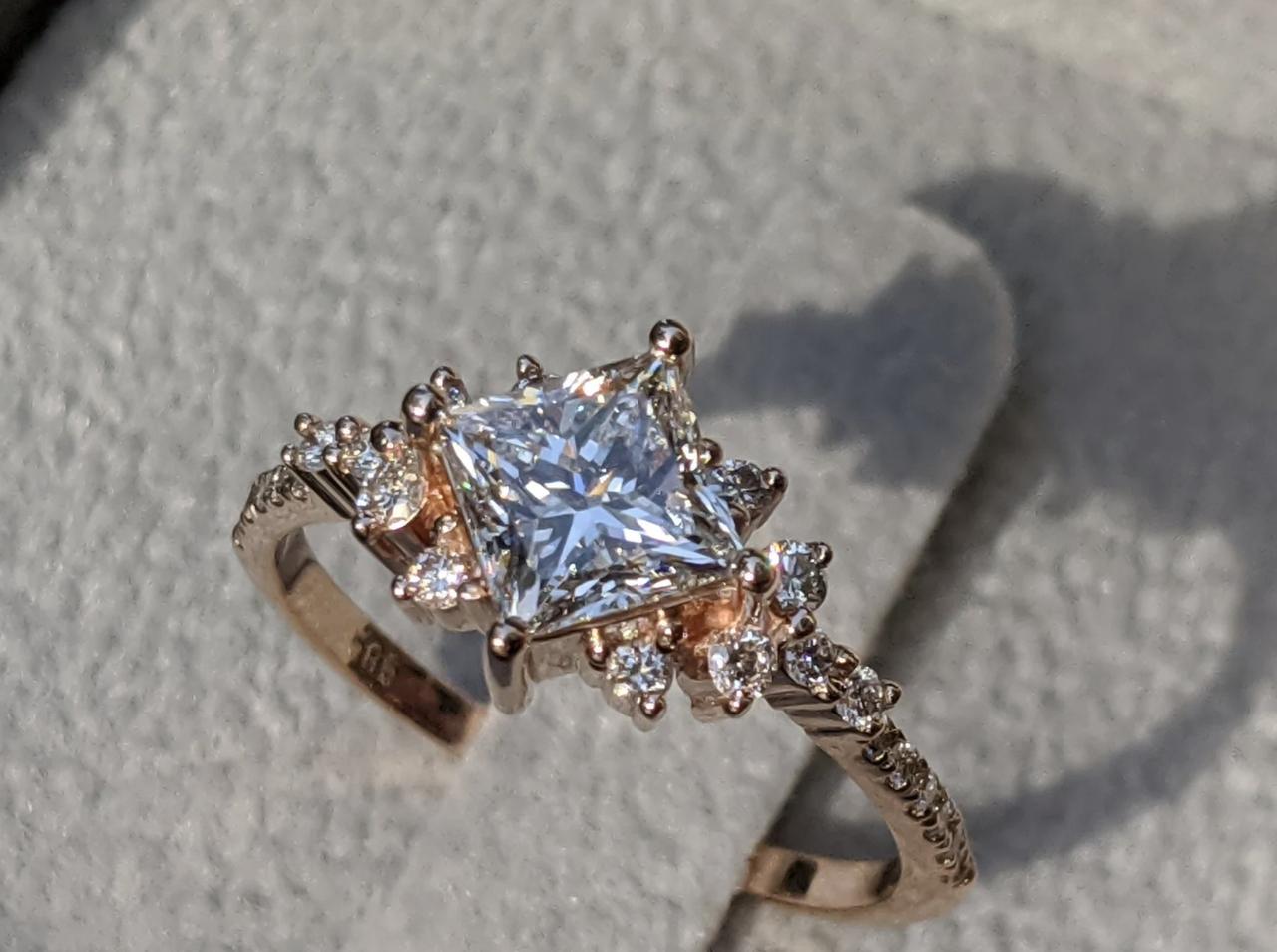 Ideal for to-be-weds who have a flair for unique jewellery, this princess-cut ring has a central diamond that is surrounded by smaller white diamonds and a rose gold band. If you're a fan of vintage aesthetics, this ring is sure to spark joy.

Shop Now
10. White Gold Tulip Setting Ring - €2,100, Fields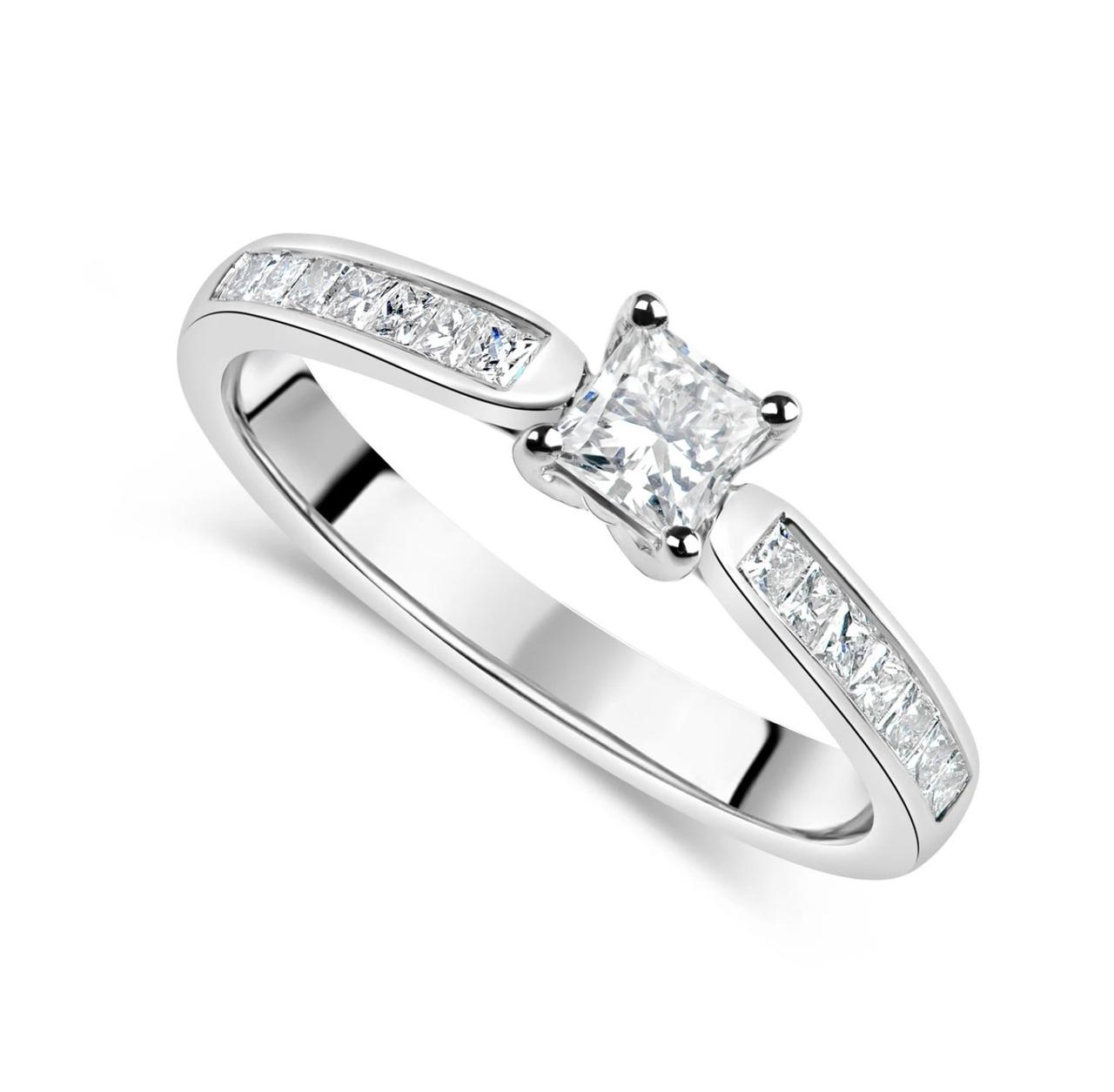 This 18k white gold ring has an impressive princess-cut gem in the centre along with diamond channel set shoulders - a perfect option if you are looking for a classic engagement ring with a bit of a twist. Better yet, it's sure to look beautiful with a diamond-encrusted wedding band!
11. Tranquility Princess Cut Ring - €POA, Appleby Jewellers

If you're looking for an engagement ring that's a touch different yet still elegant, the Tranquility ring by Appleby.ie is sure to check all of your boxes. The beautiful princess-cut stone in the centre is framed by two pear-shaped diamonds, creating a compelling design.
12. Skye Kite Princess Halo Ring - €5,975, Keanes

For a twist on the traditional style, check out the Skye Kite ring, thoughtfully curated by Keanes. A new classic, this design features a princess-cut stone surrounded by scalloped set diamonds.
13. Now and Always Princess-Cut Engagement Ring - from €650, She Said Yes

Modern lines and timeless glamour combine effortlessly to create the Now and Always ring. This princess-cut piece is complete with two rows of diamonds arranged around the centre stone, resulting in a ring that's sure to dazzle for years to come.
14. Princess Diamond Engagement Ring - €163.63, SimplyBridall

Minimalist yet lavish, this diamond engagement ring is custom-made with your exact specifications in mind. We love the glittering double band design! Better yet, when ordering from this jeweller you can ensure that your stones will be cruelty-free.
15. Princess Cut Citrine Two Stone Ring in Sterling Silver - €203, Ruby & Oscar

If you love a pop of colour, this princess-cut ring is sure to catch your eye! The engagement ring is made from distinctive citrine, offerings nearlyweds a unique rendition of a classic style. Plus, it's perfect if you're searching for an affordable engagement ring that will still make an impression.
16. Kathy De Stafford 18ct White Gold Clara Ring - €1,070, Fields

Can't decide between silver or gold? This white gold engagement ring incorporates both precious metals, and features a four-claw setting with claw exposure so that you can admire the magical diamond at this piece's centre.
17. Princess Cut Square Moissanite Engagement Ring - from €966.88, Urban Refraction

Do you love modern, clean lines and minimalist aesthetics? Then this princess-cut ring is sure to speak to your preferences. Simply timeless, the ring will be a beautiful reminder of your love story for years to come.
18. Princess Diamond Tulip Setting Ring - €3,500, Fields

Truly glamorous, this scintillating ring is perfect for those who adore luxurious designs. A princess-cut diamond sits proudly in the piece's tulip-style setting and is complemented on either side by channel-set diamonds for extra sparkle.
19. Princess Cut Opal and Diamond Engagement Ring - €1,680, Ruby & Oscar

If you're a fan of distinctive stones, this engagement ring is sure to captivate. Its striking opal centre is framed by set diamonds, creating a unique design that you'll appreciate for many moments to come.
20. Vintage Princess Cut Diamond Engagement Ring - mitaineshop
Whether you're passionate about sustainability or simply love vintage aesthetics, this is the ring for you! The 18k princess-cut ring features three beautiful diamonds and can be counted on to glitter as your love story grows over time.
Shop Now

Found your dream princess-cut engagement ring? Then be sure to check out this edit of our favourite fairytale wedding dresses to help you feel even more enchanting for your happily-ever-after celebration.