Gold and Ivory Wedding Attire
Add some festive sparkle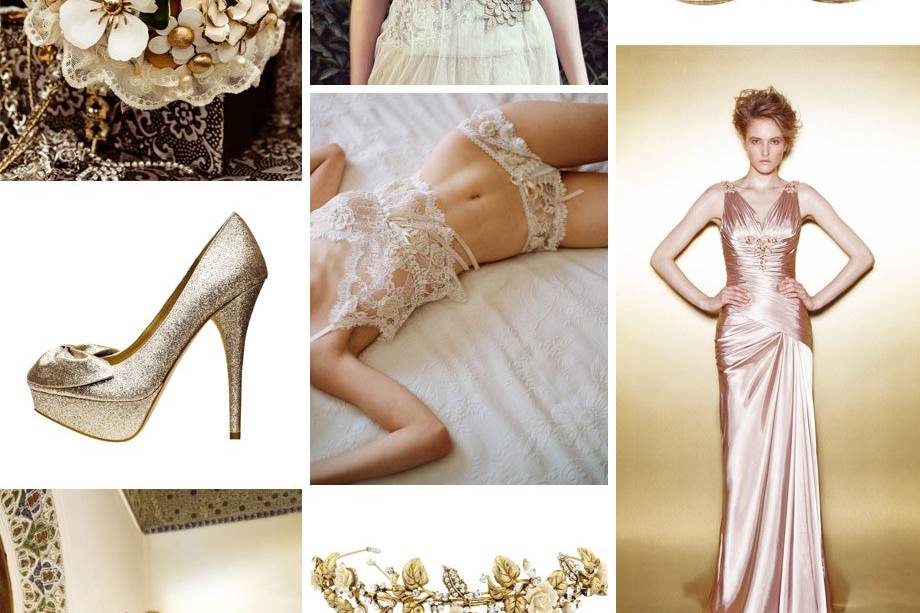 Planning a Christmas wedding means you can have lots of fun with your wedding attire. Many Christmas weddings feature deep red and gold colour schemes, with bridesmaids in red velvet dresses and wedding décor adorned with sprigs of red and green holly. If you want to try something a little different for your Christmas wedding style then why not opt for some glittering gold wedding ideas. Take a look at some of our favourite gold wedding attire and wow your guests with a glowing look.
Go all out with your gold theme with the Olivia dress from Modeca (pictured top left) that comes in light beige, a shade that mixes in perfectly with a gold and ivory themed wedding day. Or take a closer look at the Heaven dress from Stephanie Allin Couture with a stunning gold overlay and a gold waist band. If you want to add a hint of gold to your jewellery then the heart and pearl necklace from Lavenders, Etsy, will be the perfect finishing touch for you and would also make a beautiful bridesmaid gift.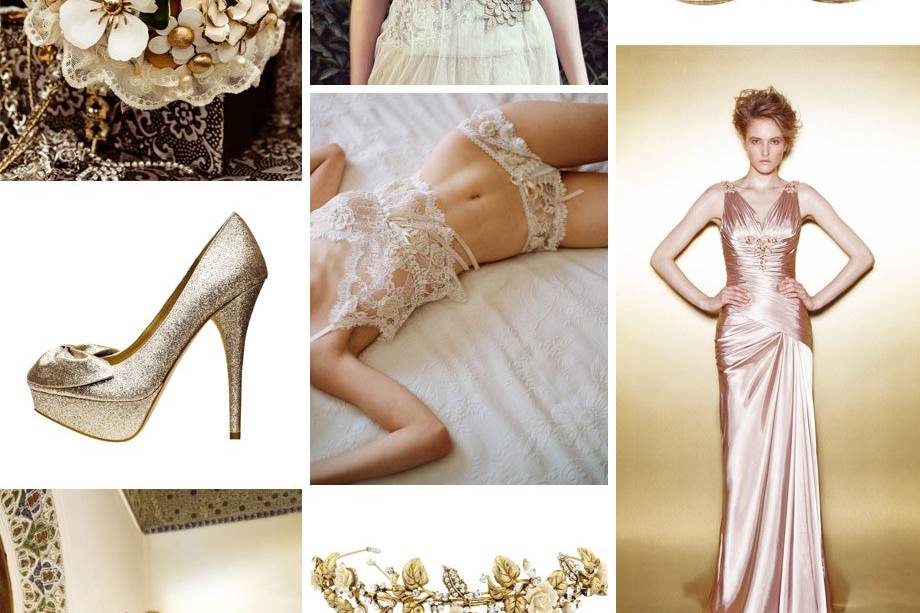 A splash of Chanel No5 will be an elegant touch and will look great in all those getting ready wedding photographs. Along with wedding perfume shots, your photographer may also take some close ups of your bridal jewellery and shoes, we love the glitzy Coco sling backs from Jimmy Choo (available at Champagne and Lemonade) and the platform shoes from Debenhams Ireland that give you added height as well as some sparkle.
If you want to complete your glam gold and ivory look then try a vintage style brooch bouquet, we love this ivory and gold one pictured from hairbowswonderworld, Etsy. Complete your vintage style with a stylish wedding veil, the one pictured from Lottie-Emile is perfect for a wedding day full of muted tones. Then ensure your ivory theme runs top to toe with a gold and ivory headband (pictured bottom middle) from Glitzy Secrets. Then stunning wedding lingerie from Claire Pettibone will sit beautifully underneath your wedding gown.
Your ivory and gold colour scheme can continue with bridesmaids in gold gowns. You can opt for something full length that will stand out, such as the Love Enzoani satin gown; or go for a shorter style full of pretty embellishment, we love the Alvina Valenta bridesmaid gown (pictured bottom right).
A gold and ivory wedding style is perfect for Christmas. If you're planning a winter wedding for next year then start thinking now about what glitz and sparkle you can add to your special day and take a look at our gold inspiration gallery.

Credits (starting top left): Beige wedding gown — Modeca, Gold Heart Pendant — Lavenders, Etsy; Perfume — Chanel; Jimmy Choo slingbacks — Champagne and Lemonade; Veil — Lottie Emile photographed by Justine Louise; Brooch bouquet — hairbowswonderworld, Etsy photographed by Mick Cookson; Platform shoes — Debenhams Ireland; Lingerie — Claire Pettibone available at Blackburn Bridal; Full length bridesmaid gown — Love Enzoani; Tiara — Glitzy Secrets; Gold and ivory wedding gown — Stephanie Allin Couture; Cocktail length bridesmaid gown — Alvina Valenta.