A Smart Girl's Guide to Wedding Dress Shopping
Advice from Myrtle Ivory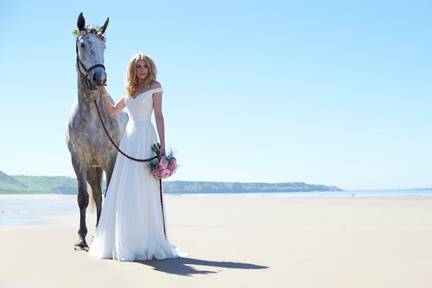 When you start shopping for your wedding dress, it can feel overwhelming with all the shapes, styles, fabrics and more out there to choose from! If you want to learn how to shop smart as you search for your wedding dress, take a look at some tips from Dublin bridalwear store Myrtle Ivory...
Be Open Minded
We always recommend that our brides be open minded when they come in to us. We are known for finding our brides their dream dress so have faith and trust in your bridal stylist as we can invariably select THE gown for you.
Limit Your Shopping Pals
Bring a limited amount of guests with you. Not only for space restrictions within our boutique, but also for your own head space. Some friends may have a totally different style to you, and can talk you out of a gown that you perhaps LOVE. A great piece of advice we were given by a dear friend - Russell of Blackburn Bridal in London - "How many people do you bring to the hairdressers with you?"... At the end of the day, it is your decision and yours only. Whichever dress you love, you will wear with pride and rock it!
Discuss Your Budget
Don't be shy; let's talk about your budget. Everyone has to have their cut off point. Be clear about this in the beginning, so that you don't fall in love with a gown that is going to break the bank!
Don't Shop Too Early
If your wedding is two years away, don't start the search until you're a year away from your wedding date. If you are a lass who wishes to have it all done and dusted (as life is busy) that is fair enough. But if you are a bride who wants to search for your gown for over a year, you are going to over saturate it for yourself. A limited amount of time makes you make decisions better. We have met so many brides who have over done it and have lost sight of what they originally really wanted, and are utterly confused.
Go Solo
Don't be scared about looking on your own. Narrow down your faves and then bring in your nearest and dearest to show them.
Don't Overshop
Myrtle Ivory boutique has ten designers under its roof, there's oodles of choice and variety. So don't "Over Shop" and overwhelm yourself. The majority of our designers are exclusive to us for Ireland, so you won't see them anywhere else — which makes it really special.
When You Make Up Your Mind Lock It Down
Once you have it, and you know it's the one, go for it, lock it down, draw a line in the sand and put it to bed. Now you can start organising your bridesmaids/flowergirls/flowers/invites/hair and more.
Enjoy the Shopping Experience
Enjoy it!! This is one of the happiest times of your life. The whole lead up to your big day should be as much fun as the day itself.
If you are still searching for the perfect dress you can visit Myrtle Ivory's website www.myrtleivory.com or contact info@myrtleivory.com.