Accessories for the Groom: 30 Accessories to Complete the Groom's Look
From a bold hat that makes a statement to a heartfelt tie pin that you can treasure for a lifetime, this article features a range of accessories to choose from. You'll be styling all the way down the aisle!
We have included third party products to help you navigate and enjoy life's biggest moments. Purchases made through links on this page may earn us a commission.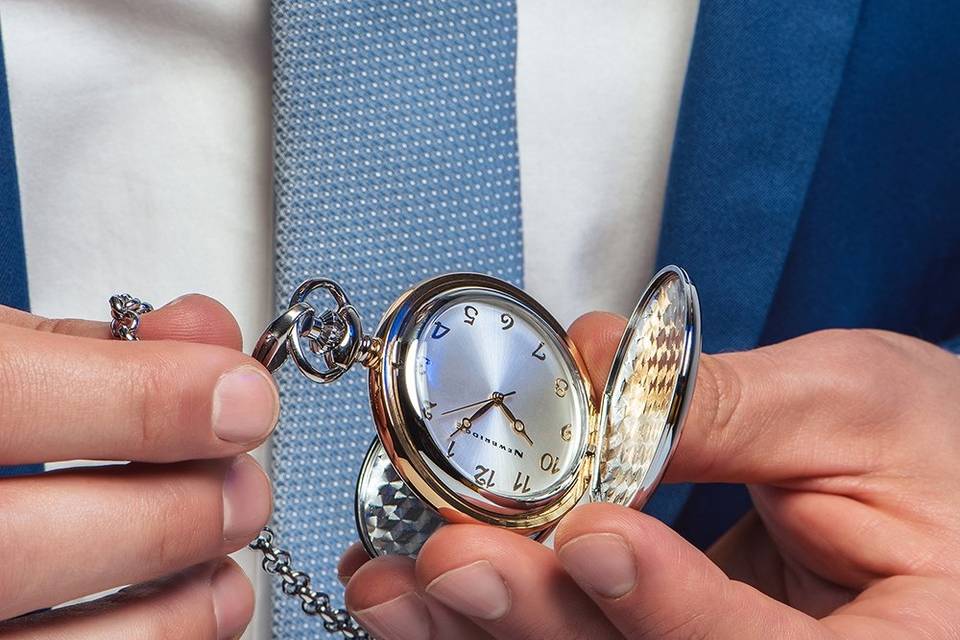 Wedding dresses often steal the thunder, but they aren't the only form of wedding garments out there! The world of men's fashion is full of style and personality, and has so many options for nearlyweds to choose from.
As the groom begins to select their outfit for the day, it's not just about picking the perfect suit or tuxedo. Deciding on the right accessories to go with your groomswear is key to creating the right look — whether that's adding some rustic style, a glam finish or a hint of tradition. This article is also packed with great gift ideas for your special someone that they can wear on the big day. Such touches can be extra meaningful!
Take a look at our guide to groomswear accessories to get an idea of how to finish off your look or for gift ideas to show your partner just how much they matter to you!
Bow Tie
A bow tie can be used in a couple of ways. If you want to create a classic tuxedo look and have a style that is straight out of a James Bond film, then a bow tie can work perfectly. Alternatively, a bow tie is a great finishing touch for a more rustic look, teamed with braces for that splash of retro style. If you feel uneasy about tying the perfect bow then opt for a ready-tied version with clips at the back that will be perfectly hidden by your collar.
1. Eton Paisley Silk Bow Tie - €79, Brown Thomas
Anyone walking down the aisle can benefit from wearing something blue. This gorgeous neckpiece has a lovely paisley design that makes it ideal for a nuptial celebration.
2. White Twill Silk Bowtie - €25, River Island
Sometimes keeping it simple is the best way to go, and this white bow is proof! It can easily be integrated into a variety of wedding themes and schemes as well!
3. Tierel Magnolia Jacquard Bowtie - €54, Ted Baker
This elegant bowtie keeps the pattern subtle, which is what we love so much about it. The colour is versatile as well, making this a fitting addition to a range of wedding-day outfits.
Cummerbund
The cummerbund is a broad waistband that sits over the top of the groom's trousers and hides the line where the shirt meets the trousers. A cummerbund works well for weddings with a more polished style and you will find an array of cummerbunds so you can literally match any wedding colour. It's also a great option for grooms that want something formal but don't want to wear a waistcoat.
4. Bowtie and Cummerbund Set in Silk Jacquard- €149.95, Hugo Boss
What we love about this cummerbund is it comes in a set, making it easy to create a cohesive look. Crafted from pure silk in Italy, this bowtie and cummerbund are elegant and just ideal for a formal wedding event!
5. Blue Paisley Cummerbund - €39, John Henric
Cummerbunds often make us think of black, but this one takes the tradition to a whole new level. The paisley print on it (and the matching bowtie) would look great for a wedding at any stage of the year!
6. Wine Cummerbund - €30, Suit Direct
Sometimes simple does it! This wine-coloured cummerbund would look amazing with a variety of bowties and is understated enough to be mixed and matched with different tuxedo styles.
Ascot
If you want something that is a little different and more special than a tie then consider an ascot. An ascot is thicker than a traditional tie and is fastened over the collar of the shirt. The ascot is a version of the cravat and developed in the 19th century. An ascot is also a great opportunity to have fun with prints, colours, and fabrics.
7. Silver Ascot Formal - €39, John Henric
We love the swirling design on this silvery ascot. It gives it such an elegant look that's ideal if you are going for this traditional accessory for your wedding.
8. Ascot in Wild Flowers - €36, Etsy
While this ascot features a wildflower pattern, the maker can craft it in different patterns to best match your wedding theme. The ascot can also be worn multiple ways, such as in a more traditional tie form as shown above.
9. Blue Ascot Plain - €39, John Henric
Ascots can be patterned, but plain styles can look just as nice! This navy blue one keeps things simple and can let other accessories or perhaps even a patterned suit take centre stage.
Waistcoat
Add some colour and texture to a traditional suit by wearing a waistcoat under your jacket. Waistcoats come with buttons to fasten, and you can opt for a single or double-breasted style. If the groom wants to stand out then opt to have plain coloured waistcoats for the groomsmen and then a bolder and more statement style for the groom.
10. Mario Wool Checked Waistcoat - €75, Arnotts
This form-fitting waistcoat is classic and also well suited (pun intended!) for summer! The light colour gives it a fresh vibe that fits the warmer weather while the traditional checked pattern ensures the overall look is timeless.
11. Skinny Navy Pinstripe Waistcoat - €50, BoohooMan
This whole pinstripe look is a blast from the past in the best possible way. It has a vintage vibe that's great if you are going for a 1920s, 30s, or 40s theme!
12. Herbie Frogg Dark Blue - Leinster#1 Waistcoat - €99.90, Best Mens Wear
Talk about a classic! This blue waistcoat can complement a range of wedding themes and works well in different seasons. This versatility may even let you wear it again for another occasion!
Handkerchief
A handkerchief is not only handy if the bride or groom starts to shed a few tears on the day, but is also a great way to add a pop of colour to your groomswear. If you choose to wear a handkerchief then ensure you put it back neatly into your pocket so it photographs well and don't forget to offer it to your partner if they get a bit teary!
13. Michaelis Pink - Flower Silk Pocket Square - €19.95, Best Mens Wear
Floral prints aren't just for spring, and this handkerchief proves our point. The varying tones of blue and the flower motifs make it well suited for a winter wedding.
14. Tie and Handkerchief - €14.99, H&M
You get a bit of a deal with this tie and handkerchief set, which allows you to make sure the look coordinates. The polka dots and the sage colour are simply stunning and give them a spring-inspired design.
15. Printed Pocket Square in Organix Cotton with Logo - €74.95, Hugo Boss
There is something lovely and breezy about this handkerchief's floral pattern that makes it ideal for a wedding. Plus, it's crafted with organic cotton, making it ideal for the eco-conscious.
Tie Pins and Tie Bars
If you're wearing a traditional necktie to your wedding, then a tie pin or bar adds a formal finishing touch and will keep your tie neatly in place. It will also be a great keepsake that you can wear again and again on special occasions. Your partner is sure to notice this romantic gesture!
16. Gents Sterling Silver Tie Tack - €29.50, Fields
This tie tack has a delicate design that gives you a touch of sophistication without being loud or too ornamental. The classic look makes it easy to wear again and again.
17. Silver Tie Clip Levi - €39, John Henric
Subtle, stylish, and with a little royal inspiration, this tie clip keeps your tie tidy while giving you a little bling. Peaking out from your suit jacket, it can provide that elevated touch that ties your entire look together (pardon the pun)!
18. Sterling Silver Tie Clip with Infinity Symbol - €55.39, Etsy
A tie pin is a great opportunity to add a personal touch into your overall look. This sleek sterling silver tie clip also has a sentimental feel, with the infinity symbol showing your partner how long your love for them will last. Opt for this store's matching cufflinks, which you can customise, to tie the whole look together.
Hats
If you are looking for ways to top off your look, hats can do just that! They come in a variety of forms to suit different styles, from a formal top hat to a western-inspired cowboy hat. We've rounded out a few examples below that can be paired with a range of wedding themes.
19. Seagrass Straw Hat - €99, Eton
Beach or bohemian-themed weddings are the ideal settings for this style of hat. It is great for shading out the sun as well if you plan to host your ceremony outside on a warm day. The fedora design helps keep the overall shape formal enough for a wedding as well. Bonus, you could easily wear it again on your honeymoon!
20. Open Road 5X SuperX Western Hat Oatmeal - €399, Stetson
Nearly weds with a love for country music or simply an eye for western-style are sure to appreciate this Stenson cowboy hat. The white colour makes it perfect for a wedding, giving it that formal feel. It also has an elegant, slightly upturned brim that showcases its expert craftsmanship.
21. Ted Baker Drizza Herringbone Flat Cap - €59, Brown Thomas
There is something both endearing and timeless about a flat cap. They bridge the gap between casual and formal, so they can work with a wide range of wedding looks. Plus, it is yet again, another accessory that can make its way out of your closet again and again. What a nice sentiment to carry with you from your special day!
Cufflinks
You can have lots of fun picking out your cufflinks — and matching sets can be worn throughout the wedding party. Or if you have a particular hobby or interest, these can be expressed through your cufflink choice to add a cheeky bit of personality.
22. Paul Smith Rainbow Logo-Engraved Cufflinks - €104, FARFETCH
Looking for a clever way to incorporate some colour into your wedding look? These rainbow cufflinks are sure to do the trick in a subtle and cheerful way!
23. Classic Golden Cufflinks - €179, Eton
Cufflinks don't have to be complicated and this set is proof. The simple gold design is sophisticated and can be paired with different suits and tuxedo styles. It is just the right among of bling!
24. Gold Cufflinks Square - €39, John Henric
The details on these cufflinks are wonderfully stylish and sure to stand out in the best possible way. We love the elevated vibe they give off while the square shape enhances their visual appeal.
Buttonhole
The buttonhole is a mini floral arrangement that is worn in the buttonhole of the groom's jacket and is said to symbolise love and loyalty, so it's a thoughtful finishing touch for your groom's attire and can also be known as a boutonniere. Your florist will be able to create these arrangements for all the wedding party to wear on the big day, but some can be found elsewhere too!
25. All Season Dried Wheat Lavender with Pink Boutonnieres Set - €33, Etsy
We love the colours of this dried floral buttonhole, and we also enjoy how you can keep them as a keepsake after the special day! It is a great alternative for those who don't want fresh flowers.
26. Paper Flower Wedding Buttonhole - €14.97, Etsy
Buttonholes are often made from flowers, but they don't have to be! This one is crafted from paper into the shape of flowers, providing a lasting heirloom from the special day.
27. Autumn Wedding Buttonhole - from €15, Etsy
This buttonhole, which features an array of autumnal hues, proves that this traditionally floral accessory can suit every season. Plus, since this one features dried flowers it can be kept for years to come!
Pocket Watch
If you want to add a stylish and traditional touch to your look, then consider wearing a traditional pocket watch. Perfect for formal or vintage-themed weddings, you can keep this pocket watch for years to come and create an heirloom for your new family.
28. Two-Tone Pocket Watch - €145, Newbridge Silverware
This pocket watch is sure to leave you looking smart and dapper on your big day! The blend of silver and gold tones helps the watch stand out, while it also has a classic design that helps you achieve an overall traditional look. Want to make it a real heirloom piece? Newbridge Silverware can engrave it with your initials or the date of your wedding.
29. Mount Royal Half Hunter Skeleton Dial Gold Pocket Watch - €120, Fields
What we love most about this pocket watch is the skeleton design that allows you to admire its inner workings. You can take it as a metaphor for the openness you and your partner share or simply take in the craftsmanship. Either way, it'll add style to your final wedding look.
30. Mechanical Pocket Watch - €59.99, Etsy
Crafted from pewter, this mechanical pocket watch is simple and classic. The elegant font used for the numbers helps make it especially timeless!
Still looking for groomswear ideas? Visit our groomswear section.