Bridesmaid Battles – Finding Gowns to Suit All Your Maids
Gowns to suit all your maids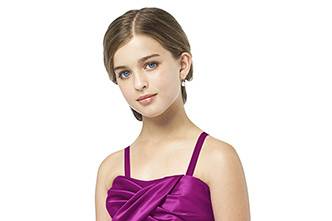 Once you have completed the difficult task of deciding which of your closest girl-friends to have as your bridesmaids, you then move on to deciding what they are going to wear — this throws up a whole new array of hurdles for you to overcome! To help you combat these we have picked out four of the most common problems that occur when trying to find the perfect bridesmaid gowns and how you can overcome them.
You have bridesmaids that are a variety of ages, from child to teen to adult
Let's face it, what looks good on a 7 year-old might not look so great on a teenager. And you can bet your closest friend is not going to want to walk down the aisle in the same style of gown as your 15-year old niece. To combat this problem, many designers are now offering bridesmaid attire in a range of styles and sizes using the same fabric and colour palette throughout a range of dresses.
The Dessy Group offer their gowns in a huge range of co-ordinating colours. Pictured above from their range is a beautiful Flower Girl Dress (style number FL4033) in colour Persian Plum, alongside an After Six Junior Bridesmaid gown (style JR513) and a stunning gown from Lela Rose Bridesmaids (style LR173). Each dress has its own unique style but they are still beautifully co-ordinated leaving you with maids that look and feel great.
Each Bridesmaid has a Different Body Type
Finding a dress to fit a slight size 6 that will also look great on a curvy size 16 can be tricky as each girl will be wanting to accentuate and glide past different aspects of their body shape. If you want your maids to feel happy and comfortable but still look beautiful then bespoke bridesmaid dress designer Maids to Measure can help.
Sinclair Sellars, founder of Maids to Measure tells us: "We like to think we're the answer to bridesmaids who are different shapes and sizes, the bride can choose the colour and fabric she prefers but allowing the girls to design their own dresses in a style they feel happy and confident in".

Your Maids are Scattered Across the Country
If you have bridesmaids living from one side of Ireland to the other, then getting them all in the same place to try on your dream gown could be tricky. This is where bridesmaid dresses from the high street can be your best friend. Coast has a beautiful collection of gowns in a range of styles and colours (pictured — Holly Dress).
Once you find the dream dress for your maids, it will be easy for you to circulate a picture and/or the dress name to your bridesmaids so they can pop into their local store, try the dress and give you their feedback.

Each Bridesmaid has a Unique Style
If you want your maids beautifully co-ordinated but all your best girls have very different styles then Two Birds Bridesmaid can help you. The stunning gowns come in different lengths and a wide range of colours, and their unique twist is that the dresses can be tied in 15 different ways to give a variety of styles.
The same dress can be tied strapless, asymmetrical, v-neck, halter, with cap-sleeves and more. So you get the ease and simplicity of buying your maids matching gowns, but they will then have the freedom to tie and style their gown to suit their individual tastes.
View more bridesmaid gowns here.