Top Tips for Choosing Your Wedding Rings
Advice from an expert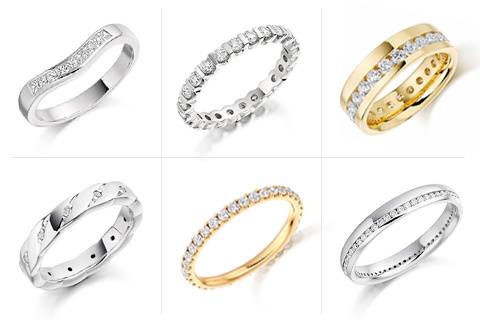 There's so much focus on your engagement ring that your wedding ring — and the groom's — can end up being something of an afterthought. Your wedding ring is not only a focal part of your big day, it is also a symbol of your marriage that you'll wear forever, so it is hugely important.
If you're looking for some top tips on buying your wedding rings, look no further as we caught up with Seamus from Voltaire Diamonds to get the lowdown...
Think Ahead
Seamus says that "rule number one" comes into play when you are buying your engagement ring: he says you should always consider your wedding ring style at that point. "I meet so many clients who did not realise they would need a shaped wedding ring when they were purchasing their engagement ring," he explains. "Your wedding ring should always complement your engagement ring and it should not take away from your engagement ring, so sometimes less is more." If your fiancé surprises you with an engagement ring, take it to a jeweller as soon as possible and they will help you to work out what kind of wedding ring you can choose from.
Match Your Metals
Once you have your engagement ring, Seamus advises you to match the metal of your wedding ring to it: "In Ireland, the gold used is 18kt, however if you buy your engagement ring abroad it may be 14kt gold. Always check with the diamond retailer what the carat of the gold used in your engagement ring is. If you mix metals, the stronger metal will wear away the weaker metal."
The Power of Palladium
If you chose a platinum engagement ring, but you don't want to splash out on a platinum wedding ring to match, Seamus advises you to consider a palladium wedding ring. "Palladium is from the same family of metals as platinum," says Seamus. "And it is just as hard as platinum — the only real difference is that palladium is 30% lighter than platinum." Palladium is also less than half the price of platinum, so it's a great choice if you're working to a tight budget.
Size Matters
"Generally ladies will select a wedding ring the same width as their engagement ring or slightly wider," says Seamus. "As I mentioned earlier, your wedding ring should complement your engagement ring not take from it." If you want your wedding and engagement rings to have a chunky look, it makes real sense to choose them at the same time so you can pick widths that will work well together to create that effect — it won't always look good if you have a broad wedding ring and a very slim, elegant engagement ring as the look can be too unbalanced.
Diamonds are Forever
"If your engagement ring has diamond set shoulders, try and match the setting styles in both rings," says Seamus. "Most jewellers will recommend this. The most common diamond settings are pave set, channel set, grain set or scallop set. Also, try and match up where the diamonds finish on each shoulder. Some clients also like diamonds on the walls/sides of the ring; consider having these diamonds on one side as you will not see the other side when wearing both rings."
Play Diamond Snap
Much like the metals, Seamus recommends matching the diamond quality on your wedding ring with those on your engagement ring. "If the diamonds are colourless on your engagement ring, buy the same quality for your wedding ring," he says. A good jeweller will be able to advise you on this.
Going Solo
Seamus says you should always try your wedding ring on without the engagement ring to see how it looks on its own. "Bear in mind that some women will not wear their engagement ring when they have very young children in case the ring scratches the baby," Seamus cautions.
Perfectly Plain
"Plain wedding rings are also very popular," Seamus says. "The price will be dictated by the number of grammes of metal in the ring. If you are on a budget, consider ring styles that are not too heavy or deep. You could find
that there are big differences in prices despite rings all being the same width."
Your Ring is for Life…
Given that you will wear your wedding ring seven days a week, all year round, Seamus advises you to invest in quality. "Be careful with rings that are very thin at the bottom," he says. "You may be saving money on less grammes of metal, but over time the ring will go out of shape, even after small knocks."
Top Five Tips for Grooms Buying a Wedding Ring

Many men wear a wedding ring these days so it is vital to find a style, metal and shape that suits you perfectly:
Don't feel obliged to buy matching rings – you may have completely different tastes and that's fine! You won't be together every minute of every day so choose a style that you love, even if it is very different to your bride's.

Although it's traditional for the bride to buy your ring, it makes sense to shop for it together: a wedding ring should be just as you want it and surprises rarely work.

If you have a family heirloom that doesn't fit or isn't quite to your taste, take it to a jeweller before discounting it completely – they may have ideas on how to re-size and renovate it so it becomes the perfect wedding ring, with added sentimental value.

Think about your occupation and hobbies when you're buying and ask your jeweller for advice on the right kind of style and metal to cope with your daily activities – and always make sure the ring insured in case anything does happen to it.

Both wedding rings should be ordered around six months before the wedding – don't leave yours until the last minute!