Pretty Pastel Florals
Browse beautiful bouquet ideas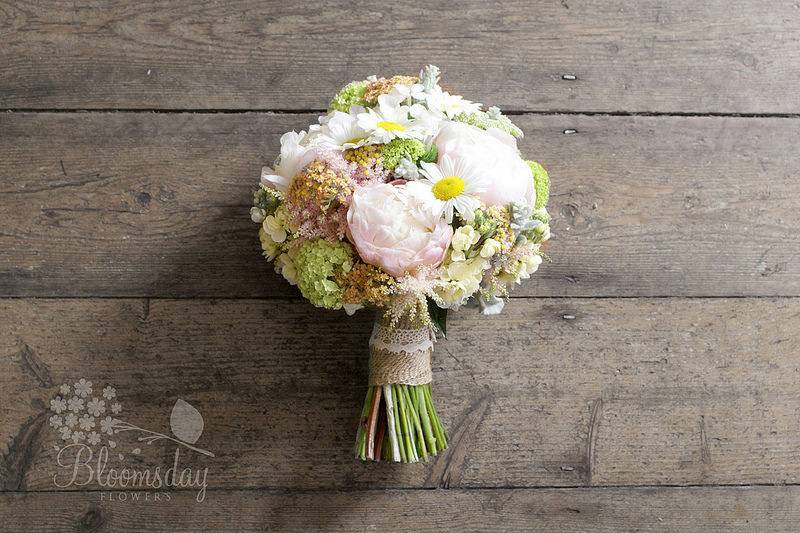 Your wedding flowers will play a big part in your wedding day and are bound to be photographed hundreds of times. Your wedding flowers include your bridal bouquet, bridesmaid bouquets, buttonholes, ceremony flowers and reception flowers. If you are planning a dreamy and romantic wedding day then show off a dreamy colour scheme with beautifully styled blooms. When you meet with your wedding florist discuss with them the style you are looking for, the colour palette that you like and perhaps even show them some photos of bouquet styles you like. You will find hundreds of ideas in our floral inspiration gallery.
We have been talking to Jesse Sommers from Bloomsday Flowers in Cork and have her expert advice on which romantic wedding trends she thinks are perfect for whimsical wedding days and what she would add to her dream bridal bouquet.
Jessie tells us: "Bloomsday Flowers was opened in 2006 by myself and Noelle McCarthy, the Bloomsday Flowers style is country garden romance with an emphasis on seasonal flowers. Weddings have become our speciality due to the popularity in East Cork for romantic country weddings."
For a romantic-style wedding bouquet Jesse tells us "We almost always include roses, phlox, and stock in our bouquets, along with chamomile daisy which has become a bit of a signature flower for us. For 2013 we love astilbe, michaelmas daises, clematis, and dahlias. Palest soft pink is a romantic favourite, mixed with ivory or soft colours like lilac, lemon, and baby blue. A bit of silver grey is perfect for toning down pastel colours for a vintage look, or alternatively a pop of colour like buttercup yellow."
Jesse adds "Using seasonal flowers means that 'your flowers' will be available at the same time every year, reminding you both of your wedding anniversary for years to come. Choosing one special seasonal bloom and using it in details like buttonholes, cake flowers and wedding favours is a great personal touch. A smart groom will remember to send his bride a bouquet of that special flower every year!"
Jesse tells us what Bloomsday Flowers would use to create their perfect bridal bouquet: "We would love to create a bouquet of all heavily scented flowers, particularly tuberose, phlox, genista, sweet pea, lavender, etc... We'd also love to have free rein in a beautiful country garden and pick all the flowers we can't buy from the flower markets, especially the big blousy garden roses!"
For even more beautiful blooms take a look at the Bloomsday Flowers website www.bloomsday.ie