Make the Most of Your Floral Budget
Flowers, centrepieces and more!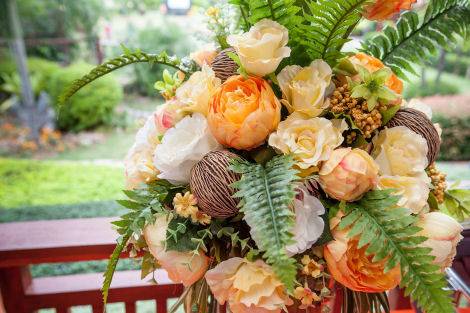 Once the money has been spent on your dress and the venue has been booked, you may be looking for ways to be careful but creative with the rest of your pennies. How can you have your day stand out and stay in budget too? One way in which you could do this is with your wedding flowers.
Take a look at our inexpensive ideas to help create striking floral decorations for your special day:
Centrepieces
For autumnal weddings — fill a vase with walnuts and pinecones with a stems of deep red roses sticking out.
Fill a clear wide bowl with water. Add some lilies and floating tea lights. This creates a beautiful sparkling effect.
Fill square vases with glass gems and add flowers (dried, fresh, silk) fitting with the colour theme of your day.
Choose a tall, thin vase, fill with coloured water and add flowers to suit — orchids look good here
Using a clear, tall square vase, fill with natural coloured shells and star fish. Great for themed weddings.
Fill a vase with lemons for a fresh, zesty look!
For winter weddings — add branches with small lights in a vas and place on top of a small mirror — the sparkle from the lights create a lovely Christmassy effect!
In a tall clear round vase, add water and some lilies and place a floating candle on top.
Create a glass pond by fill a large wide bowl with beach pebbles, water and floating candles. Candles glimmer and reflect off the glass.
An opaque vase filled with soft delicate feathers and pale flowers add class and elegance to your wedding decor.
To add colour to you table, bright gerberas in a vase of coloured gems can be very effective!
Ceremony & Venue Décor
Many items that are used to dress your ceremony can be taken to the wedding reception too. Speak to your florist about this in advance.
Pew posies — can be taken to dress tables
Door décor for the church can dress the entrance to your reception.
Floral arrangements can dress the altar and the wedding tables too!
There are many ways to decorate your wedding. The main thing is to have fun, be creative and stay within your budget. For more ideas browse our floral gallery.