Floral Wedding Cakes
Classic wedding cakes often feature flowers, but that hasn't stopped creative bakers from having a bit of fun with this formal design. Our edit features a range of ideas, from the whimsically traditional to modern styles that are sure to stun.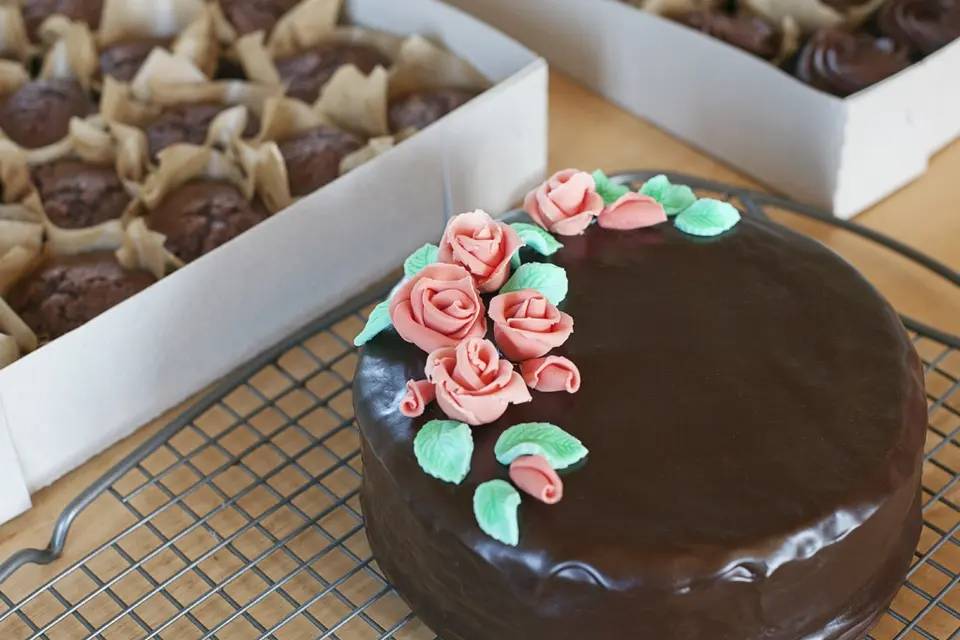 Give your wedding cake some flower power by choosing a delicious dessert that is covered in beautiful blooms! Flowers are often a traditional addition to a wedding cake, but that doesn't mean that the overall look has to feel boring! From classic styles to unusual and modern creations, these cakes show how floral cake designs can complement a range of wedding themes. In this edit, we take a closer look at ten wedding cakes that are as beautiful as they are delicious from bakers across Ireland. Be it one tier or many, the cake options seem almost endless and feel too pretty to throw in each other's faces!
And after you have taken a look at these sweet desserts, you may feel inspired to look at some real flowers too! Be sure to check out our edit of seasonal blooms to help get you inspired. We can already see your wedding theme blossoming!
1. Simply Elegant Cakes - Co. Dublin and Wicklow
This three-tiered beauty shows how contemporary cake floral designs can be. The navy stripes balance the flower base and yellow bloom that sits near the top. It would be ideal for a summer wedding!

Find Out More
2. Hanna's Artisan Baking - Co. Wexford
Keeping it understated doesn't mean that there can't be a wow factor to your big day's star dessert. This chocolate cake features charming roses and foliage along one side in an elegant design that is sure to impress!

Find Out More
3. Sweet Creations - Baltinglass, Co. Wicklow
Sweet Creations is a company owned by award-winning cake designer Miriam Pearson. She is skilled in the art of creating sugar flowers, which can serve as toppers for your wedding cake. There are a variety of blooms to choose from, and she can personalise them to best suit your wedding theme.

Find Out More
4. Giftcakes - Lucan, Co. Dublin
Sometimes, classic does it! The team at Giftcakes delight in curating styles that fit the couple's desired wedding theme and colour palette. We love the simplicity of the one above, as well as the charming petal touches. The design easily elevates a gathering!

Find Out More
5. Giftcakes - Lucan, Co. Dublin
Also from Giftcakes, this design shows an alternative flower option for a couple's special occasion. These piped flowers bring a sense of fun and whimsy to cake design that would be ideal for an especially cheerful and summery wedding theme.

Find Out More
6. Once Upon a Time Cakes - Lucan, Co. Dublin
The cascade of flowers on this multi-tiered cake makes it look like an edible bouquet! We love how the bakers at Once Upon a Time Cakes matched the blooms to the actual bouquet. It is a sweet way to create continuity throughout the wedding's design.

Find Out More
7. The Sugarshack Cakery & Vintage Tearooms - Caherdaniel, Co. Kerry
Wedding cakes don't have to be the only kind of cake that features floral designs on the big day! Petals and foliage can be equally lovely on a cupcake, and be a great way to treat your guests with their own individual treats. We love this simple, blue version by The Sugarshack Cakery & Tearooms.
8. Once Upon a Time Cakes - Lucan, Co. Dublin
Looking for something really eye-catching? A floral cake like this one might just do the trick! The gold spheres and details, along with the macaroons and white flowers help create visual appeal, as well as a modern look. The cake topper is an especially fun touch!

Find Out More
9. cakesbymiriam - Moyvalley, Co. Kildare
What we love about this design are the coordinating cupcakes! Created by cakesbymiram, this dessert selection shows the power of considered design in creating a uniform look for your big day.

Find Out More
10. Hanna's Artisan Baking - Co. Wexford
What we love about this cake by Hanna's Artisan Baking is the pattern and symmetry created from the tiny pink roses. It creates a lovely visual rhythm while keeping the cake timeless.

Find Out More