An Interview with Appleberry Press
Advice from the experts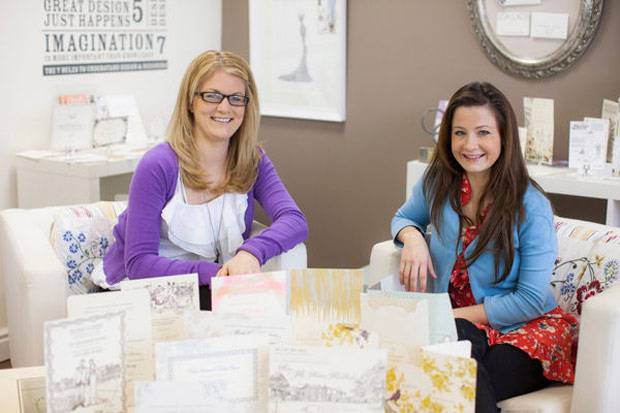 Your wedding stationery is the first hint your wedding guests will get towards the style of your wedding day, so you want to send something spectacular that perhaps might get them guessing. We talk to Jane from Appleberry Press as she shares the Appleberry Press story and explains how they can create one-off bespoke stationery designs for your wedding.
Tell us a bit about Appleberry Press
Both Ailbhe and I have been creating bespoke wedding stationery for four years now. Initially we started out as a small boutique called Pretty as a Picture and are proud to say that this year we have launched an online stationery store called Appleberry Press where we will continue to offer our ever popular bespoke design services alongside our ever expanding range of pre-designed invitations which can be fully customised.
One of the services you offer is for couture wedding invitations — how do you go about creating a wedding invitation that is unique to the couple?
We LOVE nothing more than to work with couples who want to put their own personal stamp on their invitations. To create a truly unique invitation suite for a couple, we first brainstorm with them to gather as much information about them as possible and to figure out what style they want to convey for their big day. We then begin to form a story around their lives together and create draft sketches with initial concepts. Once a couple are happy on a concept, then we get to work and transform their story into beautiful artwork for their suite that they can also keep afterwards to hang in their home as a special keepsake from their wedding. One of the most satisfying parts of the job is the feedback we receive from both couples and their guests once the invitations have been received.
Do you prefer couples to come with ideas or do you like to work from a blank canvas?
We feel that every couple has their own unique story and personality, no matter how much they think they don't!! We have had people come to us saying, "we don't know where to start, we want something personal but don't feel we have anything special enough to convey on an invitation". Believe me, some of these couples have ended up with the most amazing invitations, and have surprised themselves with how much of a story they actually have to tell! So, in summary we have never had to work from a blank canvas after our initial brainstorm session and this is perfect for us to work from as our clients are always our inspiration!
What do you suggest for couples that know they want something unique for their wedding stationery but don't know where to start?
I think that if you really want to create something unique for your wedding stationery the first place to start is by doing your research (early!) and think about how you can inject some of your personality into your suite.
Timing
The most important factor is timing. Bespoke invitations take longer to produce than pre-designed invitations and often stationers can be booked up for months on end for bespoke work. If you feel that you would like to create a bespoke invitation set then start the process early — get started on your research at least 9 months in advance of your wedding and book your stationery with no less than 6 months to go until your wedding.
Research
Do your research and figure out what styles you like by seeing examples of other stationery suites — these can inspire you and help you to figure out what you do and don't like, which will help to give your stationer an insight into your personal style.
Brainstorm
Brainstorm together as a couple. Jot down some ideas such as favourite colours, colour theme for your wedding, season of wedding, where you first met, holidays you've been on, activities you enjoy, pets, meaningful songs and the list goes on!!
Find a Stationer
Find a stationer who you feel will reflect your style and will be helpful and professional throughout the process. Looking at past examples of what they have done or seeing samples will help you to make this decision.
Do you have a favourite wedding invite that you have created?
One of our favourite invitations that we designed had to have been Ailbhe's own wedding invitations. I suppose because we could really let loose and push some boundaries, we really had great fun creating these! We combined letterpress printing with foil printing and offset printing and created a fabulous, unique set, which depicted hand drawn illustrations of Ailbhe and Aiden's own love story.
What inspires your designs? Do you keep up with the latest wedding trends?
We take inspiration from the numerous requests that we get from our customers, along with being inspired on a daily basis by our natural environment. We like to set the trend rather than follow it.
What style of wedding stationery do you think will be big for 2014 and 2015 brides?
What's hot at the moment for 2014 and 2015 brides is watercolour painted invitations, floral designs, elegant classic design and pink — this is definitely one of the most popular colours this season.
How can couples get in touch with you?
Couples can get in touch with me through our website www.appleberrypress.com or by email at hello@appleberrypress.com