Formal and Informal Invitations: The Right Type of Stationery for Your Wedding
When it comes to wedding invitation etiquette, how do you choose between formal and informal? From minimalist to whimsical, we're sure you'll find the right style for you.
We have included third party products to help you navigate and enjoy life's biggest moments. Purchases made through links on this page may earn us a commission.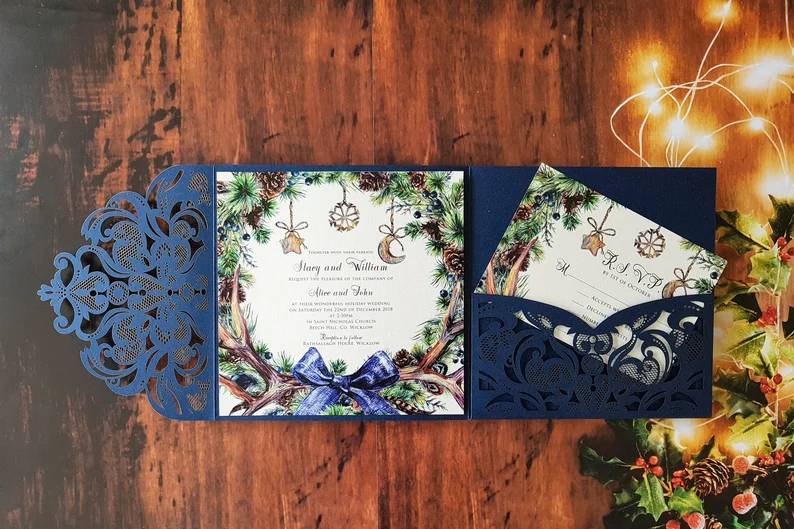 First, let's discuss wording. Both formal and informal wedding invitations should have phrasing that clearly informs the guest about the date, time, and location. Wedding invites also need to show who exactly will be hosting your special day, whether that's you and your partner or your loved ones. There's room to personalize your suite, from design to wording, so you'll be able to send invitations that reflect who you are as a couple.
Formal Wedding Invitations
Needless to say, the more formal your wedding is, the more formal your wedding invites need to be.
An excellent example of a formal wedding invitation is when you and your partner are hosting and would like to honour your respective parents.
Jennifer Sarah Brown
Daughter of Mr. and Mrs. Brown
And
Mr. Andrew Michael Webster
Son of Mr. and Mrs. Webster
Request the honour of your presence
at their marriage
on Sunday, the third of July
two thousand and fourteen
at two o-clock
St John's Church
Dublin, Ireland
If the wedding is not being held at a place of worship, then 'honour of your presence' can be replaced by 'pleasure of your company'. In those very formal invitations, the date and year need to be spelt out in full, instead of 2nd or 2014. You can peruse some formal-style wedding suites below to get an idea of how your own might look on the day.
1. Lace Navy Pocket fold suite - from €6.30, LoveBlossomsIE
A stunning option for your special day is these navy lace envelopes from LoveBlossomsIE. Classic and romantic, their peek-through cutouts allow recipients to catch a glimpse of the elegant invitation inside.
2. Eucalyptus Love Wedding Invitation - €60 for 25, LittleIvoryWeddings
These chic, minimalist invitations lend an air of sophistication to your celebration. Wreathed in delicate prints of eucalyptus, they'd be lovely for a wedding in a stately home's Victorian garden.
3. Elegant Peony Wedding Invitations - €145.88, MargoDesignsStore
These blush pink wedding invites will transport you to the romantic whirlwind celebration of your wildest dreams. Complete with delightful translucent envelopes, wax seals, and gorgeous watercolours, they're sure to captivate everyone on your guest list.
4. Burgundy Floral Wedding Invitation Suite - €43.76 for 10, PioroWedding
If you're planning to have formal wedding invitations, a lovely suite to consider is these rustic burgundy invites. Tied with twine and beautifully formatted with flowing text and florals, they'll undoubtedly contribute to your already-elegant day.
5. Minimalist Wedding Invitation - €3.10, SmPapeterie
These modern, minimalist invitations will never go out of style. The lovely customized wreath at the top conveys a sense of elegance for a party that is sure to be out of this world.
Informal Wedding Invitations
Let's talk about the other side of the coin. If you've decided to have an intimate wedding or simply an informal celebration, your wedding invitation can include slightly more casual language and style.
In the previous text example, you could change the phrase 'request the honour...' to something like 'wish to invite you to their marriage.' As you'll see in the collections below, you can have a lot of fun deciding on how you want to personalize the message. Perhaps 'we want you as our guest' is your friendly choice to invite loved ones, or simply, 'we invite you to celebrate our wedding'. You can even opt for whimsical non-traditional motifs, like passports or sporting tickets to convey your passions to your guests. So long as the crucial information (date, time, location) is on there, your informal invites are ready to go.
These suites are truly sweet in every sense of the world. Let your imagination run wild!
6. Pulse Of My Heart Irish Card - from €4.65, Ogham Tree
These gorgeous handmade cards and prints are designed by Irish artist Ruthie, a graduate of Ballyfermot Arts College. With a variety of phrases as Gaeilge to encapsulate your wedding day, these cards are ideal for handwriting your personalized messages inside.
7. Forest Wedding Invitations with Rustic Magnet - €154.58 for 30, RusticLoveandWood
You can have the best of both worlds with these wistful woodland-themed wedding invitations. Not only can you invite your loved ones to your magical event, but you can send favours ahead of time to keep the date fresh.
8. Italy Passport Invitation - €90 for 10, CreatePrint
For a destination wedding, these passport invitations are an absolute joy. You can customize them with your photos and wedding dates, and guests can RSVP with the included 'Boarding Pass'. With a range of countries to choose from, you're sure to find your wedding location to match.
9. GAA Themed Wedding Invitations - €75 for 40, CreatePrint
These GAA-themed invitations are definitely the ticket to getting your nearest and dearest excited about your upcoming celebration. Your family crest can even be added to further personalize the look. Just don't try to use them for a real match.
10. Printable Wedding Invitation - €5.50, linedoodles
In this digital age, you can have your wedding cake and eat it, too, by sending invites instantly and contributing less to wedding waste. These modern, geometric invitations are sure to delight your guests while also being a terrific option to keep yourself to your celebration budget.
No matter which style you choose, formal or informal, we know your wedding day is going to be out of this world.