Oval Engagement Rings: A Guide to 2022's Most Enchanting Oval-Cut Engagement Rings
Oval engagement rings are all the rage right now, and by the look of the products we have compiled in this list of 2022's most enchanting oval-cut engagement rings, it is easy to see why!
We have included third party products to help you navigate and enjoy life's biggest moments. Purchases made through links on this page may earn us a commission.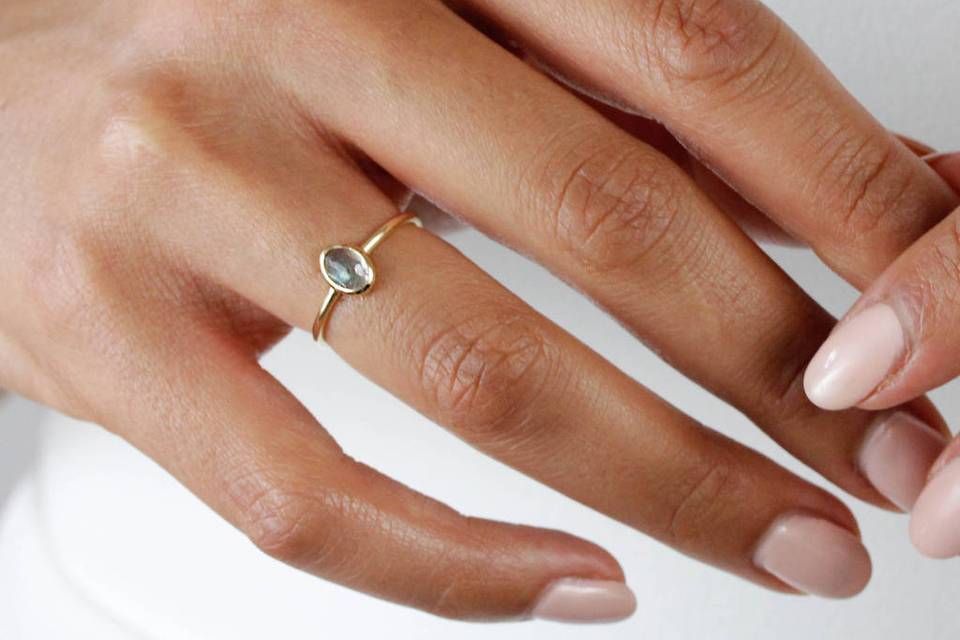 If you're searching for the perfect engagement ring, or you and your partner are choosing that all-important sparkler together, then take a look at these 20 beautiful oval engagement rings, each perfect for creating a fairytale feel. Aside from picking out your wedding venue and choosing your favourite outfit, selecting your engagement ring is probably one of the most important parts of your pre-wedding prep. We understand that there's so much choice out there, so we have refined our list to feature 20 of our best-loved oval-cut rings. This guide has a diverse selection that varies in price and style, so be sure to take your time perusing what's on the market. There are lots of other ring shape options out there to consider, from pear to princess, round to marquise, but if you're looking for a design that is timeless, elegant and romantic, then we think that an oval-cut ring would be right up your street.
1. 'Cyra' Oval Sapphire and Diamond Engagement Ring - €979.21, Anvil and Ivy Jewellery

If you are looking for an oval engagement ring that combines timeless style and expert craftsmanship, this oval sapphire engagement ring is just for you. Its trio of stones is sure to delight you and your partner!
2. Oval Accented Art Deco Wedding Ring - from €32.70, Lamour By Rachel
Defined by its Art Deco style, this oval engagement ring combines beauty and affordability. It has a classic quality that will please those who adore old-world aesthetics, and who can deny the sheer wonder of that centre stone?
3. Asymmetrical Oval Diamond Yellow Gold Engagement Ring - €2,834.87, Samantha England Jewellery

Looking for a truly unique and eye-catching design? This asymmetrical oval engagement ring has you covered! Made from 9-carat yellow gold, it showcases an oval diamond beside a smaller gem.
4. Diana Sapphire Blue Oval Cut Engagement Ring - €109.56, Lily Minimal

For lovers of sapphire oval-cut rings, this stunning design by Lily Minimal is sure to tick all the boxes. Affordable and appealing to the eye, it showcases a big oval gemstone that is both romantic and refined.
5. "You Are My Life" Oval-Cut Engagement Ring - €577.50, She Said Yes

Elegant and evocative, She Said Yes' white gold oval-cut engagement ring has everything you could possibly want. Not only does it feature a large crystal centre stone, but the band is decorated with a series of smaller gemstones.
6. Solitaire Oval Morganite Ring with Trio Diamond Accents - From €667, Angara
Angara's rose gold oval morganite engagement ring is like something out of a fairytale. Featuring trios of diamonds on either side of the centre stone, this design has a timeless quality that you are bound to appreciate.
7. Claw-Set Oval Aquamarine Solitaire Ring - From €447, Angara
We think that the yellow gold version of this claw-set oval aquamarine solitaire ring is something truly special. Just look at how the elegant centre stone complements the lustrous band. Perfection!
8. Amethyst Oval Ring - €83.41, Artforge


No, you read it right, it really is that affordable! This amethyst oval ring succeeds in almost every department. Its sterling silver design works brilliantly with the amethyst stone.
9. Oval Halo Diamond Black Engagement Ring - from €3,090.53, Segal Jewelry

Probably the most eye-catching offering on this list, this oval halo diamond black engagement ring has a mystical quality that will bewitch you. The black centre stone is truly awe-inspiring, while the smaller stones contribute to the design's allure.
10. Native Oval Diamond Wood Ring - €290.14, Shiruba Tree

A marriage of rustic charm and modern minimalism, this native oval diamond wood ring has an undeniably distinctive appearance that will surely charm you and your partner.
11. Single Diamond Oval Puzzle Ring - €211.56, Shona Jewellery

And now for something completely different! This single diamond oval puzzle ring has an irresistible charm and a unique design that you and your partner will surely adore.
12. White Gold 0.50ct Diamond Oval & Shoulders Ring - €1,500, Fields

This elegant white gold engagement ring from Fields is something truly special. Adorned with a trail of gems leading to the centre stone, this immaculate design has an undeniably timeless allure.
13. Oval Moissanite Solitaire Ring - €27, LPL Jewellery

Simple, affordable and thoroughly chic, this oval moissanite solitaire ring from LPL Jewellery is ideal for soon-to-be newlyweds who like timeless style. Just imagine surprising your partner with this reasonably-priced beauty!
14. Labradorite Rose Cut Ring - €114.85, Lee Renee

Elegant and minimal, Lee Renee's rose cut ring will delight anyone who appreciates the combination of style and simplicity. Indeed, you will be wearing this gem for many years to come.
15. Oval Diamond Solitaire Infinity Engagement Ring - from €2,175, Angara

Angara's oval diamond infinity engagement ring is effortlessly chic. Available in a range of metal types, this design is topped off with a big, beautiful gemstone. If you are a hopeless romantic, then this is the engagement ring for you!
16. Rose Gold Oval Sapphire Diamond Shoulders Ring - €895, Fields

Fields has delivered an absolute masterclass in craftmanship with this rose gold oval sapphire diamond ring. Just look at how the trail of gems seamlessly leads up to the thoroughly awe-inspiring sapphire centre stone. Such elegance!
16. Ocean Blue Oval Engagement Ring - €75.48, Helenis Jewelry

Blue lovers are in for a treat with this ocean blue oval engagement ring from Helenis Jewelry. Its striking symmetry, vintage look and beautiful blue gemstone will surely win over any soon-to-be newlywed.
17. White Gold Diamond Surround Emerald Ring - €1,365
Romance and refinement beautifully entwine on this white gold emerald ring. Its oval-cut emerald gemstone is surrounded by a pattern of beautiful diamonds. It's like something from a fairytale!
18. Golden Citrine Ring - €537.96, Artforge

This golden citrine ring is a must-have for those who adore distinctive handmade jewellery. The band has a unique shape, while the citrine gemstone really makes the ring stand out.
19. Luna Polished Gold Oval Halo Opal and Diamond Ring - €2,989, Chupi

Combining 1920s fashion with modern aesthetics, the Luna oval halo opal and diamond ring is a wonderful piece of jewellery handcrafted by Chupi. It is brimming with opulence, featuring a halo of diamonds, a charming gemstone and a polished band.
20. Classic Oval Engagement Ring - €94.32, Ladylique

What better way to round things off than with a simple and stylish oval engagement ring? Ideal for lovers of classic jewellery, this piece boasts an elegant band and an eye-catching gemstone.