Guide to Gowns
Know your necklines and dress styles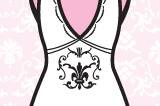 After you've accepted a marriage proposal, choosing the dress is usually one of the first things on your mind. But when you enter the wonderful world of bridal design it's not uncommon to be baffled by the terminology.
Never fear; our handy guide will tell you everything you need to know about the most popular wedding dress styles and necklines — and we've asked three fashion experts to help you decide if those styles are right for you.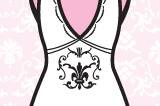 Halterneck
A halterneck wedding gown has two straps either side of the dress that meet behind the neck.
A halterneck wedding gown is a flattering style for brides with a larger bust as it draws the eye inwards and upwards. Also, larger busts get more support from the halter shape. On the flip side it can also enhance a smaller bust and is great for showing off toned arms and good shoulders.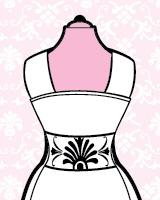 Square
A square neckline has vertical shoulder straps that give an angular shape to the neckline.
Another neckline that is flattering for a larger bust is the square neckline as again it offers more support than a traditional strapless dress. This neckline dates back to Edwardian times and can be a great stylish design for a traditional wedding day.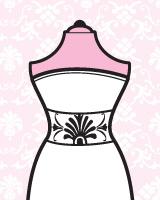 Strapless
A strapless neckline fits snugly across the bust with no straps needed to hold the dress in place.
Strapless is undoubtedly the most popular wedding dress style and can be tailored to flatter a variety of figures. If you have toned shoulders or great upper arms then this is the perfect way to show them off.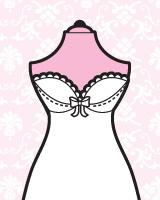 Sweetheart
A sweetheart neckline create a gentle heart shape across the bust-line.
The pretty sweetheart neckline is a real figure flatterer and perfect for creating the illusion of curves. It's also a good style if you have a larger bust and want to show just a hint of cleavage.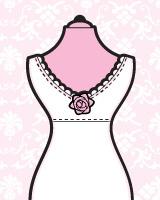 V-neck
A v-shape neckline is formed with two straps from the shoulders to the centre of the gown to create v-shape.
A v-shape neckline works well to create the illusion of length and height as it draws the eye down and elongates your figure. If you have an apple-shaped body then this neckline is particularly flattering.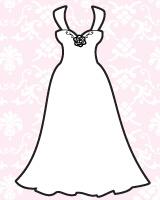 A-line
A-line gowns have a cinched wasit that then flows into a widening skirt.
An A-line gown can create a neat waist that then leads to a flowing skirt that skims your hips and thighs. This gentler version of a ballgown style is ideal for brides looking for some subtle princess style.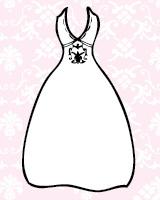 Ballgown
The traditional ballgown dress has a fitted bodice that leads to a full skirt.
If your plan is to feel as pretty as a princess on your wedding day then look no further than a ballgown style dress. The corset style top flows into a big and bold skirt; it's the ultimate statement wedding dress.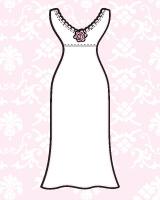 Column
A column shape gown has a slim fit and falls straight from the neckline to the floor.
The column style works best for tall brides. Due to its straight up and down shape, it is not a very forgiving style so it is best suited to brides with a more athletic shape.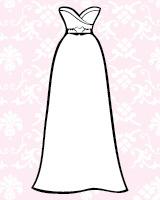 Empire
An empire gown is tapered under the bust and leads to a loose flowing skirt.
Give your wedding day some boho-chic with a gorgeous Grecian style gown. This style is ideal for a laid back wedding day, vintage celebration or a wedding on the beach.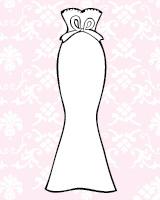 Fishtail
Fishtail gowns are cinched at the waist then follow your natural body shape with a kick out above the knee.
Popular fishtail wedding dresses flatter a wide range of body types; they flatter hourglass figures and create the illusion of curves to boyish frames.