Fabulous Fashion Ideas
We talk to vintage boutique Dirty Fabulous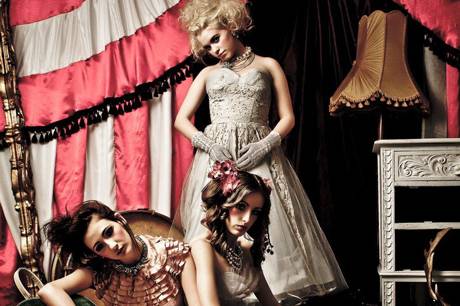 If you want to add a bit of retro style to your wedding day then picking the perfect dress is key. We talk to the team at Dirty Fabulous — a gorgeous boutique that specialises in vintage bridal and occasion wear — and they share their top tips for brides looking for that perfect vintage wedding dress.
Tell us a little bit about Dirty Fabulous:
Dirty Fabulous is an original vintage bridal and occasion wear boutique located in Dublin's Creative Quarter. Open since 2008, Dirty Fabulous specialises in the most beautiful vintage pieces from the 1920s to 70s and beyond which is carefully hand selected from America by owners, sisters Caroline Quinn and Kathy Sherry. Dirty Fabulous opens Tuesday to Saturday by appointment.
Why do you think retro-style weddings have become so popular?
Bridal couples are becoming more relaxed about the type of weddings they want to have. We're finally seeing a move away from the carbon copy traditional wedding day. Couples want their day to reflect their own personality. This has opened up a world of possibilities to the bride herself in terms of choosing her dress. She can now feel happy choosing between bridal boutiques, second-hand dresses, high street and of course fabulous vintage dresses. At Dirty Fabulous we would find that many of our brides are not having a complete retro-style wedding but rather they want a dress that is a little bit different or they want to add a touch of vintage to their big day.
What style of wedding dresses would you recommend for a bride wanting a retro-style wedding day?
The options for a vintage wedding dress are limitless and it really depends on the brides' personal style, body shape and the overall look they want to achieve on the day itself. If she wants an elegant, classic look then a full length dress is great, but if she wants a fun or informal look then a short dress could work like a dream! All decades from the 1920s to the 1970s offer stunning wedding dresses of different lengths. For short options she could have a Gatsby style 1920s beaded flapper dress, a 1950s tea length lace prom dress or a 1960s fitted, beaded cocktail dress. The 1930s and '40s produced gorgeous bias cut, full length wedding gowns. The 1950s and '60s have beautiful silk, taffeta, organza and lace gowns whilst the 1970s has an abundance of deliciously draped goddess gowns and Boho wedding dresses . The vintage fashion world is there to be discovered!
What would you recommend for brides wanting to choose bridesmaid dresses to fit with their retro theme?
The bridesmaid dresses will always be influenced by the brides dress. If the bride is wearing a short dress then I would definitely recommend short dresses for the bridesmaids. If choosing vintage bridesmaids dresses it's important to be aware that you won't find multiple dresses that are identical. The bride can choose a colour theme, fabric or dress style and then we will help her find the right dress for each bridesmaid. This is a great idea if your bridesmaids are all different body sizes. Inevitably if all wearing the same dress one bridesmaid will look much better than the others. Picking an individual dress that suits your best girls will keep everyone happy and feeling confident on the day itself.
What accessories would you recommend for brides wanting to create a retro look?
Headpieces are hugely popular at the minute and here at Dirty Fabulous we're delighted to have what must be the largest collection of vintage bridal headpieces in Ireland. These include beautiful combs, pill box hats, Juliet veils and caps and lace bands. We also have a fantastic range of bespoke birdcage veils, pearl and rhinestone crystal combs and jeweled hairbands. To create a retro look you could also add a pair of delicate gloves, a sequined or lace cape, pearl drop earrings or a beautiful rhinestone necklace. All of which Dirty Fabulous can offer!
What eras are the most popular with your brides?
Many of our brides are familiar with the 1950s tea length dresses but when they come in to Dirty Fabulous and see our whole collection they are surprised at the diversity. Lace wedding dresses are hugely popular at the minute and we have many of those in all lengths from many eras. Column gowns from the 1960s and '70s are always very flattering and popular. The jaw dropping 1930s and '40s bias cut satin and rayon wedding dresses are also much sought after but they are more difficult for us to source due to their age and they tend to come in smaller sizes from 6 to 10.
Anything else you would like to add?
Vintage wedding dresses are completely different to modern dresses and it's important to be open to try on different styles and shapes. Unlike modern dresses, vintage dresses are tailored to look fabulous on the body and we often hear "I would have passed that one by on the hanger, but I love this on!".
To see how a vintage wedding dress can be worn to perfection have a look at some of our past brides on our website www.dirtyfabulous.com. Put up your feet, make a cup of tea and drool over our Pinterest, Facebook or blog pages!