47 Vintage Wedding Ideas
If you're considering a vintage themed wedding, check our 47 inspirational ideas for a unique and extra-special retro day to remember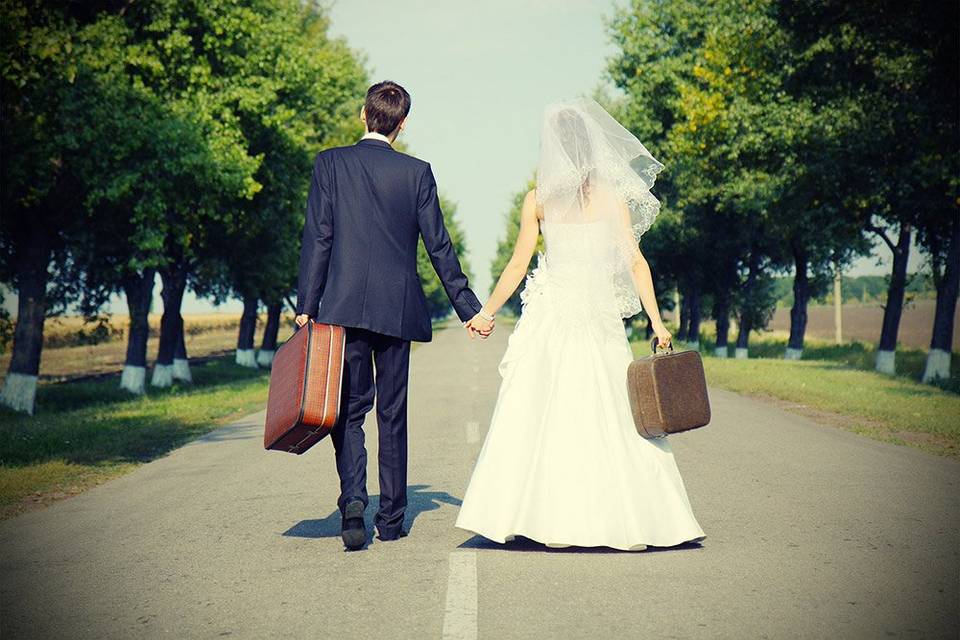 If you are planning a vintage style wedding day but you're not sure where to start then take a look at our list of 47 stunning vintage wedding ideas and find some ideas to suit your style.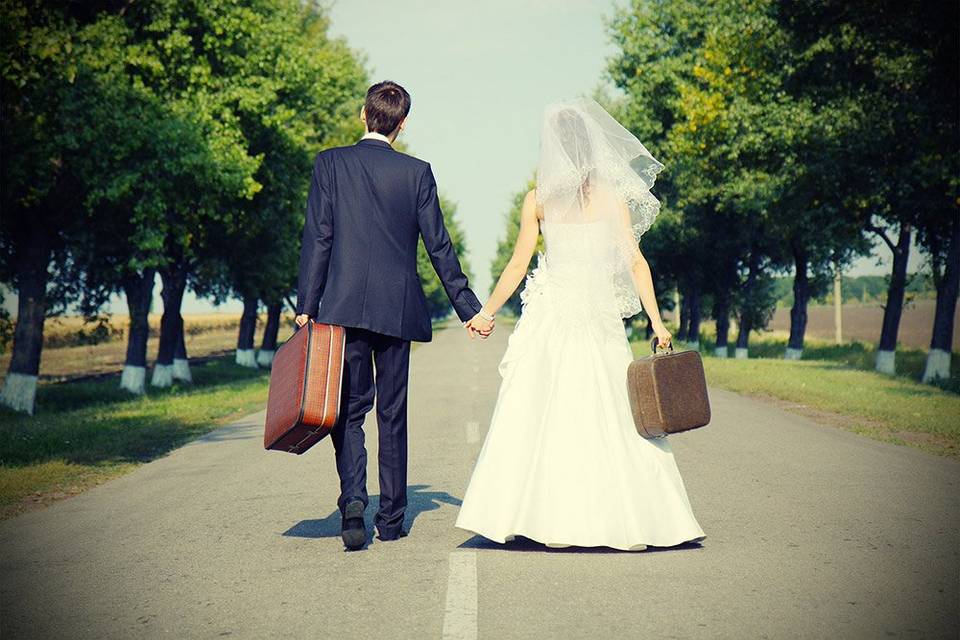 1. When choosing your vintage theme, you can opt for a general "shabby chic" wedding or narrow the theme down to a specific era or trend, like Steampunk or 1950's for example
2. Choose matching "save the date" and wedding invitations with a vintage touch that you'll use within your decor - like pearls, horseshoes or birdcages
3. The classic Claddagh symbol is another great motif for your vintage nuptials
4. A rustic venue, like a barn or farm, lends itself well to a vintage theme...
5. ...or choose a village hall, library or stately home for a grand vintage statement
6. To really impress your guests, you can consider one of seven Irish heritage sites for your vintage wedding ceremony including Kilkenny Castle, Desmond Hall in Limerick and The Casino at Marino in Dublin
7. Consider setting a Sunday date for your wedding in keeping with tradition
8. Travel to the wedding in a vintage car to add glamour and authenticity: at chauffeursonline.ie you can hire Brenchley, Beauford or Regent convertible cars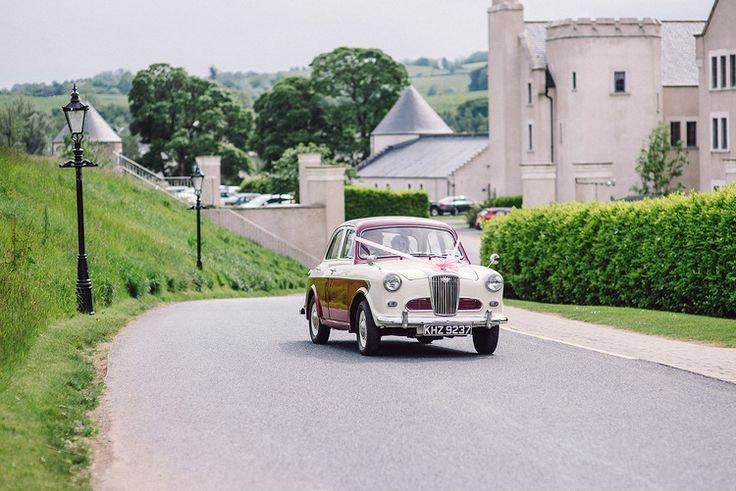 Image credit: Lough Erne Resort
9. To make a bolder statement, consider an eye-catching method of vintage transport like an old bus or a pink Cadillac
10. Incorporating a hand fasting ritual into your day provides the ultimate vintage twist and is great for sticking to Irish wedding tradition.
11. Teal is a beautiful, timeless colour for a vintage wedding in spring or summer
12. In autumn/winter, grey is a wonderfully classic colour for your decor and bridesmaids
13. If you want to mix retro and modern ideas on your big day, try a vintage cut - like a 50s-inspired tea dress - for your bridesmaids, but in a contemporary colour such as electric blue
14. Floral print bridesmaid dresses are an unusual - and perfectly vintage – choice
15. A lace wedding dress is a gorgeous choice whatever your vintage era, we love this tea length style from Justin Alexander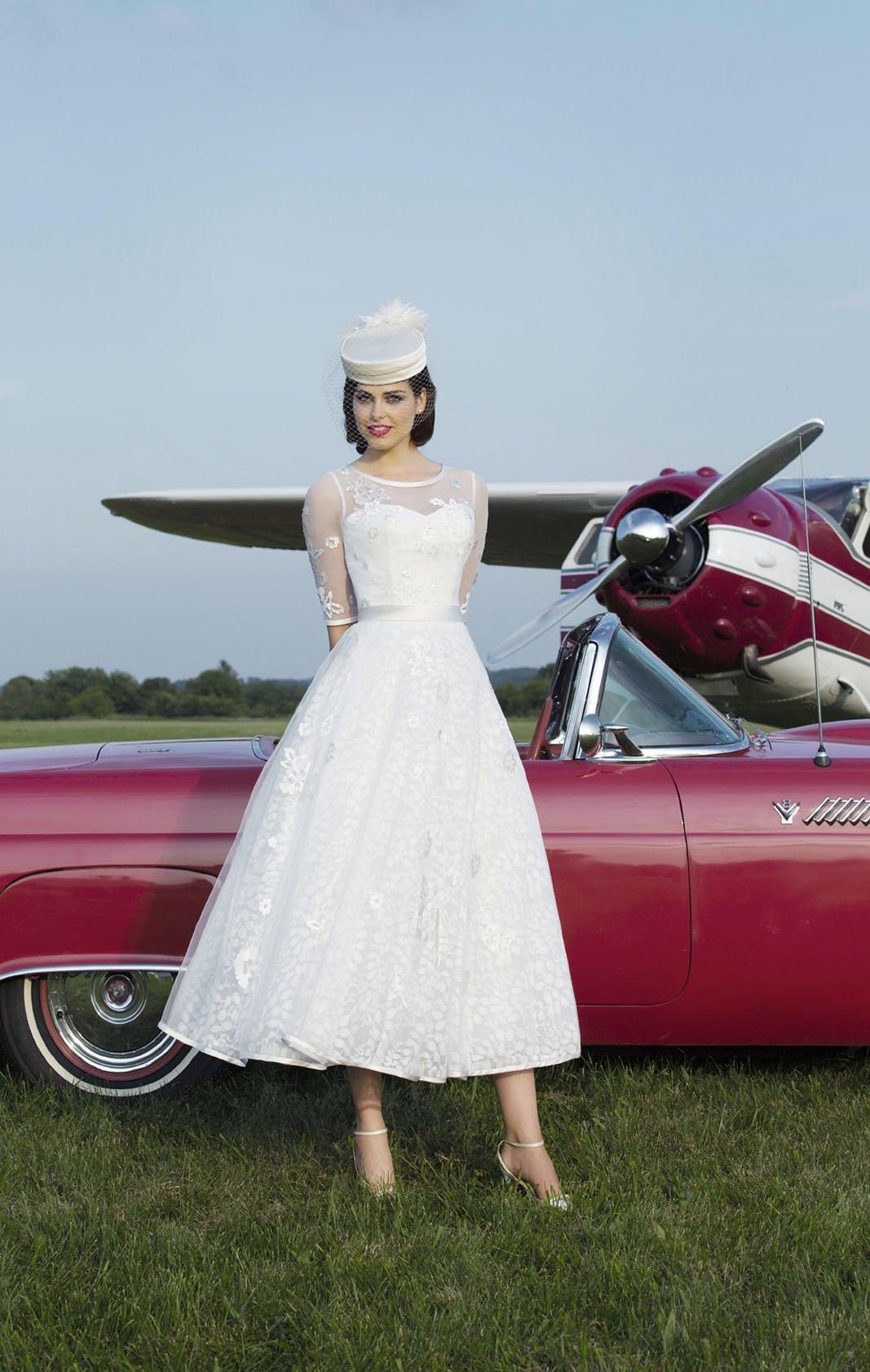 16. ...and carrying a matching lace fan works wonderfully in summer
17. For a "general" vintage theme, a dress with soft tiers looks stunning...
18. ...or search for a real vintage dress from your favourite era and visit a dressmaker for alterations
19. A dress with a high neck adds an instant vintage vibe
20. Mini-length wedding gowns will always be a talking point and are a must at a 60s-themed celebration...
21. ...and make sure the groom's suit is tailored in a mod style to match
22. For the "shabby chic" groom, a flat cap and waistcoat looks traditionally cool
23. Long sleeves are a sophisticated vintage choice for a bride: wear a removable long-sleeved wedding jacket for the ceremony if you'd rather have a lighter look at the reception
24. Carry a real horseshoe - or have one incorporated into your dress - to make a nod to Irish tradition
25. Victory rolls and pin curls look great in your hair if your look is inspired by 30s-50s fashion - or add sparkle for a 1920's feel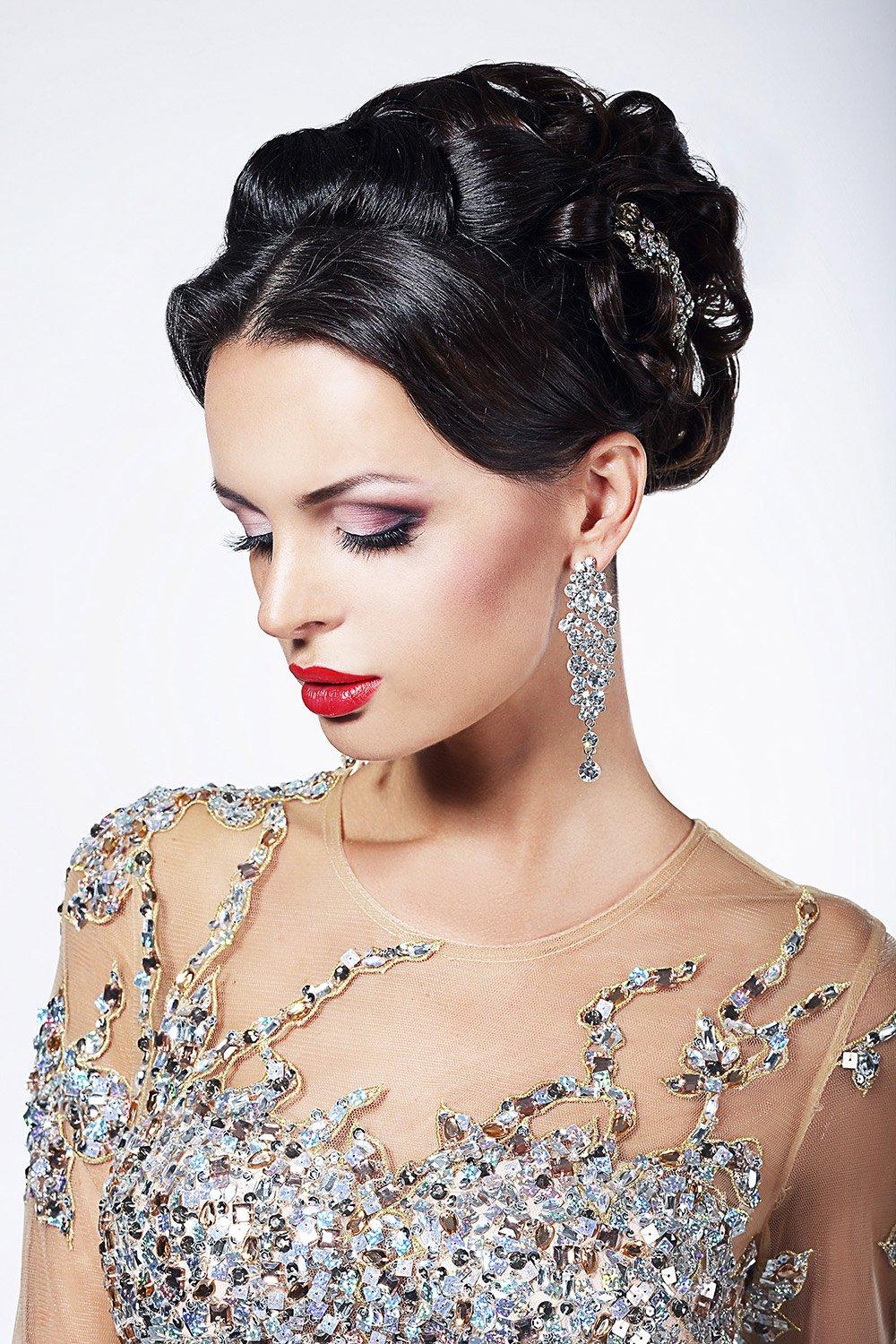 26. If you opt for an "up-do", long drop earrings are very vintage
27. Fascinators always add a touch of vintage glam to a bride's look...
28. ...or choose a long veil if you're creating a more elegant and traditional vintage look
29. A garland of fresh flowers - worn "bando" style across the forehead - turns any vintage bride into a bohemian princess
30. Peeptoe or Mary Jane style shoes are the go-to choice for glamorous vintage brides...
31. ...or choose flats to go with a tea dress for an edgy, rockabilly look
32. Supply the bridal party with rice to throw, rather than confetti
33. For your photography, a dramatic countryside backdrop with a vintage-styled bridal party looks amazing
34. Cycling to the reception on vintage bikes is another golden photo opportunity...
35. ...or provide a vintage coach to get guests from A to B
36. Bunting looks lovely outside your venue and in your photos - choose all white for a stylish effect, or match the bunting to your colour scheme
37. Fairy lights also give a venue some vintage charm, particularly if you're having an afternoon ceremony in the autumn or winter when the lights will be twinkling upon your arrival
38. Oversized balloons look great tied to chairs or centrepieces
39. Birdcages filled with roses look divine on the top table
40. Hire a vintage snack stand - think artisan ice cream, traditional sweeties, popcorn or hot dogs - to delight your reception guests
41. Poteen whiskey is a great arrival drink at a vintage reception
42. Mead (white wine blended with honey and herbs) is another good - and potent! - vintage choice
43. Serve champagne in mismatched vintage glasses (you can hire them or collect your own via eBay and charity shops)
44. Keep your wedding breakfast menu traditional with dishes like goose or a hog roast
45. Serve the meal on real vintage crockery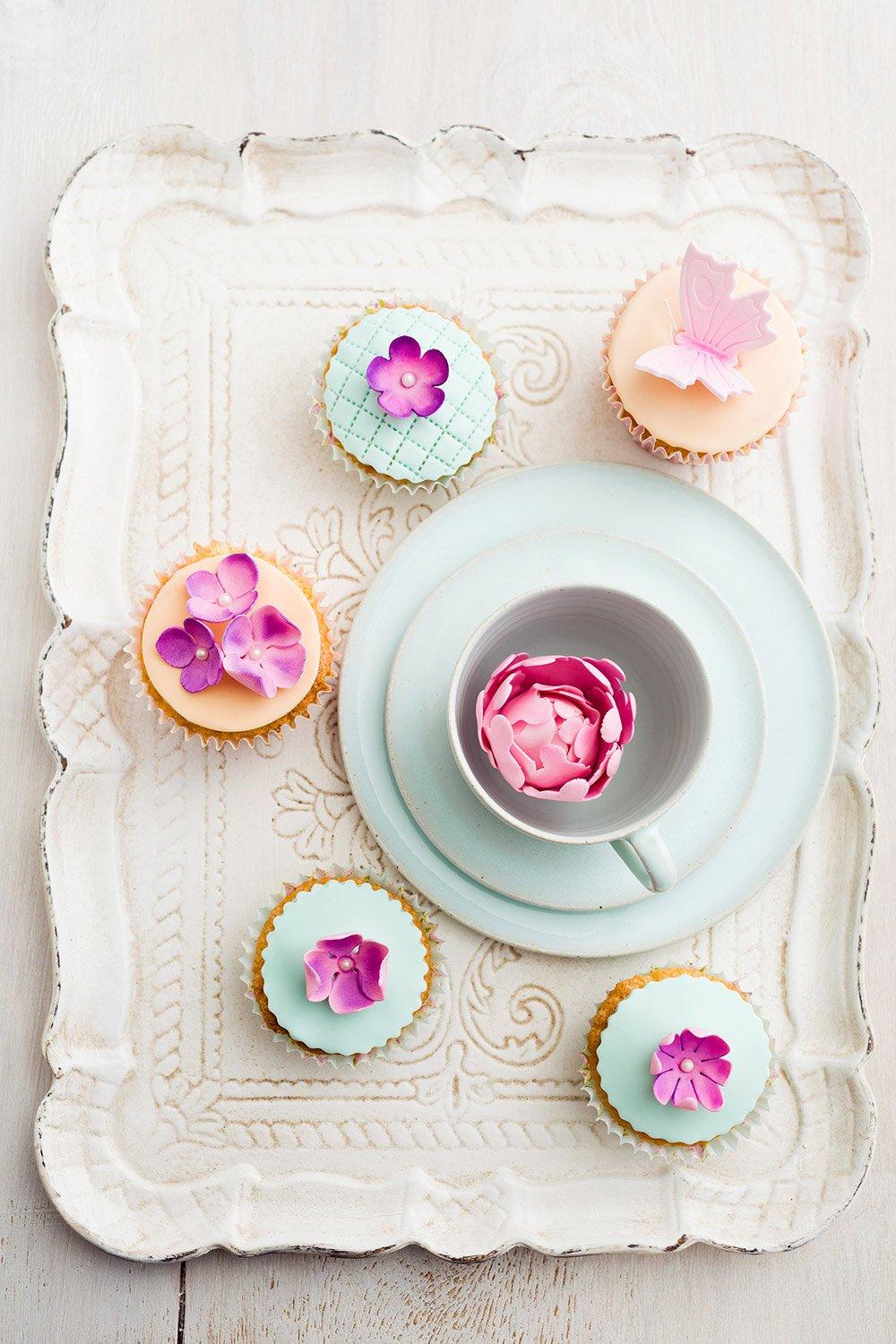 46. Drape antique pearls and ivory roses across your cake for an instant vintage touch
47. If you're not the greatest dancers already, consider taking Irish dancing lessons before your wedding for a vintage first dance
If you love all things vintage then don't miss our pick of the most stylish vintage-style wedding dresses.