10 Retro Wedding Decor Ideas
Transform your wedding into a retro wonderland. Whether you're looking for boho or bauhaus, we've found items that will make your wedding a vintage affair!
We have included third party products to help you navigate and enjoy life's biggest moments. Purchases made through links on this page may earn us a commission.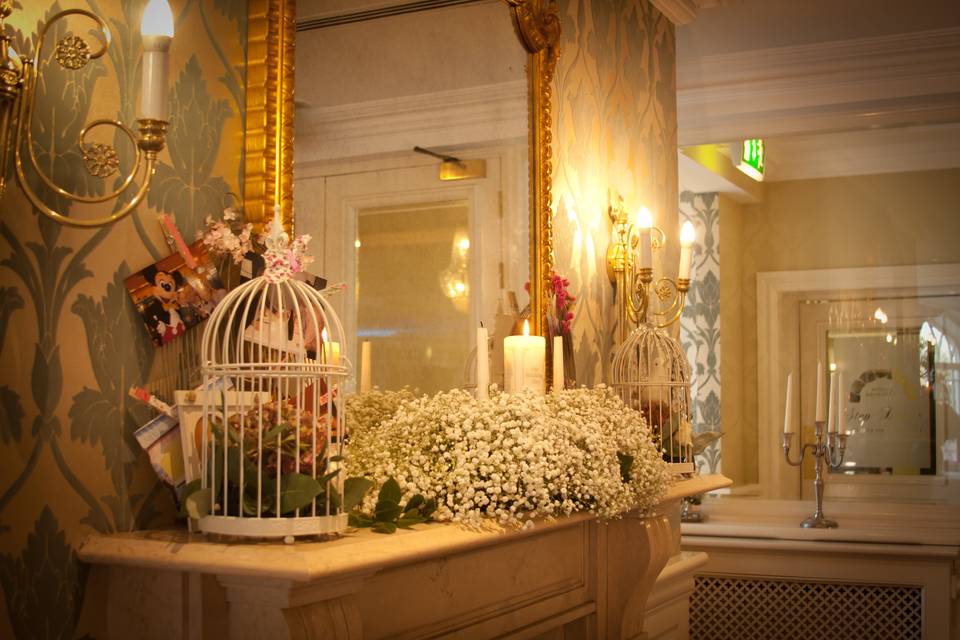 Retro wedding accessories may be old, but they are always timeless. Whether you are looking for a splash of vintage chic in your otherwise modern wedding, or are throwing a 1920s, Gatsby-esque celebration, vintage accessories are a great way to show your personal style and add a stamp of eccentricity to your event. While you can find some beautiful new pieces that imitate an old-fashioned aesthetic, nothing beats the real thing. That's why we recommend finding heirloom décor that is as long-lasting as your own love. However, sometimes you just can't find what you're looking for at your local charity shop. Fear not, because we've rounded up retro wedding décor ideas from some of the best suppliers in Ireland just for you.
With so many adorable options at your fingertips, you can choose between items that relate to you and your partner's love story - a typewriter for a book-loving couple! - or which make your celebration unique - gifts in vintage suitcases, anyone? Whether you're after a rotary dial telephone to match your eclectic venue, a 1960s tandem bicycle for the "just married" pics, or antique accessories to complement your retro hairstyle, these suppliers will help you find the history-rich pieces that will wow at your wedding. You can also search our suppliers directory for more decorative hire companies.
1. Retro Suitcases
Look in your parents' attic for some old fashioned suitcases, and if you can't find any then get in touch with The Wedding Festival. This Co. Kildare-based company specialises in gorgeous, bespoke wedding styling. Use some of their retro suitcases as a wedding postbox, or pile them on top of one another to create a beautiful display. If you're feeling adventurous, you can even bring one along for the honeymoon!
2. Typewriter Guestbook
Want a guestbook your guests will be eager to write in? Use a typewriter for a retro take on this greeting table staple, and encourage your guests to type out messages that you can scrapbook together later. For a great pick, this mid-century turquoise Hermes 3000 typewriter from Vintage Affair looks effortlessly cool next to a stack of antique books.
READ MORE: The Best Library Venues in Ireland
3. Mobile Prosecco Bar
Nothing's cuter (or more fun for your guests) than a mobile bar, and with The Art of Bubbles' vintage prosecco van, you'll be the toast of the town. This boozy bus serves sparkling wines with only 100% Glera grapes - the original grape brought to the village of Prosecco, Italy from Slovenia. In keeping with their authentic Italian beverages, the company's bar-on-wheels is a genuine Piaggio Ape Classic. The retro three-wheeler is still found in Italy today!
READ MORE: 5 Retro Wedding Cars for Your Big Day
4. Order of the Day Clock Sign
Remember analogue clocks? Yeah, neither do we. Still, the old-timers on the guest list (and any enthusiasts of antique timepieces), will be counting down the minutes until they can admire this Order of the Day sign from Polka Dot Events. Set the clocks to the start times of each phase of your event, and just make sure they're not ticking. You wouldn't want to throw off the schedule and get everyone wound up!
5. 1960s Tandem Bicycle
While arriving at your wedding in a classic car is a timeless option, for cycling enthusiasts - and those after a truly memorable entrance - a tandem bike might be in order. Hop onto this tandem bicycle from Vintage Affair with your spouse-to-be and watch as your guests rush to snap photos for the 'gram. If you're afraid cycling might ruin your makeup, the bike can double as an adorable prop at the entrance to your venue.
6. Baroque Style Chaise Lounge
While it's not technically vintage, we still love this Baroque-style black chaise lounge with gold leaf trim from HireAll. You can get dramatic with this show-stopping piece, which you can set up at the end of the aisle for you or your partner to sit on, or put near the dance floor so that your tired guests can catch a breather. Anywhere you put it, this chaise lounge will look trés chic!
READ MORE: 12 Castle Wedding Venues for Your Fairytale Wedding
7. Vintage Telephone
While kids these days may not even know how to use the rotary dial, this Bakelite telephone still makes for eye-catching décor at your retro wedding. You can put this one from Lolliprops on the guest book or presents table as a prop, or, if you're feeling industrious, you could even rig it to work as a table number - although in that case, you'll probably need more than one.
READ MORE: Cute Birdcage Ideas to Transform Your Vintage Wedding
8. Decorative Rug
Speaking of Lolliprops, this Dublin-based rental company really is one of the most exciting decorative hire companies in the country. They have hundreds of items available for fancy dress parties of all kinds, from casino nights to Wild West paloozas. You can shop for décor via their themed pages or by browsing the gallery. In the "Vintage" section you'll find this large ornamental rug. As forest weddings with rug aisles become all the rage, we think you'll want to snag this colourful throw.
9. Antique China Dishware
Antique china dishware isn't just for your nana's house anymore. More and more, this shabby-chic trend is making a comeback. You can try to thrift beautiful bone china dishes, teacups and saucers from your local charity shop, or you can head over to CaterHire, a decorative hire company that delivers all over Ireland. This way, you'll know you're getting high-quality items that aren't about to break, and you'll even be able to get matching sets - a rare find for vintage!
READ MORE: 10 Irish Wedding Traditions
10. Vintage Sewing Machine
We can't get enough of Dublin's award-winning wedding styling company Vintage Affair, and it's not hard to see why. Their exquisite Singer sewing machine is just one of many décor items that will add a sought-after vintage touch to your boho wedding. It pairs particularly well with aesthetics that feature lots of lace or macramé. If you like to sew - or if you made your own wedding attire - then this is the perfect accessory.