Your New Year's Resolution
Make your New Year's resolution today!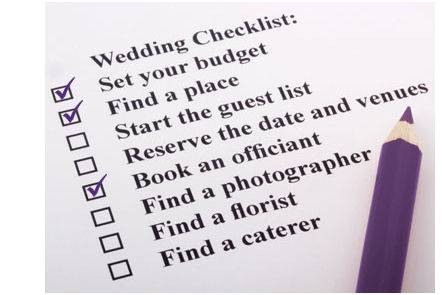 We are sure that after making your Christmas wish list for Santa, organising all the various dinners and festive drinks with friends and buying endless Christmas presents, you are all planned out. So now, your New Year's resolution is to start focusing on organising your wedding. We have a few helpful wedding planning suggestions to get the ball rolling.
Similarly to everyone, you have most likely blown your wedding budget over the Christmas period but don't panic, whether you are at the beginning, halfway through or near the end of your wedding planning, there is still plenty of time to get your money in order. By creating a budget, you can have a good idea of where you can be really extravagant and where you know you need to cut back. A budget planner will help you through every stage of your planning and the skills you learn from it can be applied to everyday life too.
We use them every day, for food shopping, work, days off, so why not make an official 'to do' list for your wedding? Similarly to your budget planner, your 'to do' list will ensure you stay organised through this hectic time and will help you to keep track of everything involved in your wedding planning, however big or small. If you are a little stuck on where to begin, hitched.ie has an excellent to-do list tool which will hold your hand through every step of your wedding planning. We will send you updates directly to your email and as often as you request. Your list will ensure that absolutely nothing is forgotten about.
One of the most stressful parts of wedding planning that many brides-to-be have agonised about is the bridesmaids. Choosing bridesmaid dresses, shoes and other accessories will be made much easier if they are with you at the time. Even if they have disagreements about the length of a dress or the size of a heel, you can still co-ordinate their look. By planning ahead with your girls, you can have plenty of time to make adjustments and make sure that everyone is happy on the day.
Top tips from hitched.ie
— Your 'to do' list is essential to keep all aspects of planning in order
— Involve your bridesmaids in the planning process, particularly when it comes to choosing their dresses. They need to be happy too.
— Sit down with your partner and work out a budget, sooner rather than later, before it all starts to build up.
Register now and make use of all our free wedding planning tools.