It is traditional to preserve the top tier of your wedding cake, to eat on your first anniversary as a happily married couple. However, many couples make mistakes during the process of preserving the cake which can ultimately result in the cake being ruined when it is eventually taken out of the freezer. Below, we have outlined some simple steps that you can take in order to keep your cake looking just as it did on your wedding day.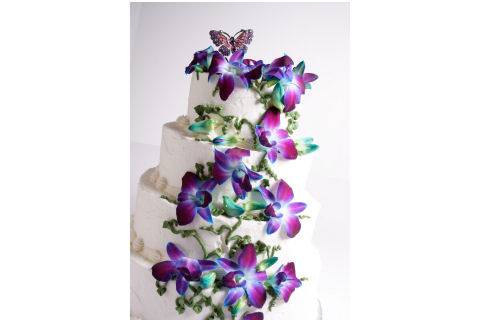 The first step is to organize who is going to be responsible for taking the top tier home as soon as the cake has been cut.
Secondly, remove any cake toppers or other decorations. Try to avoid placing your cake directly in a cardboard box as it will gather a cardboard taste, making it much less enjoyable on the day of your anniversary. Instead, wrap it in cling film and then place it inside the box. Using a bakery box is not ideal as they are too flimsy, instead, use a sturdy cardboard box.
Once the cake is safely home, take it out of its box, unwrap it, place it directly in the freezer and then walk away until the next morning. Once the cake is fully frozen, remove it from the freezer and wrap it in cling film, ensuring it is fully covered and that there are no air pockets. Put the cake back into its box and tape up the sides. Place it in the freezer with a label on it, clearly marking what it is.
When it comes to eating your cake a year later, remember to un-wrap your cake as soon as you take it out of the freezer. If you forget this step, the icing will defrost and stick to the plastic wrap. Allow your cake to defrost whilst in the open air as any condensation will immediately evaporate.
Once your cake is back to room temperature, enjoy it with your husband and other friends and family, celebrating that you are no longer newlyweds.
Browse more ideas in our wedding cake gallery.