Dating back to ancient times where sesame seed pies were served to the Greeks and wheat wedding cakes were served to the Romans, our much loved wedding cake is one of the oldest wedding customs and is still a key focus to your wedding reception today. As the guests gather round to watch the bride and groom cut the cake, this centre stage subject will be captured in many photographs and therefore some thought needs to be given to choosing your perfect cake.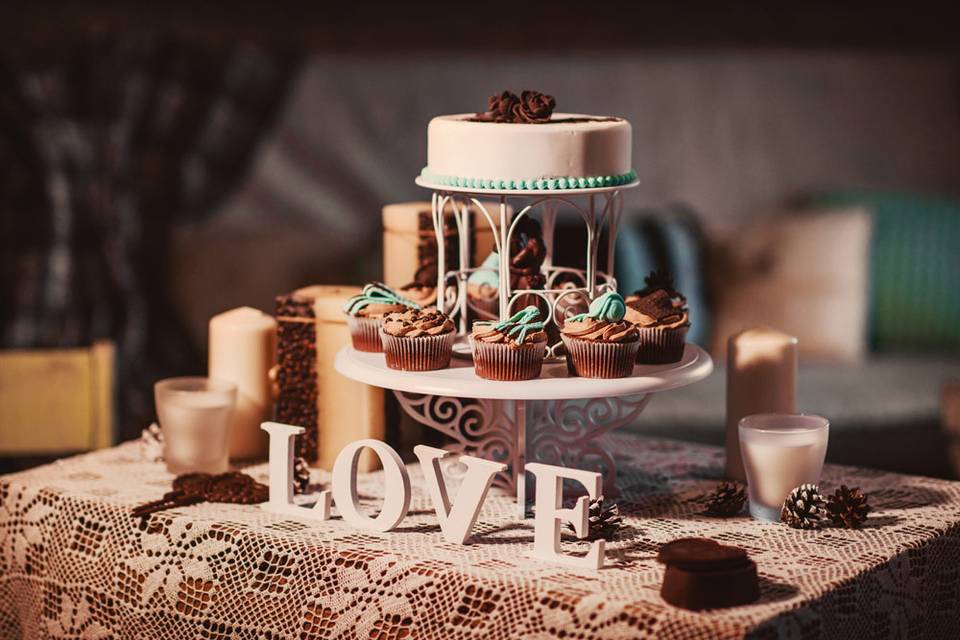 So what should you be considering when choosing your wedding cake?
The Style
While the three tier traditional wedding cake still remains a firm favourite, many brides and grooms are having fun with modern alternatives.
Cupcakes are vey popular nowadays and can come in delicate fairy cake style with pastel icing and decoration to suit the theme of the day. They can also really transform the breakfast tables too. The individual chocolate cake is also a favourite. Using a mix of milk, dark and white chocolate, they not only look delicious they are a great after dinner treat too!
What about using your individual cupcakes as a place card by having your guests' names written on a tag tied to the fancy or iced on top? Very effective and a nice personal touch.
You can add a modern feel to your traditional cake by adding some colour to the decoration. Picking up on your wedding colour scheme and style, your cake maker or florist can help add some features to make the cake more personal to your day.
Cake toppers can also be a fun or romantic addition to the wedding feature. There are many to choose from, from fun to traditional, from themed to unique and many cake makers make bespoke toppers which can be another lovely personal touch to your cake.
Don't forget, when choosing your wedding cake; take with you a swatch of your colour theme and any pictures of cakes that have caught your eye!
The Size
In terms of cupcakes, there should be one for each guest. If you're looking at a traditional cake, the following is a guide, however, your cake maker will be happy to advise you too:
No. of Guests:
Up to 30
Up to 100
Up to 120
Size
8, 10 inches
8, 12, 16 inches
6, 8, 10, 14 inches
Price
This all depends on the size of the cake and number of guests. You should consider the detail of the cake: decoration, sugar flowers, any personal touches, etc.
If you want to keep the cost down, then keep it simple. Use sponge rather than fruit cake, which may even delight some of your fussier guests!
Taste It!
When choosing your cake, not only consider the way it looks but consider the taste too; this is just as important and will be appreciated by your guests if you make a good choice!
Where possible, make an appointment to sample some cakes and bear in mind any allergy and dietary requirements you may need to take into account.
The traditional fruit cake is always popular with more traditional guests! However, you may want to consider a different filling for each layer which should cater for everyone's tastes.
Who to Choose?
Like with most things in life, personal recommendation is by far the best way to find a good cake! You can also look on cake maker websites and directories for testimonials and reviews which should give you an idea of how reliable and creative the cake maker is.
Wedding Fayres are another good way to research what's out there. Ask suppliers to see some photographs of their work and a good cake maker will also want you to try their creations!
Take a look at more wedding cakes ideas.