Expert Advice on Weddings Abroad
Plan your big day with ease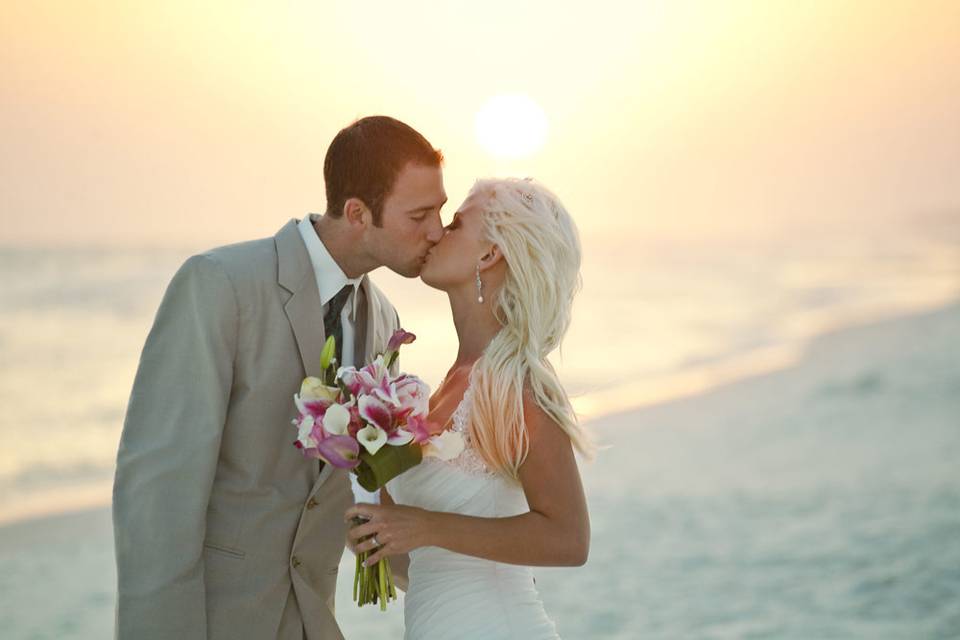 If you dream of having a wedding abroad, you may find at first that the legalities could put you off. BestWeddingAway.ie are experts at making overseas weddings easy, personal and special. hitched.ie talks to Roberto Benetello, the Managing Director of BestWeddingAway.ie to find out the most important things brides and grooms need to bear in mind if choosing to marry in Italy.
Getting married abroad is easier than ever before and with so many amazing venues to choose from, it's incredible food and sunny climate it is no wonder that Italy is in the top 5 for overseas wedding locations. If you are thinking about marrying in Italy and confused by all the legalities here is an overview of the types of ceremonies available as well as the legal requirements which must be met.
Civil Wedding Ceremony
Civil ceremonies in Italy last about 20 minutes. The Italian civil code and traditional vows are read out in Italian by a local celebrant who is normally a local council official or the mayor; couples will also require an interpreter to translate them into English if they don't speak Italian. The locations where a couple can get married in Italy are restricted to buildings and structures owned or managed by the local town hall. However brides need not worry about getting married in a drab council building as they are far from it in Italy.
Religious Wedding Ceremony
Religious ceremonies in Italy for non Italians are less common. It is possible to arrange a Catholic wedding ceremony if a couple has their heart set on a traditional wedding however not all churches will allow non Italians to marry in them. Requirements may also vary depending on the church, with some Priests requiring a meeting with the couple beforehand for pre marriage counselling sessions. However all church's would require details off both the bride and groom to prove they are practising Catholics. It is advisable to contact the specific church in Italy to see if a religious ceremony would be possible and to ensure the couple can meet all the requirements.
Legal Requirements for getting married in Italy
A good wedding planner should help with the legal side of things to ensure getting all the relevant wedding documentation is as hassle-free as possible. Below is an overview of the forms that Irish citizens are required to complete as well as the documents they are required to send in order to obtain a Nulla Osta from the Irish Embassy. Full information can be found on the Irish Embassy website.
Forms to Complete
Both the bride and groom will need to complete:
Questionnaire for Irish Citizen looking to Marry Abroad — 2 pages (MP1)
Confirmation of Postal Ad dress for Nulla Osta to be sent — 1 page (MP2)

If the bride and groom have not been married before or one of them was previously widowed then they will need to complete the following form:

Statutory Declaration for Irish Citizens looking to Marry Abroad (MP2A)
If widowed then the original death certificate of the previous spouse must be presented

If either of the couple is divorced then they will need to complete the following form:

Statutory declaration for Irish Citizen holding a divorce decree issued by the Irish courts looking to Marry Abroad — 3 pages (MP2E)
The original petition and final decree of divorce must also be presented.
Each of the statutory declarations must be completed in the presence of and witnessed by either: a Notary Public; A Commissioner for Oaths; or A Solicitor.
If either the bride or the groom is under 18 then you must make an application to the courts to grant you permission to marry.
Along with the above completed forms, couples must send the following required documents to the appropriate Irish Embassy in Italy.
Required Documentation
Original Long form of civil birth certificate
Court Order if you are under 18 years
Original Death Certificate of previous spouse if widowed
Original Petition and Final decree of divorce: if divorced
Copy of Passport
Fee of €20 per couple
Couples must include all the required forms and documents in their application — if documents are missing or not correctly completed then they will be returned. Payment can be made by cheque, payable order or bank draft and should be made payable to the Secretary General, Department of Foreign Affairs. It is strongly advisable to send your documents by registered delivery to ensure nothing gets lost!
Applications for obtaining a Nulla Osta cannot be completed earlier than six months before the date of the intended marriage and will be issued one month prior to the date of the wedding. The Nulla Osta granted by the Embassy is then given to the relevant department of the local comune (or local council) where you are getting married, who will then finalise the paperwork you need for your wedding in Italy.
Couples will require two witnesses to your marriage who will need to be over the age of 18. Your wedding planner can arrange this for you however if a couple have chosen two people specifically to be their witnesses then copies of their passports will need to be provided to the local Italian comune (town hall) so they can produce the correct documents. Couples should be aware that in Italy when a woman gets married she does not normally take her husband's name and keeps her surname. This means that when the bride signs the Act of Marriage it must be done in her maiden name although you can officially take your husband's name at this point without needing to do anything further.
Registering your Marriage
A marriage will only be recognised in Ireland if it is civilly registered in Italy. Normally the authorities for marriage registration in Italy are the local Comunes. You should note that church weddings are not automatically registered with the local Comune. Often the priest celebrating the wedding or the wedding planner helping to organise it will take responsibility for registering the marriage but it is wise to check that registration will be completed. The Irish Embassy does not have a role in the registration process.
For further information on getting married in Italy and to see details on possible dream wedding locations in Italy please visit www.bestweddingaway.ie