10 Countryside Wedding Venues
Picturesque Irish locations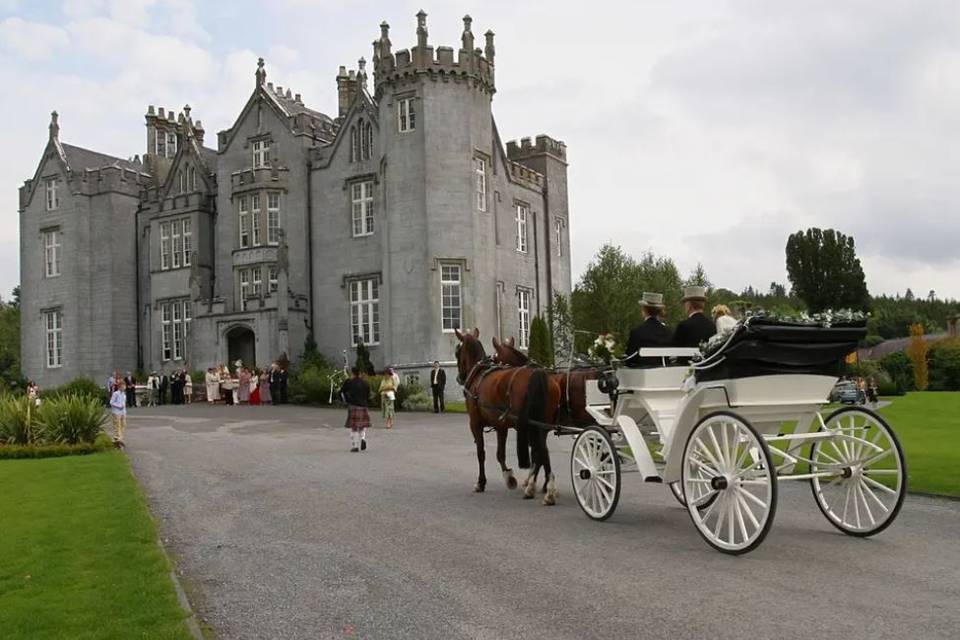 Many soon-to-be newlywed couples choose to celebrate their long-awaited wedding events in the peace and quiet of the countryside. While the vibrant buzz of the city can be oh-so alluring, you may find yourself drawn to the serenity of rural Ireland when envisioning your dream day. With no shortage of stunning castles, luxurious resorts, and manor houses throughout the country, you're sure to be spoiled for choice. Not only will your experience on the day be unforgettable, but your wedding album will also feature picture-perfect scenes of rolling hills, lush fields, enchanted woods, and endless skies. If you are planning to treat yourself and your loved ones to a private and exclusive getaway, a wedding venue in the countryside will be the perfect setting for your celebratory soirée. We have handpicked ten stunning wedding venues located throughout the island of Ireland that will each give you a spectacular country feel.
1. Kinnitty Castle Hotel - Kinnitty, Birr, Co. Offaly
This stunning castle wedding venue is set on stunning grounds and offers each and every couple the fairytale wedding of their dreams in a beautiful enchanting castle. It dates all the way back to the 13th century, so you can expect plenty of memorable architectural details. And for your wedding's grand feast, the Great Hall of the O'Carroll's is sure to do!
The wedding planning team at Kinnitty Castle can help each couple to plan their perfect wedding day right down to creating the perfect menu.

Find Out More
2. Brigit's Garden - Cong, Co. Mayo
For a unique and extra special wedding day, Brigit's Garden in Galway has plenty to offer. Couples can make use of the beautiful gardens - that are steeped in Celtic heritage - for their wedding celebrations. There are also two different stunning indoor locations for your reception, including The Roundhouse – a circular thatched building or The Hazel Room which can seat up to 90 guests.

Find Out More
3. Kilshane House - Limerick Junction, Co. Tipperary
Kilshane House is a spacious Regency house that dates back to 1822. When your guests arrive they will drive up the impressive half-mile driveway to the house which is located within 320 acres of private parkland. Couples can throw a stunning wedding day surrounded by natural beauty with a wedding at Kilshane House.

Find Out More
4. Finnstown Castle Hotel - Lucan, Co. Dublin
For a wedding day with a fun and relaxed atmosphere, take a closer look at Finnstown Country House Hotel. With this location, you get the best of both worlds, a countryside venue set within 45 acres of grounds yet still just 25 minutes from Dublin city centre. Guests will arrive by driving up the tree-lined driveway up towards this spectacular venue.
5. Radisson Blue Farnham Estate Hotel - Co. Cavan
Located in idyllic woodlands, Farnham Estate offers a tranquil and relaxed environment where couples can throw a luxurious wedding day for their guests. The beautiful surroundings of this venue will give you some stunning photo opportunities and guests will be wowed by the natural beauty surrounding them.
6. The Dunloe Hotel & Gardens - Killarney, Co. Kerry
This five-star luxury hotel overlooks the famous Gap of Dunloe, set in its own 64-acre estate you can have your perfect wedding in the country in this idyllic location. The dedicated team at The Dunloe has been welcoming weddings for over 40 years and has a wealth of experience that can help you to plan your perfect wedding day.
7. Castle Leslie Estate - Moyvalley, Co. Kildare
This stunning castle venue is ideal for brides wanting to feel like a princess for the day. This Irish castle hotel features authentic interiors and is nestled within 1,000 acres of the Irish countryside, it is the ideal location for a traditional wedding in the country.
8. Fernhill House Hotel - Kinsale, Co. Cork
Fernhill House Hotel offers picturesque views and stunning landscaped gardens that are perfect for a summer wedding day. If you want your wedding day to be a true one-off then Fernhill House Hotel will be perfect for you as their wedding coordinator specialises in creating tailor-made weddings.
9. Mount Falcon Estate - Ballina, Co. Mayo
For an elegant wedding day with a contemporary twist, Mountain Falcon Estate has everything that you could need. Set on magnificent grounds with views of the surrounding woods and a peaceful river, the property offers a wide range of amenities to make your day perfect. Not only can you experience a carefully coordinated wedding event here, but you and your guests can also enjoy the luxurious guest rooms should you wish to extend your stay.
10. Powerscourt Hotel, Resort and Spa - Moyvalley, Co. Kildare
The stunning five star Powerscourt Hotel, Resort and Spa is a breathtaking wedding venue and it set within gorgeous landscaped gardens, perfect for taking dreamy and romantic wedding photos. You will treasure all your wedding memories forever with a wedding in this gorgeous location.

Find Out More