Fun Food Ideas
Give your wedding food a summer twist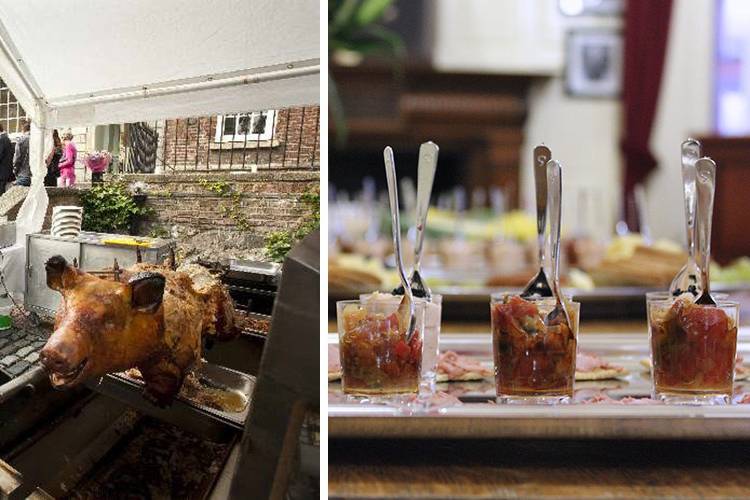 If you are planning a summer wedding then you can really have fun with your wedding food. Picnics, barbecues and ice-cream vans will be something fun and quirky that your wedding guests are not likely to have seen at weddings before and can also make for more budget-friendly wedding food ideas, compared to a traditional sit-down wedding breakfast. Alternatively this style of wedding food will be great for your evening guests and can really add to a relaxed party atmosphere.
If you are lucky enough to have sun on your wedding day then a summer-themed wedding menu will suit perfectly, but even if the weather is not on your side, then your guests will still enjoy summer treats in the warmth and cover of a marquee. We take a look at some delicious ideas for summer wedding food from local Irish wedding suppliers.
Hog-roast.ie offer a delicious selection of wedding food ideas, perfect for a summer wedding. Of course the most special thing offered is a delicious hog roast that will feed all your wedding guests, offered alongside potatoes, salads, burgers and more. A hog roast will be really memorable for your guests and guaranteed to be a crowd pleaser. Hog-roast.ie also offer a delicious selection of canapés that are easily hand held, perfect for a drinks reception where your guests can mingle outside.
If you want to add some more sweet treats to your wedding food selection then cakebombs.ie have a delicious range of options. Their signature cake bombs come in 6 delicious flavours, including lemon, caramel, vanilla and chocolate, small balls of cake served on sticks, these are great for guests who are standing and if you want to encourage your guests to wander around and mingle. Add some variety by also including their chocolate brownies and delicious cookies, they make great sweet snacks for children or alternatively can be yummy wedding favours for your guests to take away.
For a great photo opportunity, think about an ice-cream van or a fish and chip van, they will give you fun and retro style as well as some delicious food that your guests will love.
Remind your wedding guests of their childhood with a fun ice-cream van for refreshing treats that will be popular with all ages. Smiths Ice Cream Vans share some of their stunning wedding photographs with us. With 14 top quality ice cream vans, they serve soft whipped Irish ice cream along with slush puppies, fresh popcorn, tubs of candyfloss, soft drinks and various confectionery items, perfect for your wedding day.
They tell us — "Over the last few years the wedding market has steadily grown for us and we find that more and more brides and grooms are looking to hire an ice cream van to treat their guests either outside the church after the ceremony or at their reception along with pre-dinner drinks or as an alternative to dessert."
Or for a savoury surprise, thechipvan.ie will provide delicious food in a stylish fish and chip van, perfect for your evening reception.
Thechipvan.ie offer a service for weddings with traditional fish and chips, juicy burgers, jumbo hotdogs and more, your guests will remember your evening reception for years to come and your wedding will really stand out. If you have guests only attending your evening reception and not the day part of the wedding, then it will also be a nice way to have them included in one of the fun and memorable aspects of your wedding day.