Delicious Wedding Food
Have a feast on your big day!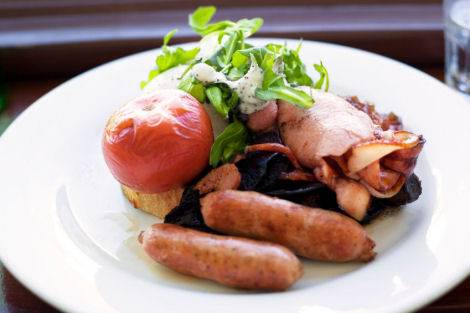 Whilst there are some aspects of weddings that are considered a top priority, there are other aspects that still need just as much thought put into them, such as food.
All of the bridal party need to start the day with a good, healthy breakfast to keep energy levels high during what will certainly be an emotionally tiring day. Therefore, organising a breakfast feast is very important.
The first type of wedding breakfast will be enjoyed just by the bridal party. Those included will be the bride, her maids, her parents and any other immediate family. A good way to quash nerves is to enjoy a tasty breakfast with a cool glass of champagne first thing in the morning. Some brides often see it as a symbolic meal; the last breakfast as a single girl, shared with her closest family. This, of course, also applies to the groom as it is his last day as a single person too.
Organising the meal for the reception can be stressful, time consuming and often very expensive. There is a lot to take into consideration. The bride and groom should have asked guests to select their menu choices within plenty of time of the big day. Typically, this will be on their invitation so that everyone has the choice to enjoy their meal, whether it is roast beef or salmon en croûte. However, there are other things to take into account, such as any guests who may have food allergies; will they need a special menu tailored to their needs specifically?
The type of food served at a wedding mostly depends on the type of wedding the bride and groom wish to have. A La Carte favourites such as chicken dishes, roast beef, salmon and a vegetarian option will typically be eaten at a more traditional wedding. However, kookier ceremonies often decided to experiment with more avant garde food. It ultimately comes down to the couples personalities. There is absolutely nothing wrong with deciding to have fish and chips wrapped in newspaper for a wedding meal. If it's good enough for Wayne and Coleen Rooney, it's good enough for us!
The same rule applies to wedding cakes too. Why not go for a ten-tier cake should you want an extravagant and over-the-top wedding? On the other hand, if you are having a small and intimate wedding, why not go for a smaller cake? A simple choice can sometimes offer a tastier result.
Cutting the wedding cake is an important tradition and will appear in many photos. So brides and grooms like to put a lot of thought into it. Edible photos and decorative sugar-moulded scenes are both firm favourites for wedding cakes. Furthermore, it should not matter whether guests think features such as these are tacky, as long as the newlyweds are happy on their special day.