Questions You Need to Ask Your Florist
Be in the know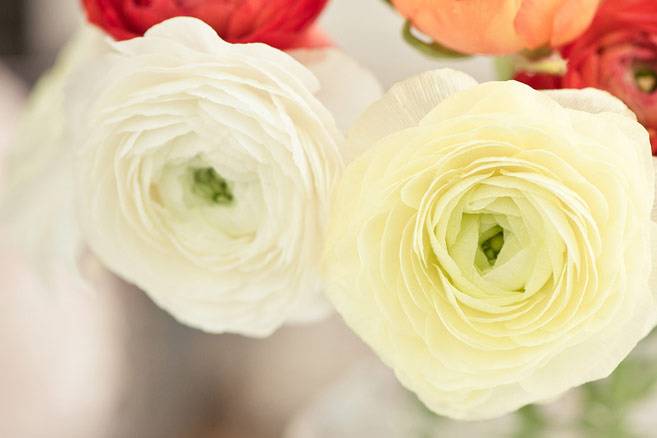 One of the most exciting parts for of the wedding planning process for any bride is choosing the flower arrangements. Having said that, it can be a bit daunting if you have no idea where to start!
We suggest doing some research first. Ask around and see who comes recommended, don't forget to browse through our suppliers directory where you can search for your local wedding florists, see photos of their work and read reviews. Then when you've chosen a few that you are keen on, arrange a visit and go armed with the following questions:
Can I see examples of your work — fresh, portfolio?
Take a look through the florists work portfolio. This is a great way of seeing the style and standard of work they do. If they have fresh samples to see and smell, even better. Look for the florist's attention to detail: are the flowers all fresh, have they been creative with their design, have they taken care with the binding of their flowers?
Which flowers will suit the style of my wedding?
Your choice of flowers should reflect your day — traditional, modern, quirky, or themed! It's important that your florist is clear about the atmosphere and look you want to create. Take with you some images of your dress, bridesmaids' gowns and colour scheme.
My colour scheme — Can you help me with this?
You may have a good idea already and your venue may also influence your colours and style of flower arrangements. Consider your venue's colours and features and show images to your florist if required.
My wedding venue — Have you worked there before?
Your florist may be familiar with your wedding venue already so they will know which colours and arrangements that will work best. If they are unfamiliar then you may want to invite them to a showround so they get an idea of what they are working with. Check with your venue first though as they may only allow you to use their own/recommended florist. Enquire about this before you start your flower research as you may set your heart on someone you can't have!
Will it be you or another florist in the shop?
Be sure you know early on who you'll be working with and meet them as early as possible. It's important to build a good relationship with your florist and be confident that that can deliver what you've agreed.
Which flowers will be in season when I marry?
The time of year will determine what flowers are in season and available. So be careful not to have a 'special' flower in mind in case it may be out of season at the time of your wedding. Ask your florist if they work with locally grown flora as they are always better quality than flowers shipped from overseas.
Which flowers arrangements are in style at the moment?
If you want to keep up with what's in, then ask your florist what's popular today! Check flower magazines and websites for ideas.
What style and bouquet shape will best suit my wedding dress?
Most good florists know what's en vogue in terms of wedding dresses and should have images of different bouquet styles that will go with them. They will also recommend one that compliments not only your dress, but your figure. Play about by holding a few samples and see what you feel comfortable with.
Can I see a mock up?
Ask if it's possible to have a mock up of your design. This way you can see if it's really what you want and what you expected.
Are you able to transport my flowers to the ceremony and reception venue and can you help set them up?
Be assured that they will be transported safely and securely! Ensure the venue knows who will be bringing the flowers and when to allow for set up. You may also be able to use the flowers in more than one place, for example, you may be able to take church arrangements with you to dress your wedding tables at the reception venue.
How do I get any rented equipment back to you?
Arrange this beforehand so you know what to do and who to assign to take care of this.
How do I stick within budget?
Good florists will know how to create a design within your budget. They should not insist you spend more for something more elaborate. Be clear about what you want, including buttonholes, pew flowers and ribbon, etc. Check for any hidden costs, for example VAT, ribbon, ornamental rental, breakages of florist goods, etc. Agree a figure up front and stick to it.
If need be, can I change my floral order?
Understand as early as possible how late you can change your order if required. This may impact imported goods which are difficult to cancel last minute.
What about the final details?
Find out what the florists needs to know and when. Most florists need about 6 weeks notice to confirm all arrangements.
Have you found your floridt yet? Browse our suppliers directory and find your local supplier.