The Most Amazing Wedding Photos You Will Ever See
Weird and wonderful wedding photography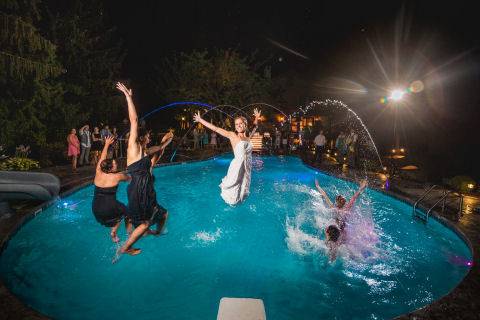 Are you a bride and groom-to-be searching for photo inspiration? A photographer who wants to check out the world's most unusual wedding photography? Or maybe you're simply a photo fan who loves to see a cracking picture of the bride and groom. Either way, you will love this collection of quirky, unusual and beautiful wedding images.
We've handpicked 20 of the world's most amazing wedding photographs to make you gasp, sigh — and even laugh out loud. Enjoy!
Pool Party
Now here's one way to make a splash on your wedding day! This bride leaps into married life by taking a dive into a swimming pool — along with her ever attentive bridesmaids. Photo by Ben at www.stylestorycreative.com.
Because They're Happy
Nothing says "happy" like a bridal party, big smiles — and sunglasses. Captured by Rachel Fox, this simple, stunning photo is guaranteed to make you grin.
Movie Magic
If your wedding day happens to clash with a winter storm (snow all day, gale force winds, etc) take inspiration from this couple's wedding album. Their portrait photos look stunning with a movie screen as the backdrop. Photo by Tim and Gillian Higgins at www.gatherandtides.com.
Super Groom
How much fun is this photo? You can see the pure delight on the groom and groomsmen's faces as they reveal the superhero costumes hidden under their suits. And the bride seems to be carried away by the stunt too... Photo by Laura Brennan www.cherryredphotography.co.uk.
All You Need Is Love
This shot really is a heart-warmer. Lucie Pitcher photographed the bride and groom using a sunbeam as a natural spotlight, making the word "love" with their up-stretched hands. Photo by Lucie Pitcher at Pitcher Photography.
Fairground Attraction
This daring couple marked their marriage with a spin. They wed in a small ceremony at a local registry office; the next day, they had their full celebration with friends and family at a festival complete with fairground rides. Photo by Lel Hurst at www.lelhurst.com.
Independence Day
Fans of all things stateside, this couple tied the knot on July 4th: Independence Day. They built their own funfair and the wedding party wore co-ordinating, customised converse in the colours of the USA flag. Photo by Victoria Mullins at www.victoriacaptures.co.uk.
Flowers and Chips
Becky and Greg married in their seaside hometown. Photographer Sara Reeve wanted to "capture everything awesome about the seaside in their photos — and one of the best things is fish and chips on the beach!" Photo by Sara Reeve at www.sarareeve.com.
Sensational Sparkle
Of this sparkling shot photographer Sas Vassie says: "The bride and groom stood still, I put the camera on a tripod, someone pointed a torch so I could focus in the dark and the best man ran around them for eight seconds with lit sparklers in his hand. It takes experimentation, with the light and length of exposure, but anyone could have a go at this." Photo by Sas Vassie at www.mariposaphoto.co.uk.
Bubbly Time
Bubbles are a must-have accessory at a wedding — and if you can capture them on camera, with the bride and groom in shot, it's a fantastic fun effect. Any couple could try this, irrespective of wedding theme or season. Photo by Rachel Fox at www.foxy.ie.
Floral Faces
Who says couples have to show their faces in a wedding photo? Taken at a vintage-style, rural wedding in Llanfynydd, North Wales this unexpected shot ended up being one of the couple's favourites. Photo by James Burbedge at www.riverlanephotography.co.uk.
Steampunk Romance
If the bride and groom choose an alternative wedding, amazing photos are guaranteed. Photographer Ross Hurley says: "Jodi and Andy have always been alternative. This was easily the most fun wedding I've attended and it certainly looked the part." Photo by Ross Hurley at www.rosshurley.com.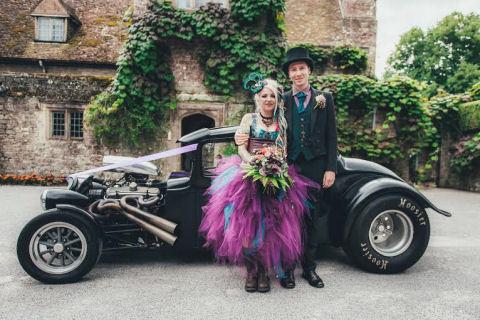 Helmet Hair
During the speeches at Emma and James's cool, city wedding, James's running record of injuries was joked about. As a funny gift, the best men gave him a crash helmet and photographer Marianne Chua captured the moment. Photo by Marianne Chua at www.mariannechua.com.
Baby, You Can Drive my Car
The perfect prop, this car was renovated from scratch by the bride's father especially for the wedding. Nicola and Tom had a completely DIY wedding, including this retro car! Photo by Terri Pashley at www.terripashleyphotography.co.uk.
Love is in the Air
On this wedding day, a balloon trip was a surprise gift from father of the bride — the photographer (who suffers from Vertigo) was as surprised as everyone else. He says it was worth facing his fear as he was able to capture the shadow created by the balloon, creating a fitting silhouette. Photo by James Musselwhite at www.closerphotography.com.
Jump!
Convince the groomsmen to take a leap of faith on the big day and the photographic results could be as brilliant as this. Photo by Lucie Pitcher at www.pitcherphotography.co.uk.
Ice Cream Bride
Putting a bride and groom into an unexpected situation on their wedding day makes for a marvellous photo opportunity. Here, the bride serves her new husband an ice cream cone — from a real ice cream van. Photo by Lel Hurst at www.lelhurst.com.
One Man and His Dog
Ok, so the bride is the groom's one true love — but his dog comes in a close second. This guy loves his pooch so much he's bought him a matching bow tie for the big day. All together now...awwwww. Photo by David Morgan at www.MakeTimeStandStill.co.uk.
Picture Pumpkins
If you're having an autumnal wedding, you could get into the spirit with some seasonal props. This couple married in early November at a smart city hotel — but wanted to give Halloween a cheeky nod. Photo by Sara Reeve at www.sarareeve.com.
Horsing Around
If there's a dream photo you desire, but it's not practical to have it taken on your wedding day, you can always slip into your dress at a later date to capture the moment. This bride wanted to wear her Essense of Australia wedding dress again, so she commissioned Sue Westwood-Ruttledge to photograph her astride Max, her Welsh Cob horse. Photo by Sue Westwood-Ruttledge at www.horsephotographeruk.co.uk.