Questions for Your Videographer
Top tips to help you choose the right videographer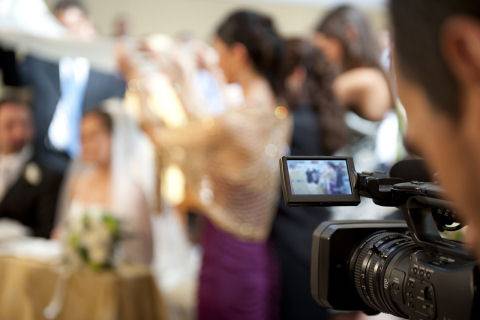 You've worked so hard to make your wedding day the most memorable of your life, but with so much going on and so many people to see, it can be difficult to fully appreciate every aspect of the day. A great solution is to hire a wedding videographer! When choosing your wedding videographer, there are so many things to consider; what style of video do you want, how much of your wedding do you want shot and what equipment you need to accommodate? We've put together a list of questions you must ask your prospective videographer, in order to make the right choice for your big day.
What's Your Style?
Just like photographers, wedding videographers may have a certain style. Cinematic, documentary, classic, the list is endless, so ask your prospective videographer to see examples of other weddings they have filmed, in order to give you a better idea of whether their style fits with your theme.
How Many Weddings Have You Shot?
It goes without saying that the more experience the videographer has, the more likely they are to produce a high quality piece of work. Make sure you have someone that you can put your complete faith into!
Have You Ever Shot at My Venue?
If your videographer has shot at your venue before, they're likely to know what equipment they need and what worked best in the last wedding they filmed there. If they haven't, it'd be a massive help to them if you invite them on a showround, so that they can do a dummy run of the wedding and get an idea of how they will shoot in the space.
Who Will be Shooting My Wedding?
If you choose to go with a videography company, the person you initially speak to may not be the videographer present on the day. Check with your contact exactly who will be present on your wedding day and ask to meet them. If you can build a good relationship with them before the big day, you're more likely to get the results you want from them.
What Types of Equipment Will You Use?
Videographers are more intrusive than photographers, as they usually need much more equipment and are more noticeable during the wedding day. You'll need to be mic'd up if you don't want a silent movie, so it's important to check what type of sound equipment they'll be using and how this will work with your dress.
How Many Weddings Will You Film a Day?
If your event is in the height of wedding season, it's possible that your videographer will book more than one event a day. You want to make sure that you have their undivided attention, and if your wedding overruns they may end up rushing, so it's worthwhile checking their contingency plans...
What Will Happen if You Can't Make it on My Wedding Day?
...That being said, also check what will happen if your videographer is ill on the day. Will someone be around from the same company to cover for them? Will they be briefed on the type of videography you are expecting? Some people may be members of photography/videography associations that have a connection of other artists than can help by stepping in should disaster strike!
How Many Hours are Included in Your Package?
Make sure that there are enough hours in the packages they offer to get all of your big moments covered. Likewise, if you just want the ceremony filming, there's no point in paying for a full days shooting.
Is Editing Included in the Price?
It's likely that the footage taken from your wedding will need some editing, and if this is done badly you can end up with blurry memories and no backup. Question your videographer as to what editing process they will be using, as in-camera editing often produces much lower quality video than post-production editing. This process can be a long one, so budget in for extra time spent on editing.
Final Questions
Is there anything they need to know about you? They may need to know how long your wedding is going to be, when you're expecting the finished product by or what format you want it produced in. Do your best to cover all possible questions and outcomes.
Take a look at our suppliers in the videography section to find the right person to capture your wedding day on film!