The Ultimate Guide to Inspiration
Where to find wedding inspiration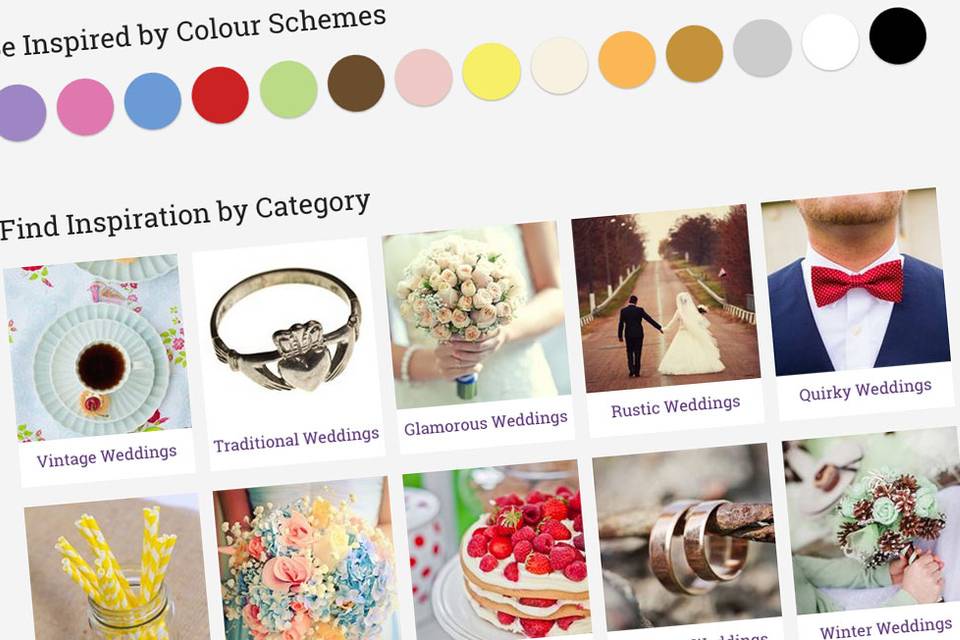 The internet has a wealth of inspiring wedding ideas to help you create the wedding of your dreams. We've picked out some of the best ways to find wedding inspiration as you plan your special day.
hitched.ie Inspiration Galleries
As well as our amazing colour scheme wedding galleries, we have now launched ten new inspiration galleries focusing on popular wedding themes to help you style your day to perfection. Whether you're dreaming of a day filled with vintage romance, or you want a wedding with lots of quirky and colourful touches, you're sure to find plenty of ideas to inspire you. Our seasonal galleries will help you decorate your day in accordance to the time of year, and the new neutral wedding colour gallery opens up a whole new world of colour scheme ideas...

Pinterest
Here at hitched.ie, we love Pinterest. It's a great way to share the amazing images we have on site, as well as the useful planning articles and blogs, full of tips and ideas. We are also be inspired by other boards we see in Pinterest too.
You can create your own wedding planning board and pin useful wedding planning articles to make sure you never lose track of what inspires you. Follow hitched.ie on Pinterest to see the latest images and ideas that arrive on site from Irish wedding suppliers and venues.

hitched.ie Wedding Planning Tools
We have lots of ways to inspire your wedding planning on hitched.ie, including our wedding scrapbooks and moodboards. Save your favourite images into your wedding scrapbook and create moodboards to bring your wedding vision to life. These are really handy to share with your suppliers and wedding party to make sure they understand what you want. You can also view a gallery of moodboards created by other brides to be for more inspiration.

hitched.ie Real Weddings
We have a beautiful range of real wedding stories on hitched.ie, submitted by our very own brides. Read their stories and be inspired by their ideas...and don't forget to submit your own real wedding after the big day to inspire other couples!

Etsy
If you want an amazing, rustic, homemade wedding with minimal effort on your part, you need to familiarise yourself with Etsy! Full of beautiful wedding decorations such as pastel mason jars and quirky cake toppers, you're sure to find something unique and perfect for your wedding. In fact, you may find several things!
Credit: Stationery — AshleyLurcott on Etsy, Cake topper — BlossomHill on Etsy, Mason jars — KatesLittleShop on Etsy

Caroline's Blog
For instant wedding updates, news, and trends, weird and wonderful, Caroline's blog is full of wedding inspiration. Updated regularly, the blog contains everything from tips on stealing celebrity style, information about an amazing new supplier or venue, and her top picks when it comes to wedding dresses, engagement rings and more!