A Bride's Guide to a Wedding Fair
Make the most of your wedding fair experience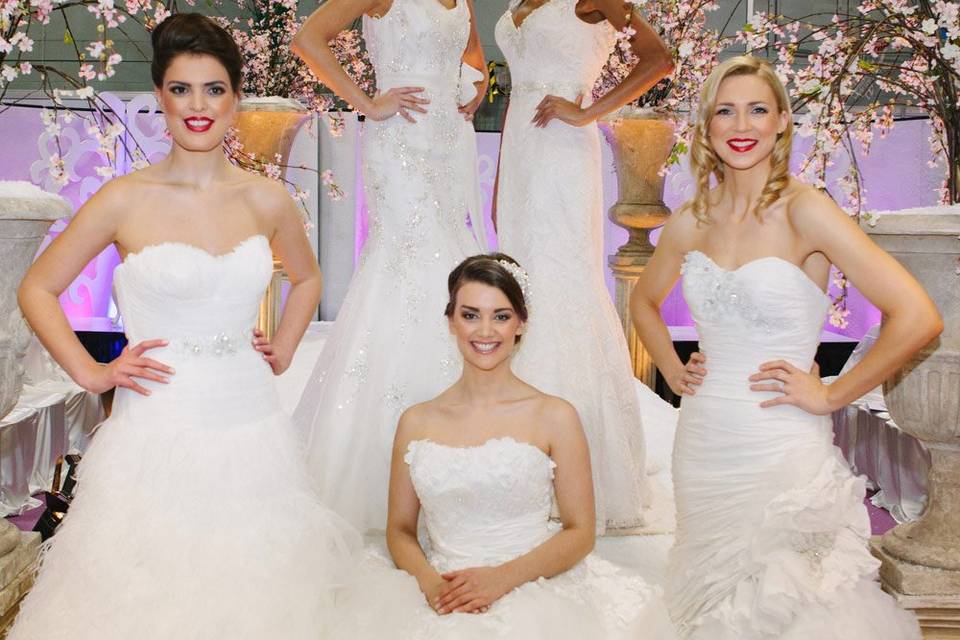 Wedding planning is a massive task, and can cause a lot of unnecessary stress. A great way to get inspired and organised is to visit a wedding fair, where you'll find lots of suppliers all under one roof, showcasing their products and — hopefully — offering discounts!
However, if you've never been to one, it can be quite a daunting prospect, so we have teamed up with Joanne Maloney, event manager of Confetti Live, to create the perfect guide to navigating a wedding fair, so you're totally prepared and can get the most out of your experience!
Joanne says: "Wedding fairs are designed to take the stress and hassle out of the planning process. Brides and grooms can go along and get their entire wedding booked on the day. The main difference between a hotel fair and an expo is that a hotel fair tends to showcase their own venue, whereas an expo is on a much larger scale with many more vendors showcasing their individual specialities. Also there are many benefits in special offers offered at the show." Bearing that in mind, can you afford to miss out?
Before You Get There
Think about what you're going to wear. If it's a particularly large fair, you could be on your feet for some time, so comfy flats are definitely the wedding fair shoe of choice!
Take a large bag with you, so you can fit in all the leaflets and business cards, as well as a pair of heels in case you want to try on a wedding dress (or ten).
It's not the day for your tightest, skinniest jeans. Not only could you be trying a lot of cake, but if you do try on dresses, you'll want to wear something that's easy to slip on and off.
Who to Take with You
If your parents are contributing towards the wedding, it could be nice to take your mum along with you. "In my experience, it tends to be the mother of the bride, chief bridesmaid or the groom who comes along," says Joanne.
You could make a girls day out of it, by taking your maid of honour and bridesmaids — you know your best girls can be trusted to give you their honest opinions and to enjoy a cheeky glass of champagne.
If your future mother in law doesn't have any daughters, you could take her along so she gets to experience the more girly side of wedding planning!
If it's time to make big decisions, such as picking your wedding cake or deciding on your entertainment, or maybe you need to find a suit, take your groom along with you. The promise of a cake sample or two should persuade him...
Wedding Fair Wisdom
Make sure you have your smart phone, diary or organiser handy. You'll be given a lot of business cards and leaflets, and may even book some meetings with some of the suppliers you meet. Joanne suggests researching before hand and making a list of any vendors you particularly want to see, so you know who to look out for.
"It's a great idea to write out your name and contact details on sticky postage labels before the fair," Advises Joanne. This way you can just peel them off and stick them on to information request forms and competition entry forms. It saves a lot of standing around waiting for a pen on the day!
Take cash with you for refreshments, and bring your chequebook in case you want to pay a deposit for something, as not all places will have card taking facilities.
"Get in early," urges Joanne. "And talk to as many vendors as possible, whilst signing up for any competitions and special offers that may benefit you!"
Don't dismiss the floor plan: "Larger fairs will offer a floor plan, and you can highlight where you want to go and who you need to talk to," recommends Joanne.
With a wealth of experience as an Event Manager and working with Ireland's sassiest and classiest wedding fair, Confetti Live, Joanne knows her stuff. She advises that a bride should expect: "Wonderful vendors, fashion shows, seminars and special offers," from a wedding fair.