Boho Beauty Tips
Beauty ideas for boho brides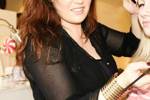 If your wedding has a laidback, boho theme, then you need a bridal beauty look to match. We interviewed Kate Noonan, from Kate Noonan Makeup, to find out more about how you can create the perfect makeup to match your boho theme.
Let's start with a summary — what does boho mean to you?
Boho to me is the essence of freedom; a carefree existence, a wandering soul. Boho consists of a poetic and eclectic style that encompasses many trends and styles from different global influences. It's a well thought out yet thrown together look that has an ease and comfort about it. Think loose, billowing fabrics with coordination, decoration and texture. Simple clothes but heavy emphasis on the accessories.
What makeup style would you recommend for a bride who wants a boho look?
Keep the makeup undone so it looks relaxed and effortless. Ironically this can take a lot more work than it looks! You want healthy looking skin, which looks like it has spent time outdoors. Be light on the foundation coverage so any freckles show through. Go for subtle highlighting in the correct places and stained colour on the cheeks. Keep the eyes soft, blended and unstructured. You can still keep definition and depth but embrace that "un-done" look by smudging your liner.
Name your must have products for creating the perfect boho makeup look?
Face and Body foundation from MAC gives good colour coverage but is sheer enough to leave skin looking healthy and fresh. It is also water and transfer resistant so perfect for long day wear.
Look to Benefit for long lasting cheek stains. With Benetint, Lollitint, Posietint etc. you'll be spoilt for choice. These give a lovely pinched look to the cheeks, with little or no transfer either. They can also be used to stain the lips.
Lush have a beautiful skin glow called 'Feeling Younger' that is perfect to highlight cheekbones and complement your hint of blush. You can also use this on the body to give skin a beautiful glint of magic. Apply it to your collar bones and shoulders for maximum effect.
Any essential accessories you'd recommend that would complement the boho look?
Flower crowns and garlands are very on trend this year. They add a hint of festival chic that's also still so popular, yet will keep your look feminine and innocent. Headdresses of any kind for that matter will give a nod to the boho trend.
Find out more about hiring Kate to create your wedding beauty look by visiting her website — www.katenoonanmakeup.com.