Your Wedding Beauty A to Z
All you need for your big day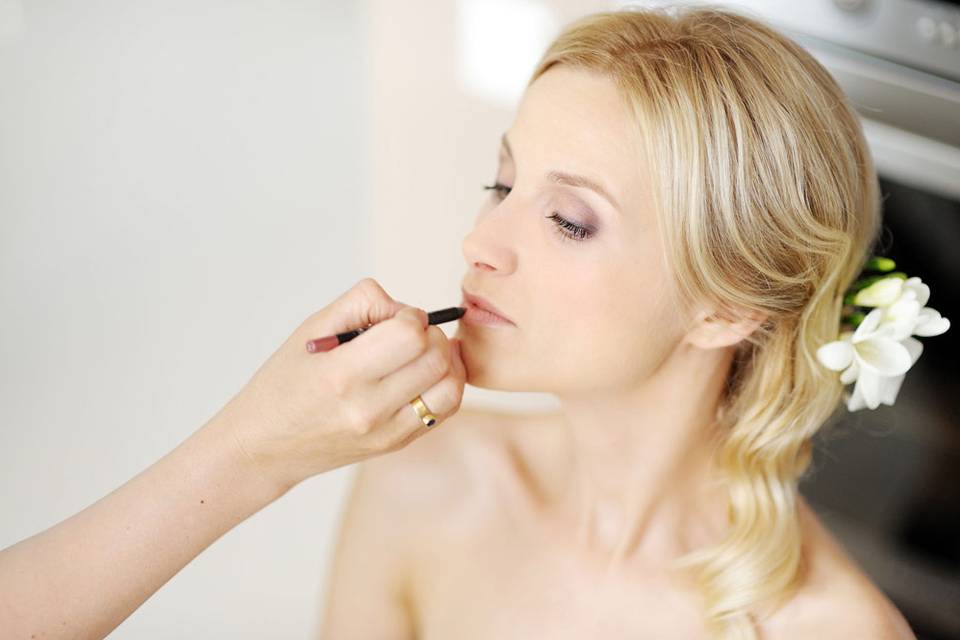 Our wedding beauty A to Z takes a look at all the things you need to be looking your best on the big day, from stocking up on your antioxidants, right through to ensuring you get enough sleep.

Antioxidants
Start stocking up on your antioxidants to help combat potentially damaging oxidizing agents in your body. Foods such as blueberries, cranberries, strawberries and pecan nuts all contain antioxidants, as well as different varieties of tea, including green tea and white tea. Why not swap your morning latte for a green tea to boost your antioxidant intake.

Brows
Visit a brow bar or a beautician to have your eyebrows professionally shaped. Your brows frame your face so a well shaped brow can lift your features and freshen up your look. So book yourself in for a brow appointment and be waxed, threaded and plucked to perfection.

Cleanse
Technically a habit you should be familiar with already! But become more strict with your cleansing routine and banish those late nights where you fall asleep with your makeup on. Find a cleanser that suits your skin type, you will often find brands have a whole range so you can buy a toner and moisturiser also, then stick to the nightly routine of cleanse, tone and moisturise. A product like Origins Clense and Tone Set — available from QVC — will help get you into a good routine. www.qvcuk.com

Diet
Whether it's weight-loss, boosting your immune system or just taking care of your well-being, take the time to re-evaluate your diet. You don't need to overhaul your entire lifestyle, but just a few changes could give you that extra burst of energy you need when planning a wedding. Swap sugary snacks for fruit and limit the takeaways to special occasions, your wallet and your waistline will thank you!

Exercise
Although finding the time to exercise may not be your number one priority as you plan your big day, you will find by doing more exercise your skin will be glowing and your energy levels will rise. If you are planning on losing weight for your big day then exercise should also be on your radar.

Foundation
Whether you are applying your makeup yourself or having a professional apply your makeup on the big day, you want to find a foundation right for your skin type, if you have oily or combination skin then a mattifying foundation will be good for you. Dry skin should look for a moisturising and long lasting option.

Glam
If you want to glam up your bridal look then experiment with a bit of glitz and sparkle. Illuminating eye shadows, body moisturisers with a touch of sparkle and glowing bronzers can all give your bridal look an injection of glam, perfect for an evening wedding celebration.

Hydrate
Keeping hydrated is essential when you want to keep your skin looking glowing and healthy. Make sure to drink plenty of water, not only on the run up to your special day but also on the day itself. You are likely to be drinking wine and champagne and your wedding will be a long day, ensuring you keep hydrated will improve your wedding day stamina.

Inspiration
You will find hair and beauty inspiration everywhere. Here at hitched.ie we have a wedding hair inspiration gallery filled with ideas, you can even save these to your own private hitched.ie wedding scrapbook. Beauty 'how-to's' on YouTube are also a great idea to get some beauty inspiration and can give some valuable tips if you are applying your makeup on the day yourself.

Jewellery
Whether you want simple and elegant pieces, or some statement jewels, take time to think about your bridal jewellery. If you are having your hair tied into a sleek up-do then stylish earrings will look great. Or if you are wearing a strapless dress then you may want to make a statement with a bold necklace.

Kissable
You are sure to be doing a lot of kissing on your big day, so keep your lips soft and smooth with a lip balm. Vaseline 'Rosy Lips' with rose and almond oil will keep your lips soft and smooth, and with a hint of pink shine, you will also be left with a gentle hint of colour. www.vaseline.co.uk

Lashes
If you want to go for an ultra glam look then false lashes could be perfect for you, choose from lashes that just add some subtle length, right through to big and bold lashes. If you prefer the natural look then a waterproof mascara that adds some volume and curl will be all you need.

Mane
You will want to get your hair in tip top condition for your big day, regular conditioning treatments and having your hair trimmed on a regular basis to avoid split ends will ensure it looks great on the day. If you are having a professional style your hair then have a few trials and make sure you like the style. If you are doing your wedding hair yourself then practise practise practise!

Nails
If you are having a manicure and a pedicure then have this done the day before the wedding to ensure your nails stay chip-free and looking their best on the big day. Many brides opt for a French Manicure or light pastel shades for their nails, so why not dare to be different with a bold colour choice such as this coral shade from OPI. www.opiuk.com

Outfit
The all important dress is a key part of your wedding look but don't forget the rest of your outfit, your shoes will need to look beautiful but also be comfortable enough to wear all day long. If you are having a winter wedding then you may want to think about some kind of wrap or bolero.

Primer
To make your foundation last all day, a primer will work well. A primer is a base to apply your foundation onto, not only making it last longer but also making your skin appear smoother and giving you an all over flawless and more polished look.

Quit
It's the run up to your wedding so it's time to quit your bad habits, whether that's smoking, junk food, too much alcohol or lack of exercise. Your impending wedding day should be the motivation you need to quit those bad habits you have wanted to quit for a while.

Relax
Amongst all the chaos of wedding planning, one of the best things you can do to look glowing and refreshed is to take the time to relax. Go get a massage, or simply take an afternoon to go for coffee without any wedding chat and have some you time.

Scent
A scent can evoke so many memories, so why not take the time to choose a wedding perfume. You can then wear this scent again on your anniversaries or special evenings out. If you want something classic then Chanel No 5 will be a timeless choice. www.chanel.com

Tan
If you want to become a bronzed beauty on your big day then think carefully about your choice of tan. If you are not naturally sun kissed then you may want to reach for the fake tan. Fake Bake's Original Tan is a trusted favourite and will give you a natural glow all day long. www.fakebake.co.uk

Underwear
Think of your bridal underwear as the scaffolding under your wedding dress, for the actual day think practical and think what will give you the best silhouette. You can always change into some sexier and less practical bridal underwear for your wedding night.

Vitamins
Stock up on all your essential vitamins to give yourself healthy skin, hair, nails and increased energy levels. This doesn't have to mean stocking up on the vitamin pills, a healthy balanced diet with lots of variety should give you all the nutrition you need and is a good habit you can take into your newlywed lifestyle.

Wax
If you are new to waxing then start this process a few months before the wedding, that way you can see how your skin reacts and how long it takes for any redness to die down. If you are an avid waxer then sticking to your usual routine is all you will need to do.

Xfoliate
Regular exfoliation will remove dead skin cells and give your skin a more polished look. A trusted favourite is St. Ives Apricot scrub, they even have a variety of options to help each skin type so you can find the right scrub for you. www.stivesbeauty.co.uk

Yoga
Are you feeling yourself turning into a bridezilla? A hobby like yoga will not only help tone up your body, but will also give you a time out where you can focus on your own energy and well being. It's a great way to relax your tense muscles and learn a new skill.

Zzzzzz
In the lead up to your wedding, make sure you get plenty of sleep. Getting your 8 hours will ensure you feel more rested. The night before your wedding is bound to be exciting but a good night's sleep will mean you wake up refreshed and ready for one of the most special days of your life.

  For more wedding beauty advice read our latest beauty articles.