Elegant Wedding Hair
Wedding hair updo tips and advice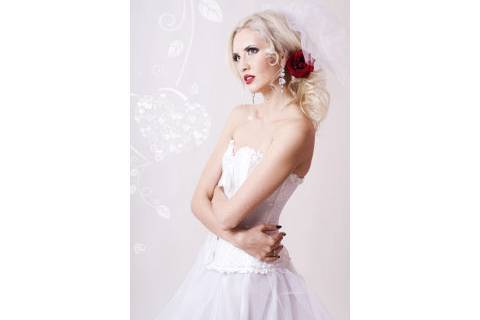 Plan ahead! The earlier you begin planning what your wedding hairstyle will be on the big day, the more chance you have of getting it right. You have more time to get your hair in a good condition and you can try out practice runs with your hairdresser, experimenting on which styles suit you best.
Begin by asking yourself: are you a classic, glamorous person? Or perhaps you are more feminine and dreamy? Whatever your personality, there is the perfect wedding hair up-do for you and an increasing number of brides are choosing to wear their hair up for the big day. There are many styles to choose from and we have selected a few of our favourite to give you some inspiration.
For those of you with straight hair, a gorgeous wedding hairstyle is a sleek chignon that sits nestled at the nape of your neck with a slight twist incorporated. This is a classic and timeless look which will also be flexible and easy to manage throughout the day. You can also choose some pretty jewellery to accessorise your hair with.
Brides with naturally wavy or curly hair should ask their stylist for a loose up-do with plenty of curls incorporated into the bun, also allowing some soft tendrils of hair to fall down to gently frame your face. This style is very romantic and can be prettily accessorised. This style will also look great if you have a dress with plenty of ruffles, tulle and lace.
If you are slightly on the fence about whether to wear your wedding hair up or down, achieve both looks with a half up, half down creation. Give your hair some height with a set of extensions; pull the top layer back and pin, leaving the lower layers of hair to fall gently over your shoulders. This style also means you do not need to have your whole neck and chest area exposed, especially if you are not confident with that area of your body.
Find more wedding hair ideas by browsing our Wedding Hair Inspiration Gallery.