30 Great Bridesmaids Gifts Under €30 to Show Love to Your Wedding Besties
Your wedding crew has been right by your side every step of the way so of course, you want to show your appreciation. We've gathered the best bridesmaids' gifts to say "thank you" straight from the heart while being kind to your budget.
We have included third party products to help you navigate and enjoy life's biggest moments. Purchases made through links on this page may earn us a commission.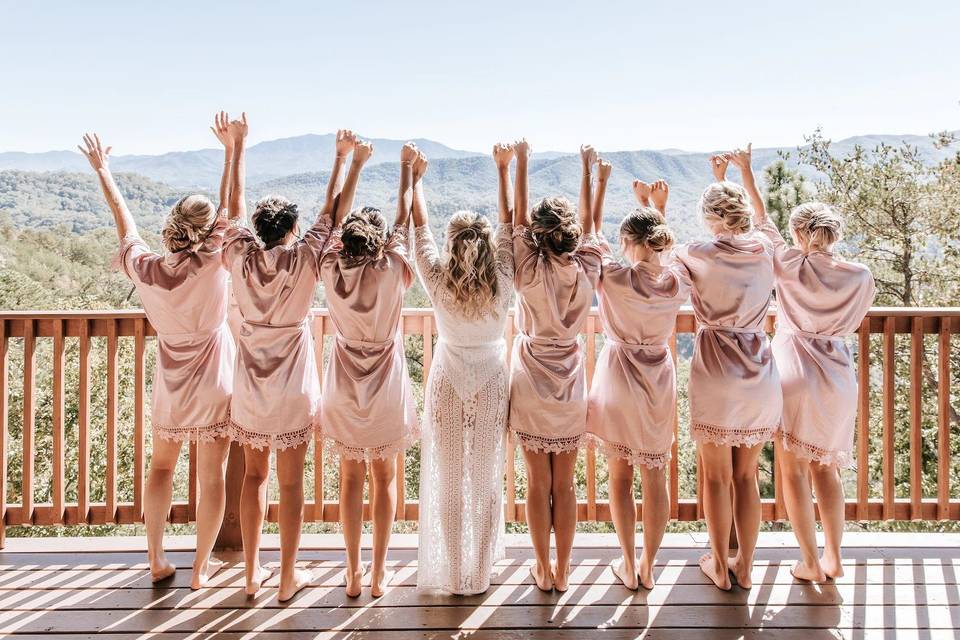 They've travelled by your side to every wedding fair in Ireland, watched you try on countless dresses in search of the one, and patiently tied the ribbon on every favour for your hundred-plus guest list. From making you smile on the wedding morning to keeping your mascara in check with a well-placed tissue, your wedding party besties have been there through it all. They would have gone to great lengths to keep your wedding journey afloat, so of course, you want to show your appreciation.
You cannot put a price on unlimited support but giving a loved one a keepsake to celebrate your shared milestone experience is a good place to start. A gift given from the heart doesn't need a showy price tag, just the right amount of sentiment, thought, and personal touch. We've pulled together 30 winning bridesmaid gift ideas, conscious of your budget and the bond you share with your wedding party VIPs.
Wedding Party Gifts Under €30
1. 'I Couldn't Tie The Knot Without You' Bridesmaid Bangle – €24.18, Junk Jewels
Leave your wedding righthand in no doubt of your gratitude with this elegant knot bangle. A simple play on the Celtic knot, this classic bracelet symbolises the unity of your crew while giving a subtle nod to the ancient handfasting tradition of tying the knot. A sweet way of honouring your most precious bonds.
2. Knot Bracelet with Birthstone – from €29.66, Etsy
Sticking with the knot theme, these delicate knot bracelets are an elegant alternative that impart a more personal touch. Choose your close friend's birthstone for a thank you gift that truly honours their personality and celebrates their place in your inner circle.
3. Personalised Wedding Role Glass – €28.71, Becky Broome
They rose to the occasion so it's only fitting that they raise a toast to a job well done with these sophisticated personalised glasses. Hand etched and delivered with a printed gift sleeve, they look just as gorgeous on the top table as they do on the coffee table. Sláinte!
4. Personalised Constellation Birthstone Bracelet – €25.39, Bloom Boutique
Looking to go that extra mile? These minimalist birthstone bracelets feature embedded crystals arranged in your loved ones' individual constellation patterns. And with a choice of Swarovski birthstones you can show exactly how much you value their place in your orbit.
5. Personalised Reasons Why You're Wonderful – €30.16, Bread & Jam
We know, this cute custom appreciation set is pushing a little over the €30 budget but with such sweet sentiments, it is utterly worth it. Brimming with personalised nuggets of gratitude, it's the ultimate personal gesture that allows each member of your wedding party to feel truly special while still being a part of your exclusive tribe.
6. Satin Bridal Robe Silky Bridesmaid Robes – from €19.82, Lamariee New York
7. Best Friend Gift Frame – from €27.18, My Button Heart
It doesn't get much more sentimental than a loving portrait and this polaroid-style frame is perfect for those special besties you have known for a lifetime. You could even add a sweet nostalgic touch by pairing an old photo with a recent favourite from your wedding day. The frame can also be customized with any personal message you like, including the wedding date.
8. Travel Case for Bridesmaids – from €21.51, Established Co Gifts
If you have a destination wedding on the cards, your wedding party will adore these plush jewellery travel cases adorned in custom initials. If you really want to pay homage to each loved one's signature style, the seller has a wide range of coloured ribbons to choose from. Bonus points if you add a surprise token inside!
9. Personalised Maid Of Honour Gift Ring Dish – €24.12, Kate Charlton Ceramics
Home is where the heart is, which is why a custom decorative piece is always a good way to go for an appreciation gift. This handmade ceramic ring dish is not only an enduring keepsake but also serves as a heartfelt place for your I do crew to keep their most prized pieces. Truly a gift that keeps on giving.
10. Suncatcher Crystal and Wood Moon Gift – from €26.00, Artwood Ireland
Show your wedding pal you love them to the moon at back with this handcrafted moon suncatcher. Available in Irish oak, beech, spalted beech and olive ash, it's a gift that is beautiful, meaningful and authentically Irish. Perfection!
Wedding Party Gifts Under €20
11. Ceramic Bridesmaid Thank You Magnet – €14.51, Juliet Reeves Designs
There is just something special about a handmade item and these delicate ceramic magnets are no different. With a sweet selection of thank you messages to choose from, they are a wonderful option for your creative besties.
12. Personalised Photo Strip Keyring – €19.34, Sophia Victoria Joy
Keep their highlights and happy times where they need it most with this photo strip keyring. Getting back to reality can be hard but even when rushing out the door your choice of photos could be the very thing to make them smile.
13. 'Beautiful Bridesmaid' Bangle Thank You Gift – €19.34, Junk Jewels
A simple elegant bangle that lets your bosom buddy know just how beautiful they are inside and out. Available in gold or silver, this unique piece also comes in a glamorous gift box that just happens to be eco friendly—a real crowd pleaser!
14. Personalised Bridesmaid Gift – from €11.23, Ainne Studio
We love these creative custom bridesmaid prints from Ainne Studio on Etsy! You can choose every detail from the dress colour all the way to the hairstyle for the ultimate homage to your wedding BF.
15. Personalised Wedding Pocket Compact Mirror – from €12, From Willow
Call back to those endless get-ready moments from the pre-wedding parties to the wedding morning with this ultra-chic compact mirror. Its tasteful design and thoughtful personalisation just exude life-long keepsake vibes. All in all, it's a touching way of memorialising all those faithful touch-ups.
16. Thanks For Putting Up With My Wedding Bulls**t Candle – from €14.03, Rustic Sugar Creek Co
Weddings aren't easy and no one appreciates that more than your wedding squad. Not only do these mischievous handmade gift candles give a cheeky nod to those stressful times, but the lavender vanilla scent will also be just the thing to help your loved ones unwind. Win-win!
17. A Little Hug, Tiny Hug Token – €12.08, The Laser Engraving Company
For all the reassuring cuddles and meaningful embraces, this adorable little wooden hug allows you to give a lasting one back. Your bestie can even use it as a token for when they need it most.
18. Bridesmaid Tote Bags – €19.80, Love Mia Co
If you have a boho wedding in the works these stylish tote bags are a must for your wedding crew. You can use them as welcome bags for a weekend wedding or fill them up as sustainable goodie bags. Plus, the natural canvas adds a thoughtful touch for a tipi wedding do. Gorgeous!
19. Personalised Jigsaw Heart Keyring Set - from €13.57, Pretty Personalised UK
We love a gift steeped in sentiment and this jigsaw keyring set ticks all the boxes. A symbol of your connection and bond as a badass wedding crew, each customised keyring slots seamlessly into place to form a beautiful heart. As metaphors go it's a powerful one!
20. Friends Bridesmaid Party Shirts – from €17.99, Lucky Avocado
Millennial nearlyweds, rejoice! These Friends-inspired party shirts are a fun way of celebrating this iconic episode of your life and with such gorgeous colours available, you can be sure a reunion will definitely be on the cards. They're perfect to wear to your bachelorette party and keep as a memento.
21. I Do Crew T-Shirt – from €17.12, Earth Custom
If Friends has never been your scene, these handmade cotton shirts are a stylish alternative. What's more, they can be completely customised from the colour to the titles of honour.
22. Beautiful Wedding Party Mugs – from €16.59, Gifted Box Shop
An elegant tribute to all those late-night cuppas and early-morning coffees, these personalised ceramic mugs feature your wedding bestie's initial and name with a beautiful bouquet. Here's to many more chats over tea.
23. Beeswax Candles and Natural Soap Thank You Gift Box – from €13.44, Galina's Naturals UK
No doubt the wedding journey was a whirlwind of tears, joy, and momentary panic. What better way to thank your wedding warrior for a job well done than this zero waste, ultra-relaxing, pampering gift box. The soap comes in a choice of lemongrass, vanilla, lavender and more, allowing you to choose the most rejuvenating fragrance befitting your pal's post-wedding recharge.
Wedding Party Gifts Under €10
24. Porcelain Star Matchbox Gift – €8.07, Vela Gifts Store
This porcelain "you're a star" figurine gift will show any bridesmaid exactly how important they are to you. Delivered in a gift box, it's a tender keepsake that will hold pride of place in your bestie's home—much as they do in your life. High praise indeed!
25. Personalised Bridesmaid Gift Tag – €6.95, Rocket and Fox
Sometimes a simple bottle of wine can be the perfect gift. This rustic wooden bottle label adds a little more to your wedding pal's favourite tipple while saying thank you for their many late evenings right by your side.
26. Stoneware mug – €9.99, H&M
What better way to celebrate the uniqueness of your wedding pal than this adorable unicorn mug! Embrace their individuality even further by filling it up with their favourite soothing drink, whether it's marshmallows and cocoa or a custom blend of herbal tea.
27. Personalised Hanging Clay Heart Keepsake – from €5.51, Cat and Co Creations
Share the love with this handmade clay heart. Made with air drying clay and styled with a delicate flower, it's a charming token for your most artistic-inclined wedding pals.
28. Personalised White Prosecco Glass – €6.93, Stickerberry Studio
How gorgeous are these white champagne flutes? You can customize them with any name or role you wish and then take them out for a wedding crew night on the town. Cheers to that!
29. Personalized Macramé Keychain– €8.40, Macraweaving
A handmade craft gift that speaks of childhood friendships and lifelong bonds, these macramé keyrings come with your wedding party's names displayed in wooden lettering. A great option for DIY weddings and down-to-earth celebrations.
30. Silver Personalized Initial Bracelet – from €5.99, Vantage Ways
Coming full circle, these simple custom charm bracelets celebrate the unity of your wedding crew while still embracing each one's separate individuality. Available in silver, gold, and rose gold,, they prove that true value is not in the cost but in the sentiment expressed.
Now that you've found the perfect pressies for your bridesmaids, make sure you have a gift for the best man sorted too!