Buying an Engagement Ring at Auction
Expert advice on buying vintage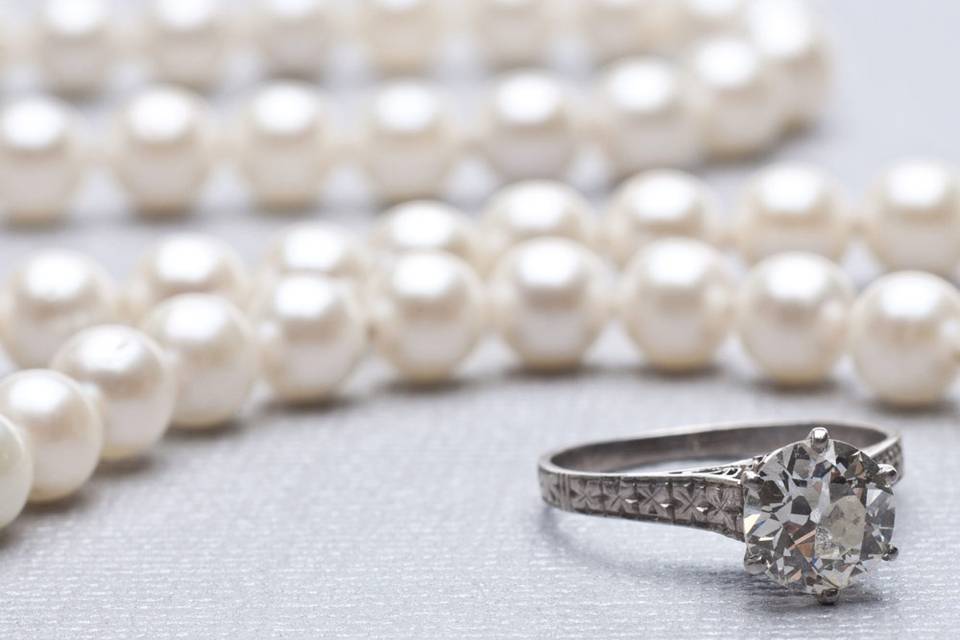 If you want to find a unique and stylish engagement ring then why not consider going vintage and buying a gorgeous jewel at an auction house.
Consultant and diamond dealer Natasha Sherling helps couples to find exactly what they are looking for and guides them in their purchase. Natasha shares her expert advice with us, letting couples know what to look out for when buying a ring at auction.
When it comes to buying the all-important engagement ring, many couples consider a vintage purchase. The quality of workmanship in older pieces is outstanding and classic designs which have stood the test of time continue to appeal. Older stones are also cut in a different way — before computerised precision, diamonds were carefully crafted by hand. Facets tend to be slightly smaller giving stones a beautiful, subtle twinkle rather than an outright sparkle.
Where to Buy
The best place to buy vintage is undoubtedly at auction. The value is exceptional — pieces are generally on reserve for about one third of their retail price and the question I get asked most frequently is 'how?' The reality is that once you subtract retail VAT, retail mark-up and take into account the fact that the ring is not box-fresh, the auction reserve can be easily explained. Remember, however, that the reserve never includes VAT and commission, taken as a percentage of the hammer price. Regardless, buying at auction will always represent better value than straight retail.
How to Buy at Auction
A few days before the auction itself, attend the viewing, where pieces can be examined, and tried on. Ask as many questions as you like! Remember that many vintage diamonds are not certified — this is a relatively new phenomenon. Trust the auctioneers' judgement — they call on gemmologists to set the standard of what they are selling. I am a GIA —qualified gemmologist and have worked with many of the auction houses in Dublin to accurately appraise the stones that go under the hammer. Be aware that items at auction are sold as seen. So check for missing stones and broken prongs in particular, and with rings especially, check if they can be resized as they can't be exchanged.
The Auction Process
In terms of auction attendance, ask beforehand how many lots come up per hour — it's not necessary to sit through the whole thing, potentially waiting hours for your piece! Have a solid figure in mind and don't go over it — remember the hammer price does not include VAT and commission. Buyer can also leave a bid, particularly useful if the auction is not at a convenient time; this is also a good way to ensure not going over budget. Just leave the maximum bid (again, not including the potential VAT and commission percentage) you are willing to pay.

My favourite Irish jewellery auctioneers are O'Reilly's. They hold auctions monthly and always have a beautiful selection from which to choose. The fact that their auctions are so frequent is especially helpful for buyers who don't find what they want on their first visit — they don't have to wait too long before coming back for a fresh look. O'Reilly's also have a gemmologist on permanent staff (most auctioneers don't, they just call them in for select appraisals).
Natasha Sherling provides a service whereby she attends auctions either with couples or on their behalf, as a qualified guide for their potential purchase. For more information, please see www.natashasherling.ie.
Still searching for the perfect ring? Browse wedding and engagement rings.