Choosing Your Wedding Transport
Travel to your wedding in style and on a budget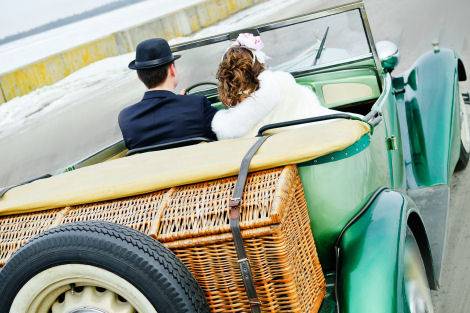 If you are planning a wedding on a wedding budget and arriving in a horse drawn carriage or fancy stretch limo just isn't an option, do not despair, you can still arrive in style on your big day without having to break the bank.
Decide which point during the day you want to make your grand entrance and only spend money on wedding transport for that part. For example, if you and your hubby want to impress your guests by leaving the church in style, hire out a limo or a plush car for the journey from the church to the reception venue only.
Another great cost cutting tip is to downsize your vehicle. Ask a family friend to drive your bridal party in their car and hire out a smaller vehicle for just you and one or two other people. Alternatively, you could decide not to travel by car at all. If this is the case, consider you and your partner's interests and the location of the ceremony, perhaps you could cycle there, or ride a horse. This is a good chance to be creative and come up with ways to make your transportation fun, without being un-affordable.
One final alternative is to simply cut out the hiring of any vehicles and ask a family friend who may have a particularly nice car to drive you to your wedding. Providing the car is polished and cleaned inside and out, with some decorations on the front, it can look just as good as a hired vehicle. Perhaps for a small fee, they would be happy to do all the chauffeuring for the whole day too.
Make the most of your budget by using our wedding budget planner.