2014 Wedding Trends
Up and coming wedding trends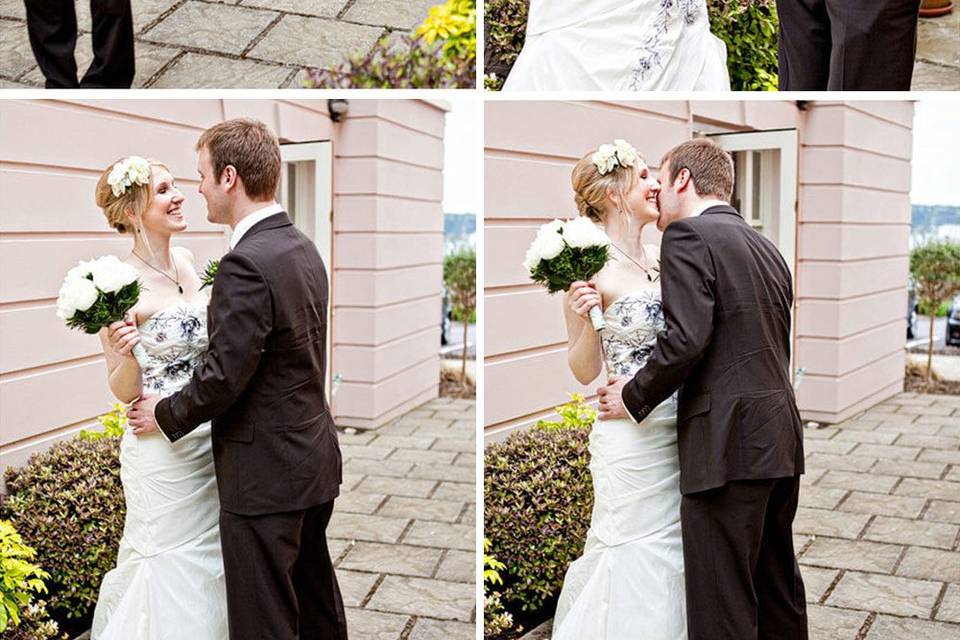 As a whole new year of weddings begin, we take a look at some of the key trends that are coming up for weddings in 2014 and 2015 — with the help of some industry experts.
First Look Photo Shoots
The first look photo shoot breaks all the rules — the bride and groom see each other for the first time before the wedding, while the wedding photographer captures this private happy moment. Wedding photographer Sona from Inspired by Love tells us why she loves first look photos:
"I am a huge fan of First Looks and I wish more couples would do them here in Ireland. I think seeing each other for the first time "in private" when there's just the two of you, is much more intimate, romantic, personal and beautiful than seeing each other for the first time when you walk up the aisle. It is also a great way for you to have some time in the day to spend only with each other, before the craziness of the whole day starts and tell each other all the sweet little nothings while no one is listening."

Illusion Necklines
Illusion-style dresses were big in 2013 and look set to be even bigger for 2014. The flattering style involves having a sheer layer over your original neckline. Sassi Holford shares her thoughts on the trend:
"For 2014 many of my designs offer coverage on the shoulders and arms as the trend away from strapless continues. For those who aren't looking for a totally covered look, illusion tulle can offer the perfect compromise with the feeling of coverage but the look of less. My Illusion Tulle Jacket, for example, has delicate hand cut abstract lace appliqué around the neckline and over the shoulders — and it's detachable so the bride can change the look from the ceremony to the evening celebration."

Wedding Signs
Whether it's a helpful point in the right direction or a line from your favourite movie, wedding signs are everywhere. You can create some fun photo opportunities for you and your guests by using quirky signs. If you want your wedding sign to highlight one of your favourite romantic quotes then be sure to get your romantic sign in the backdrop of some of your wedding pictures. This sign doesn't just have to be used once, why not display in your home after the wedding as a perfect reminder of your day. If romantic quotes are a bit too soppy for you then why not use wedding signs to direct your guests with where to go — we love these ideas from Not On The High Street.

Going Black Tie
Although vintage weddings will still remain big for 2014, vintage style is getting a polished makeover, with grooms opting to wear black tie. This suave and sophisticated style will look great in your wedding photos and is a really timeless look. If it's an ultra-polished vintage look you are going for, then choose a wedding dress with lots of lace detailing and some extra sparkle to look like the perfect other half to your black tie groom. We love this chic and sophisticated style from TM Lewin.
Still looking for more ideas? Browse our latest planning articles and keep up to date with wedding news on our blog.