Choosing Your Live Wedding Entertainment
Once you have swapped vows, it is time to party! For that, you'll want to find some musical entertainment, and the choices may feel endless. Our edit features some top tips and tricks as well as different suggested artists to choose from.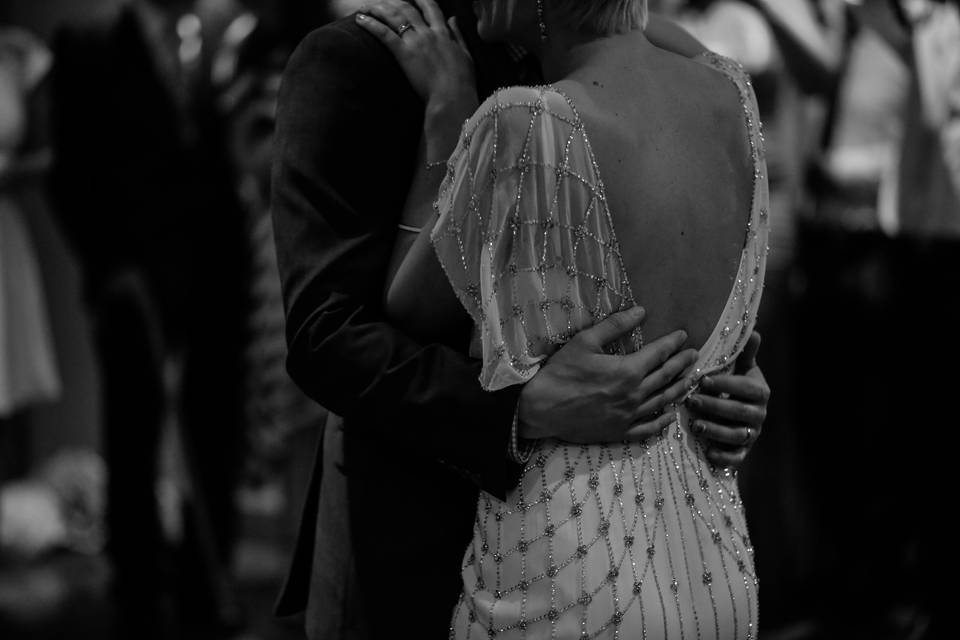 Many of us love the sound, feel, and atmosphere that a live band brings and your wedding is the perfect time to get to enjoy the talents of these kinds of musical professionals. There is also a range of ensembles to choose from, including soloists, instrumentalists, full bands, and more. Some of these groups even provide DJ music on top of their live performances. Depending on the vibe you want at your celebrations, it is best to explore the different options to determine which one is best for you and your partner. Many live performers also offer customisable packages and playlists to better tailor the event to your tastes.
Below, we have listed a few tips to keep in mind when selecting your musical entertainment. Then, be sure to check out our top picks of wedding musicians and to browse through the many other music suppliers here.
Time to party and celebrate your love!
1. Check Them Out
One of the first things you should do is go and see your live band perform. This way you get to see what they can do, how they entertain their audience, and how they sound live!
If it's not possible to see the band live, ask them for a 'live' example on video. Many bands shoot the video then record the audio in the studio and synchronise it to the video so it sounds much better than it does live, so stress that you want a live sample!
2. Pick & Mix
Try not to be too self-indulgent. While it is your big day, remember that you want everyone to enjoy the entertainment as well and have fond memories, so try to take everyone's tastes into account. While you may be a huge Take That fan, Aunty Flo may prefer letting loose to Bon Jovi!
3. Live or Not? DJ? Band? Both?
Be sure you know what you want by live. For many people, a live band is the full thing – drummer, guitarist, lead singer etc. For others, it may be a singer with a backing track. Go with what you prefer.
If you want the full band, make sure that you are clear that you do not want any pre-recorded numbers played!
And in that same vein, you may not want a band at all! DJs can be equally entertaining and are able to play an array of your favourite tunes. Some bands also provide both live performances and a DJ for wedding celebrations.
4. Is the venue band friendly?
Check that your wedding venue holds a music license and that they can cater for live bands and their equipment.
Most venues now state that the band have public liability insurance in case of any injury caused by the equipment. Ask your live band for a certificate.
5. Testing, Testing, 1, 2, 3
Many venues require a Portable Appliance Testing which means that all electrical equipment has been tested to ensure safety standards are met. Make sure your band has this covered!
6. Venue Access
Speak with your venue and arrange access to the premises. Many venues and bands will sort this out between them but always check early on that this box is ticked.
7. Testing Testing 3, 4, 5
Most professional live bands will set up a sound check in advance of guests arriving. This should be an obvious one, but make sure your band does this.
8. Signed, Sealed, Delivered
Get all costs, arrangements, and other logistics written down. Ask your band to send them to you. This way you have all details in pen and are covered on your end.
While there is plenty to think of when deciding on hiring a musician or band, we thought you might like to check out our selection of musicians listed right on Hitched. We have classic bands, violinists for your ceremony, and much more. These talented creatives delight in making your wedding a true celebration. Time to get out your headphones!
1. Rising Music Agency - Cookstown, Northern Ireland
Rising Music Agency represents a range of musicians and wedding bands throughout Northern Ireland and Ireland. They can connect couples with the musical entertainer that best fits their style and budget, making the agency a great place to start for couples who aren't sure what they are looking for. These professionals are also highly experienced in the industry, with in-depth knowledge of the ins and outs of performing at weddings.
2. Piano Singer - Sean De Burca - Salthill, Co. Galway
Piano music is a classic wedding addition and one that adds a touch of sophistication to events. Piano Singer - Sean De Burca is a one-man band that can perform at ceremonies, dinners, receptions, and more. His repertoire includes over 850 songs to choose from and he has experience performing in different venues, such as hotels, garden parties, marquees, and more. His aim is to make your special day both fun but also unforgettable.
3. Eileen Coyle Soprano - Dublin, Co. Dublin
Eileen Coyle Soprano is a professional who understands the importance of music in setting the tone for your big day. Eileen is a soprano singer who can adjust her sound to best suit your preferences. She can also help you determine the best songs for your wedding based on your vision, and can sing tunes from a range of genres, such as Irish, hymns, pop, and classical.
4. Colm Connolly Classical Guitarist - Enniskerry, Co. Wicklow
Want to give your wedding a really romantic feel? Guitar music might be the perfect answer. Colm Connolly Classical Guitarist can play at both ceremonies and receptions and can perform both classic and contemporary tunes. He is also flexible and can play solo or have a vocalist accompany him.
5. Croí Óg - Limerick, Co. Limerick
How about a duet for your wedding's musical entertainment? Áine and Leah are the singers behind Croí Óg, who can also add a piano to round out their sound. These professionals have ample experience performing for events and enjoy curating a selection of songs to really highlight your love story. They are also open to learning new songs!
6. Brendan McCahey Band - Monaghan, Co. Monaghan
Looking more for a classic band setup? Brendan McCahey Band might be it! These upbeat performers know how to create a lively atmosphere and have played tunes for audiences across the country. They can also adapt their line-up depending on the needs for your big day, such as playing as a trio or as a full five-member group. For those that require DJ services, these musicians also have you covered there.
7. Livewire Wedding Band - Athy, Co. Kildare
This group, Livewire Wedding Band, includes both professional musicians and DJs, so they can provide an array of different entertainment services for events. It also means that after the live performance, the dancing can continue with the DJ, keeping the atmosphere lively and fun. These creative performers can also play songs from different genres and they customise the musical selections to your liking.