Perfect Wedding Entertainment
Importance of wedding entertainment for the reception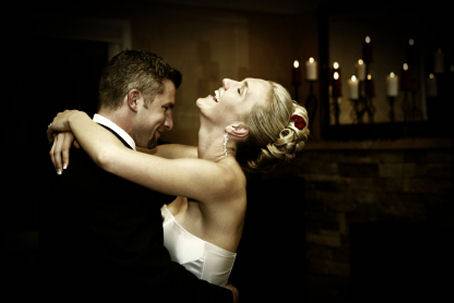 We all enjoy weddings and the excitement that surrounds them. The happiness that radiates from everyone as long-lost friends and relatives are reunited. There is an animated chatter as everyone waits for the bride to glide down the aisle in her beautiful wedding dress, preceded by her bridesmaids and flower girls. Watching the happy couple as they say their vows at the altar is a moving experience for many. However, as stunning as the ceremony is, the wedding reception is undoubtedly the most exciting part of the day.
Champagne is flowing and everyone mingles at the beginning and eventually settles down for dinner and speeches. It is only after all this that the wedding party and guests alike can really let go and begin to enjoy themselves. The entertainment is unquestionably the best way to enjoy a reception.
Different couples will of course, opt for various types of entertainment at their wedding and this all depends on their personalities. For example, a couple who have chosen to have a more traditional wedding day may decide to go for a string quartet as their entertainment. As lovely as this may be however, it is not likely to encourage your guests to get up dancing and so lively entertainment is always a wise choice.
As far as music is concerned, many people opt to hire a cheesy DJ with flashing lights and karaoke option. All the old disco favourites are likely to be played from Aretha Franklin to Cyndi Lauper. This may well get the part started and encourage your relatives (who are now probably fairly lively) to start dancing around, some couples may want to choose music that is more their taste. If this is the case for you, draft a song request list for the DJ to use, a few weeks before the wedding.
Whether a reception is successful or not is often judged by how many people are on the dance floor and so it is important to take care when choosing your entertainment. Jazz bands are often a great success for weddings as they are so lively. Live bands are also good as they often have the ability to make music more personalised for the occasion.
However, music is not the be all and end all when it comes to the reception, especially for those less conventional couples. If you want to add a little humour into the evening, hire a stand up comedian that will encourage audience interaction. A magician could also be fun for guests and will definitely be a talking point.
A more original idea would be to hire a caricaturist. He could work his way around all the guests, drawing their portraits and even giving them to guests as souvenirs of the reception, or perhaps as wedding favours, instead of the traditionally sugar-coated almonds.
Entertainment is one of the most important aspects of the day and providing it is enjoyable for guests, it is most likely to be one of the most memorable parts of the big day.