Choosing Your Wedding Music
Choosing the perfect music for your wedding ceremony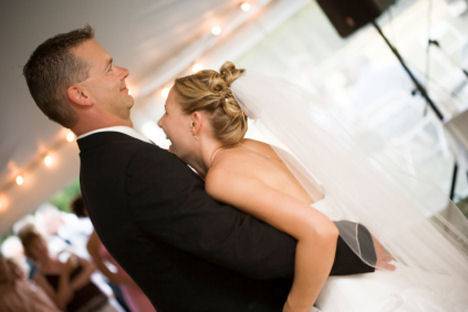 When deciding on music for a wedding, ensure you choose music that fits in well with the general atmosphere you wish to create for the ceremony and pick out songs that you know you would be likely to listen to in your own home. If you are an avid pop music fan, don't feel as if you need to have classical music on your wedding day, just because it is most commonly done. If you and your partner have decided to get married in a church, remember that many churches do use hymns that are written in a popular style and so ministers are unlikely to refuse anything, providing the lyrics are not unsuitable. Whatever type of wedding songs you choose be sure to play them a few times over before the wedding day so that when they come to be played, they mean something important to you.
As with every other aspect of your wedding, be sure to take your time and do your homework. There are thousands of songs out there and it is likely you won't find the perfect song for you and your partner after just a few hours of searching through your endless CD selection. Furthermore, you will need to accept that you may not find the perfect choice, but you can get pretty close!
The first music that you are likely to need is for when all your guests are assembling in the church or other location. Similarly to our first point, choose something that will suit the atmosphere of the ceremony. Music should be played just before the bride is due to enter the building, but bear in mind that if she is late, a gap will need to be filled before she enters. A good way to get around this is to choose two songs that you would absolutely love to enter the church to. Then, if the bride is late, she can still enter to a song she loves. Music for the bride's entrance need not be too long as, unless you are marrying in a cathedral, it will not take the bride too long to get from the door to the altar or to the registrar's table.
If you are having a church wedding and are choosing hymns to play, try to look for those that mean something important to you. Use well-known hymns and check that the organist will be playing them in a key that is suitable for those who do not sing regularly. It is uncomfortable for anyone to have to sing a hymn they do not know with notes in them that they are unable to reach. Carefully read through the hymns to ensure that you understand the words and those are ones you want your guests to sing.
Signing the register and taking the photographs should only take about five minutes, but may take longer at a civil wedding whereby guests are invited to take pictures once the professional photographer has finished. Any music taken during this process should be capable of covering this period. As an extra safety net, perhaps choose a piece that is too long and then cut it short if needed. We at hitched.ie recommend something with a good tune that is enjoyable for guests to sit silently and listen to, should they choose to do so. Be wary of choosing a piece of music that could create a 'sad' atmosphere and choose songs that do not contain too many dramatic outbursts as this could draw guests attention away from the happy couple.
When choosing music for the bride and groom to exit to, you will need to choose a piece that is long enough to also cover the exit of the guests. Tastes vary enormously when choosing this music as some may like something romantic, others something grand and some couples prefer choosing something that is 'light and bright'. This is usually the hardest music to choose so take your time when rifling through your CD collection.
Finally, make sure that whatever you choose both you and your partner are happy with it and that each song means something significant to you both. Looking for ideas? Visit our wedding songs section.