7 Alternative Bridal Bouquets
Unique ideas for your bridal bouquet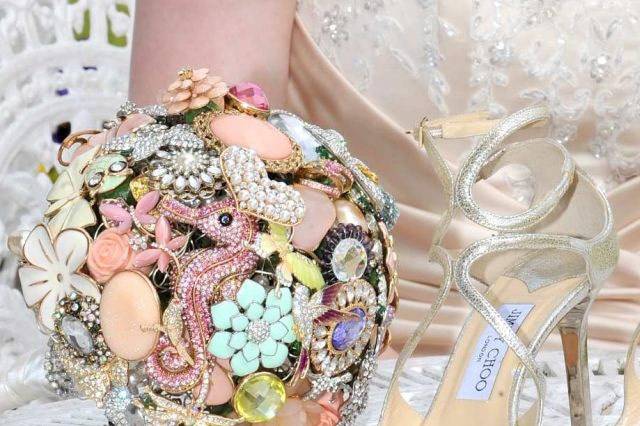 As you start to search for your perfect bridal bouquet, you don't have to feel limited to fresh flowers, from brooch bouquets to bouquets made from buttons and even fruit — we browse through seven fab bridal bouquets without one single fresh flower in sight!
A Brooch Bouquet
If you want a bridal bouquet that is going to last a lifetime then think about having a brooch bouquet. This style from Bespoke Brooch Bouquets is perfect for a vintage wedding day and will be something that you can keep and even turn into a family heirloom. You could make it more sentimental by asking your bouquet designer to include some jewels that have been passed down through your family.
Cones and Fabric
This stunning bouquet made from pine cones and fabric flowers is a great choice for a winter wedding day. The pine cones are a perfect nod to the colder season while the mint colour scheme is a refreshing change from traditional winter colour schemes and can still be given an icy touch with flashes of white and silver. We love how this bride has matched her mint bridal bouquet to her cosy cover up cardigan.
Button Bouquets
If you are looking for an everlasting bridal bouquet but the vintage brooch style is not for you then think about something a bit more quirky — a button bouquet. Button bouquets are a fun idea if you want to give your wedding day a retro style — you could even make it a fun hen party activity where you and all your best girls spend time making these brilliant bouquets!
A Fabric Bouquet
For a bridal bouquet that still has that floral feel, think about a fabric bouquet that is embellished with glittering details. We love this ivory fabric bouquet from The Fairy Godmother's Weddings which includes silk roses that are dotted with sparkling diamante snowflakes. Match your fabric bridal bouquet with the colour of your bridesmaid gowns to really create some symmetry.
An Orange Bouquet
Yes you really can have a bridal bouquet made from fruit — now we are not recommending that you walk down the aisle holding a bunch of blackberries (just think of the staining on your dress!), but something more hardy like a collection of oranges can give a fragrant and unusual finish to your bridal look. If you are considering an autumn wedding day then this could be a fun and unique choice.
A Cupcake Bouquet
You might not want to walk down the aisle holding this one but a cupcake bouquet could be a great centrepiece to your dessert buffet. We love how this one has green cupcake cases to emulate the flower stems and pink rose icing to give the appearance of beautiful blooms.
Dried Flowers
If you are a traditionalist at heart but just want something with a little twist then think about having a dried flowers for you bridal bouquet. Flower Decoupage at Etsy offer some stunning dried flower bouquets and boutonnieres that would be perfect for a rustic style wedding day.
Are you still looking for more ideas for your bridal bouquet? Don't forget to browse our wedding flowers gallery.