10 Alternative Wedding Bouquets
If you love fresh blossoms but want a design that's long-lasting, be sure to consider an alternative wedding bouquet! From silk and linen flowers to brooch and cupcake arrangements, there's a diverse range of eye-catching options to choose from.
We have included third party products to help you navigate and enjoy life's biggest moments. Purchases made through links on this page may earn us a commission.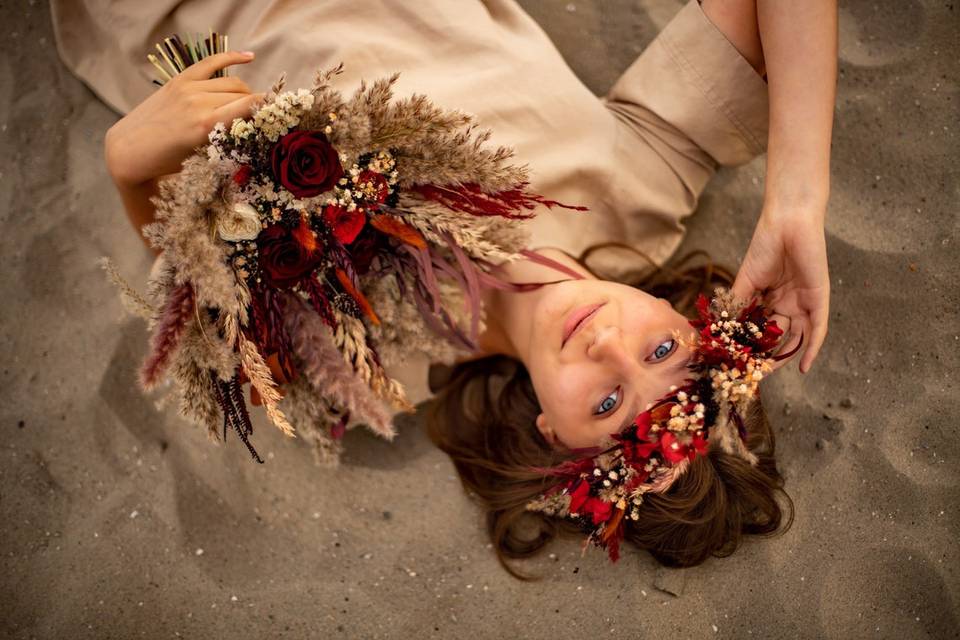 Wedding bouquets are a timeless tradition that dates back to Ancient Rome. For hundreds of years, nearlyweds have carried garlands or floral arrangements to signify new beginnings, fidelity, and the hope of fertility as they embark on a new journey with their beloved. Today, many couples continue the custom, but often add their own unique twist to classic designs.
When envisioning your ideal bouquet for your big day, however, you don't have to feel limited to fresh blossoms! From dried wildflowers to arrangements made from dazzling brooches or even paper, there is a wide range of alternative wedding bouquets to choose from. Better yet, these non-floral options will remain beautifully intact as a tangible reminder of your happily ever after for years to come.
To help you find a bespoke arrangement that sparks joy, we've curated an edit of our favourite alternative bouquets! Whether you're a fan of boho-chic or elegant aesthetics, this selection has got you covered. You could even take inspiration from seasonal wedding styles and flowers for a truly eye-catching bouquet.
1. The Juliette Silk Flower Bouquet - €145.07, Not On The High Street


For a wedding bouquet that still has that floral feel, consider a realistic fabric bouquet. We love this silk flower arrangement by Lily Maud tiaras & Wedding Flowers, which includes cascading blossoms and pink roses. Match your fabric wedding bouquet with the colour of your bridesmaid gowns to really create some symmetry in your celebration photos!

Shop Now
2. Paper Flower Bouquet - €82.67, Etsy
Whether you're a fan of origami or simply appreciate the skilled art form, a paper flower bouquet could be the perfect option for your wedding day. This paper floral arrangement incorporates all the details of real flowers, resulting in an authentic yet everlasting design that you can treasure for years to come. Better yet, the style can be customized entirely to your liking.

3. Champagne Feather Wedding Bouquet - €104.48, Etsy

Radiate old Hollywood glamour as you walk down the aisle with this feather wedding bouquet in hand. Reminiscent of the roaring 20s, this luxe bouquet is complete with high-quality feathers, as well as satin roses and rhinestones. This arrangement, with its elegant champagne tones, is an ideal alternative for fans of vintage-inspired designs. The store also has a dusky rose feather bouquet available.
4. Burgundy Wedding Bouquet - from €37.50, Etsy


Nearlyweds who are obsessed with everything boho or contemporary-chic will love these dried flower arrangements! The aesthetic possibilities when it comes to these bouquets are truly endless, with matching flower crowns also available. No matter your style, you're sure to find a dried floral design that aligns with your vision.

Shop Now
5. Sci-Fi-Inspired Wedding Bouquet with Brooches - €274.76, Etsy
If you want a wedding bouquet that says something about your interest, then Etsy shop Maddison Rocks has you covered. We've picked this cool Star Wars-inspired bouquet, which even has light-up heart-shaped lightsabers, but there are also Harry Potter and Beauty and the Beast styles to choose from.
6. Winter Bouquet with Pine Cones and Evergreen - from €75.66, Etsy


This stunning bouquet made from pine cones and delicate wood flowers is an ideal choice for a winter wedding day. The cones, complemented by evergreen branches, are a perfect nod to the colder season. The exquisite roses featured in this design are thoughtfully crafted from softwood and can be dyed to align with an array of colour schemes. After your event, this alternative bouquet will last for years to come, and it could even be lovingly repurposed for another milestone occasion.

Shop Now
7. Retro Button Bouquet - €150.20, Etsy
If you are looking for an everlasting wedding bouquet that aligns with your unique personal style, why not consider a button bouquet? This handcrafted arrangement by BunnyRaeStudio would be perfect for retro-themed celebrations. What's more, you could even turn the design process into a hen party activity for you and your nearest and dearest to enjoy!
8. Linen Flower Bouquet - €58.03, Not On The High Street
If you adore boho-inspired, DIY aesthetics, then this linen flower bouquet is sure to spark joy! Carefully crafted from floral fabric, the handmade arrangement can align with an array of colour schemes and celebration styles. From soft pinks and beiges to refreshing blues and purples, there's a wide variety of hues to choose from.
9. Leather Bouquet with Magnolias and Peonies - from €178.63, Etsy
For another take on a realistic yet long-lasting wedding bouquet, how about a leather floral arrangement? This vibrant design consists of magnolias, peonies, and sprigs of greenery. You have different sizes to choose from and can also customise the type of flower with some from the shop's other bouquets.
10. Cake Bouquet - €30.04, HappyFlourGlasgow
Your sweet tooth will love this alternative cake bouquet option! The arrangement is as delicious as it is aesthetically pleasing, featuring macarons, cupcakes and chocolate-covered strawberries as well as delicate baby's breath. This bouquet may not last forever, but it's sure to go down a treat after your ceremony.
Shop Now

Once you've picked out a breathtaking bouquet for your milestone celebration, be sure to choose other bespoke details to complete your wedding vision! These fun floral bridesmaid dresses are perfect for nearlyweds who can't get enough of beautiful, nature-inspired aesthetics.