Wedding Flowers Explained
Flowers and their meanings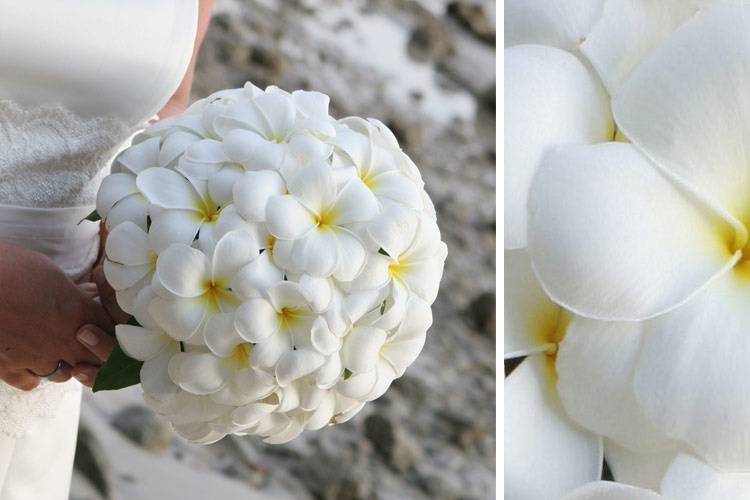 If you struggle to know your Dahlia from your Delphinium then you may find choosing your wedding flowers a challenge. Take a look at our guide of five popular wedding flowers and discover their meanings for your wedding bouquet.
Frangipanis
A frangipani bouquet will be beautifully fragrant as this tropical flower emits a strong and heady scent. The five petals on each frangipani are perfectly symmetrical leading this bloom to represent perfection. If you are looking to have frangipanis in your bridal bouquet you will find them in a range of colours including white, pink and yellow.

Tulips
Tulips represent elegance and grace, the epitome of what you want to exude on your wedding day. With their wide range of colours such as pink, yellow, red and purple, you will be spoiled for choice when choosing a colour palette for your tulip bouquet.

Peonies
A beautiful flower, peonies with their round and full shape are said to represent romance, prosperity and are the omen of good fortune and a happy marriage, so what could be more perfect for your big day. Peonies come in beautiful shades of pink and ivory so can fit perfectly with a range of colour schemes.

Roses
One of the most popular of wedding flowers, not only do roses work beautifully in bouquets of all different styles, they also have varied meanings that can add to the sentiment of your wedding bouquet. Red roses represent love and passion, whereas pink roses symbolise warmth, harmony and joy. If you want a colour that is a little different then orange roses represent desire.

Gerbera Daisies
If you're looking to inject a bit of colour into your bridal bouquet then Gerbera Daisies will be perfect. Their bright and bold shades will look stunning against the contrast of a white wedding dress. They are traditionally a flower that represents happiness so will make the perfect recruit for your wedding bouquet.