Beautiful Brooch Bouquets
Bouquets to last a lifetime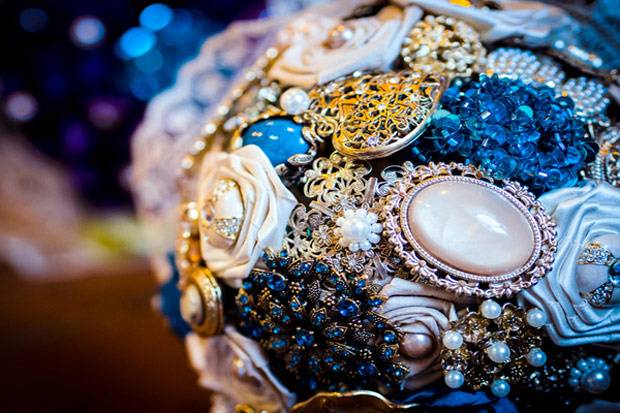 With so much time and effort being put into the design and style of your bridal bouquet, it seems a shame for that bouquet not to last forever. Many companies are beginning to offer a service where you can preserve your bridal bouquet by drying out the flowers individually and then piecing it back together. But if you are looking for an even simpler way to keep your bouquet why not consider an heirloom bouquet or brooch bouquet. We have spoken to three suppliers of these timeless bouquets and have some of their most beautiful styles to show you.
Teal Heirloom Bouquet from Ruffled Ruby
If you want a wedding bouquet that will be stylish and ever-lasting then Ruffled Ruby specialise in innovative, handmade, vintage-inspired wedding accessories. Ruffled Ruby tell us a bit more about their brooch bouquets:
"At the moment, we are focusing on brooch bouquets, bespoke buttonholes and corsages while working on numerous other ranges including hair accessories and shoe clips. Our brooch bouquets are proving especially popular with brides looking for that certain something with a difference. A brooch bouquet can be an unforgettable keepsake to take you on a sentimental journey of your wedding, long after the day has passed".
Gold and Ivory Bouquet from Ruffled Ruby

We also spoke with The Fairy Godmother's Weddings who make beautiful brooch bouquets; and be the first to see their stunning lilac design that has been designed and created exclusively for hitched.ie! Louise — owner of The Fairy Godmother's Weddings says:
"Every bride wants to be unique and individual on their wedding day and brooch bouquets and bespoke rose bouquets are a great way to start."
Bouquets from The Fairy Godmother's Weddings
"Apart from having a love of all things that sparkle, a bride may choose to carry a brooch bouquet or bespoke rose bouquet as a way of including family heirlooms. A grandmother's or mother's brooch, or even a charm with their past loved one's picture, will include their memories in a very intimate and important way.
They have also proved very popular with couples who are marrying abroad. The bouquets can be easily packaged and transported to any destination, saving brides the task of sourcing florists at their destination.
With orders for weddings up to 2015 I believe this is a trend which is not going to fade any time soon."

If you are looking for an ultra glitzy bouquet that will last a lifetime then Best of Buds in County Kerry offer some beautiful styles, perfect for a vintage wedding day with a bit of added sparkle. Beautiful diamanté detail mixed with pearls and all other types of jewellery make their heirloom bouquets stand out from the crowd and will look stunning in your home after your big day.
If you are having a gold theme to your day then their Vintage Heirloom Bouquet (pictured left) will be perfect for your wedding day, which can then stand beautifully in your home for years to come, and even be handed down through generations. Or perhaps you are having a wedding day with glitz and sparkle, the Silver Brooch Bouquet (pictured right) is made with a mix of gorgeous silver brooches.
Bouquets from Best of Buds, photographed by IC Photo Studio
Best of Buds can also incorporate your own special pieces of jewellery into your heirloom bouquet to make it truly personal.
These are just a selection of beautiful brooch bouquets, a great alternative to traditional flower bouquets and by using your own precious jewels you can create your very own family heirloom to hand down through generations.
For more ideas and inspiration visit our floral inspiration gallery.