Know Your Bouquet Styles
Reflect your personal style with a beautiful bouquet on your big day. Whether you're a flower aficionado or simply love the romantic look of blossoms, this guide of shapes and styles is sure to make your floral planning process a breeze.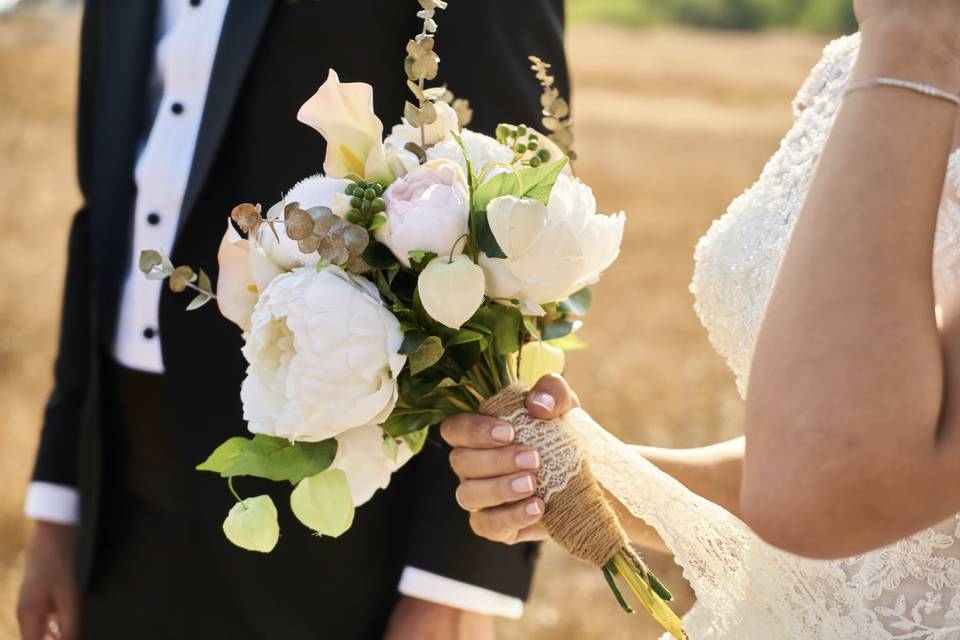 Wedding bouquets can be made up of an array of eye-catching blossoms. Enchanting lillies, modern succulents, and romantic roses are just a few options to consider when coordinating your personalised arrangement. You may know the exact type of floral design you'd like to be holding for your milestone moment – or you may not know where to begin. Teaming up with a talented florist in your area could be the perfect way to ease into the planning process. Inspired by your needs and preferences, a floral designer will use their expertise to bring your distinctive vision to life.
To narrow down your decision, we've curated a helpful list of the most popular wedding bouquet styles. This way, you can have an understanding of what you do and don't like in a floral design as you coordinate your one-of-a-kind look. Whether you prefer classic designs that radiate elegance or boho-chic aesthetics, you're sure to find a bouquet style that highlights your taste.
1. Nosegay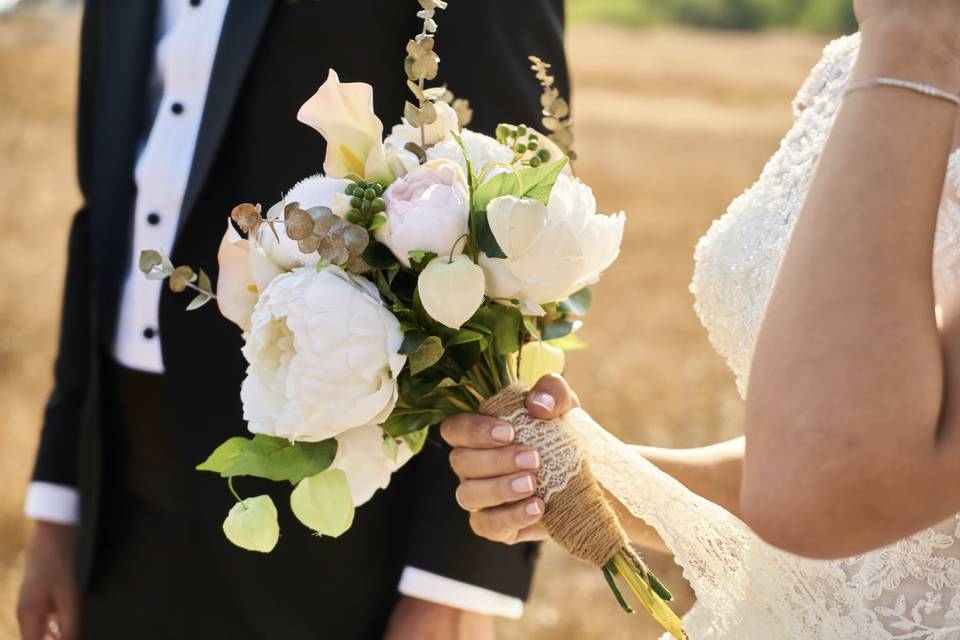 A collection of different flowers that are hand-tied—typically using ribbons or organza. A nosegay is smaller than a posy and has more greenery.
Due to its small size, the nosegay bouquet is often a popular choice for wedding party members to hold. This style will also work perfectly for nearlyweds that want a subtle, small bouquet that won't distract from their dress. The term nosegay translates to mean 'nose-happy' as this style traditionally features lots of scented blooms and was used in bygone times to cover bad smells! For a nosegay-style arrangement that's sure to impress, A New Leaf in Killarney would be delighted to help.
2. Presentation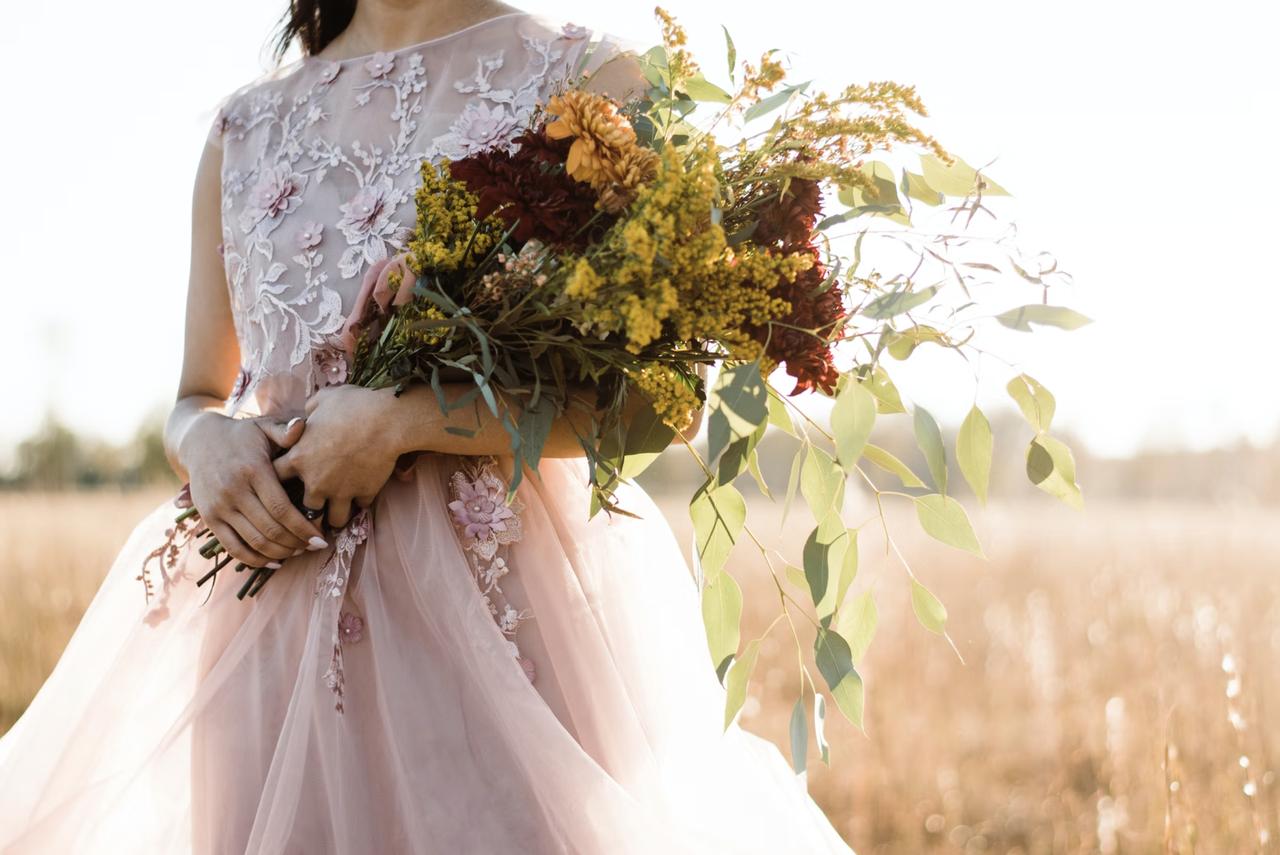 A presentation bouquet features long stemmed foliage and flowers that lie across the arms.
If you are planning a vintage-inspired wedding day, then a presentation bouquet could be the perfect style for you. The long, slim arrangement makes it ideal for nearlyweds wanting a simple design to pair with something like a column-style wedding dress. Delphiniums, roses, and lilies all work beautifully in this bouquet and offer an elegant, timeless aesthetic that's sure to dazzle in wedding photos. For presentation bouquet inspiration, check out Ring O Rose's delightful floral designs.
3. Posy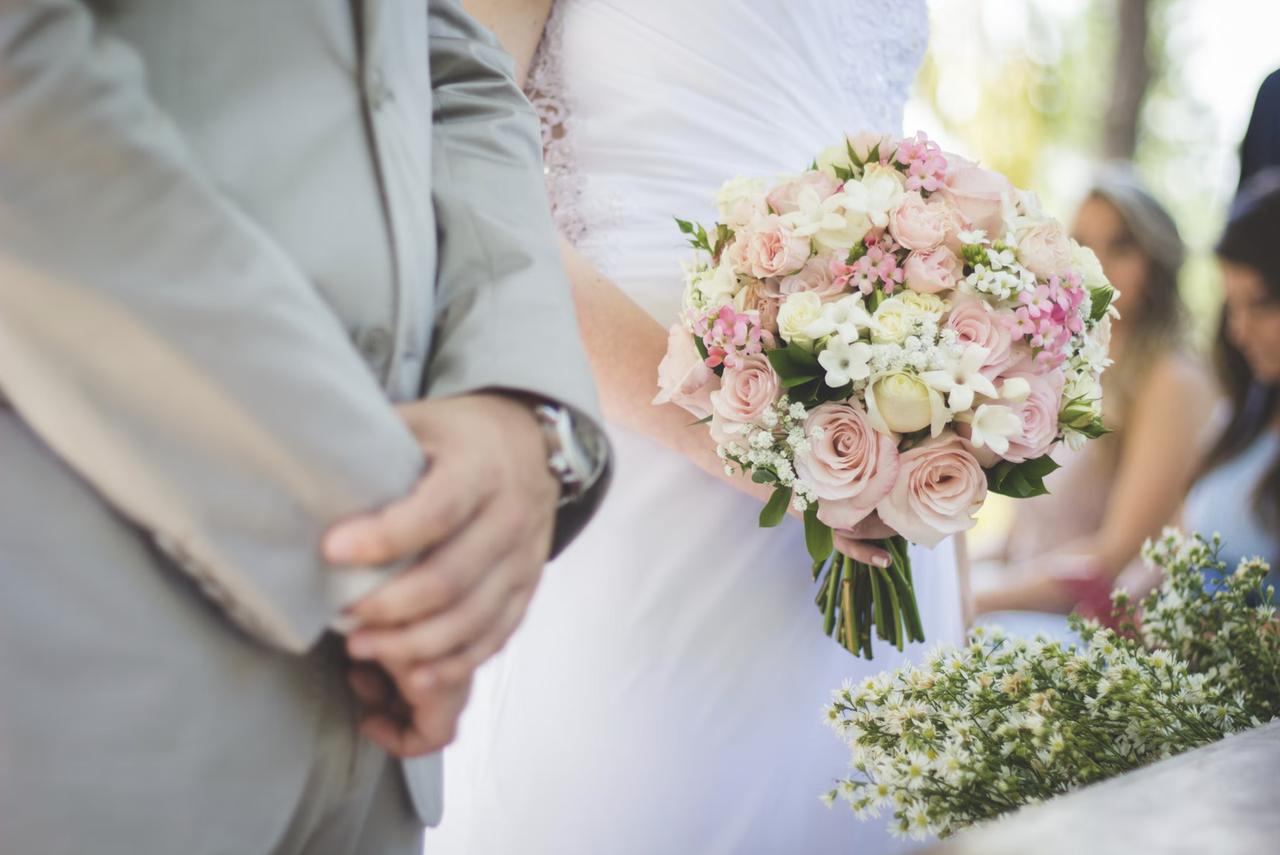 A posy is round and can generally be held comfortably in one hand. Choose to have your posy bouquet hand-tied and unstructured or wired.
Posy bouquets are a classic style and one of the more traditional bouquet types. Generally made up of the same flower, a posy bouquet is perfect if you have a heavily detailed dress and want a simple style that is going to look elegant and not distract from your gown. A posy is also ideal if you're planning on tossing your bouquet as it's light and easy to throw! For a wide variety of posy bouquets, be sure to check out Flowers Touch in Dublin.

Find Out More
4. Teardrop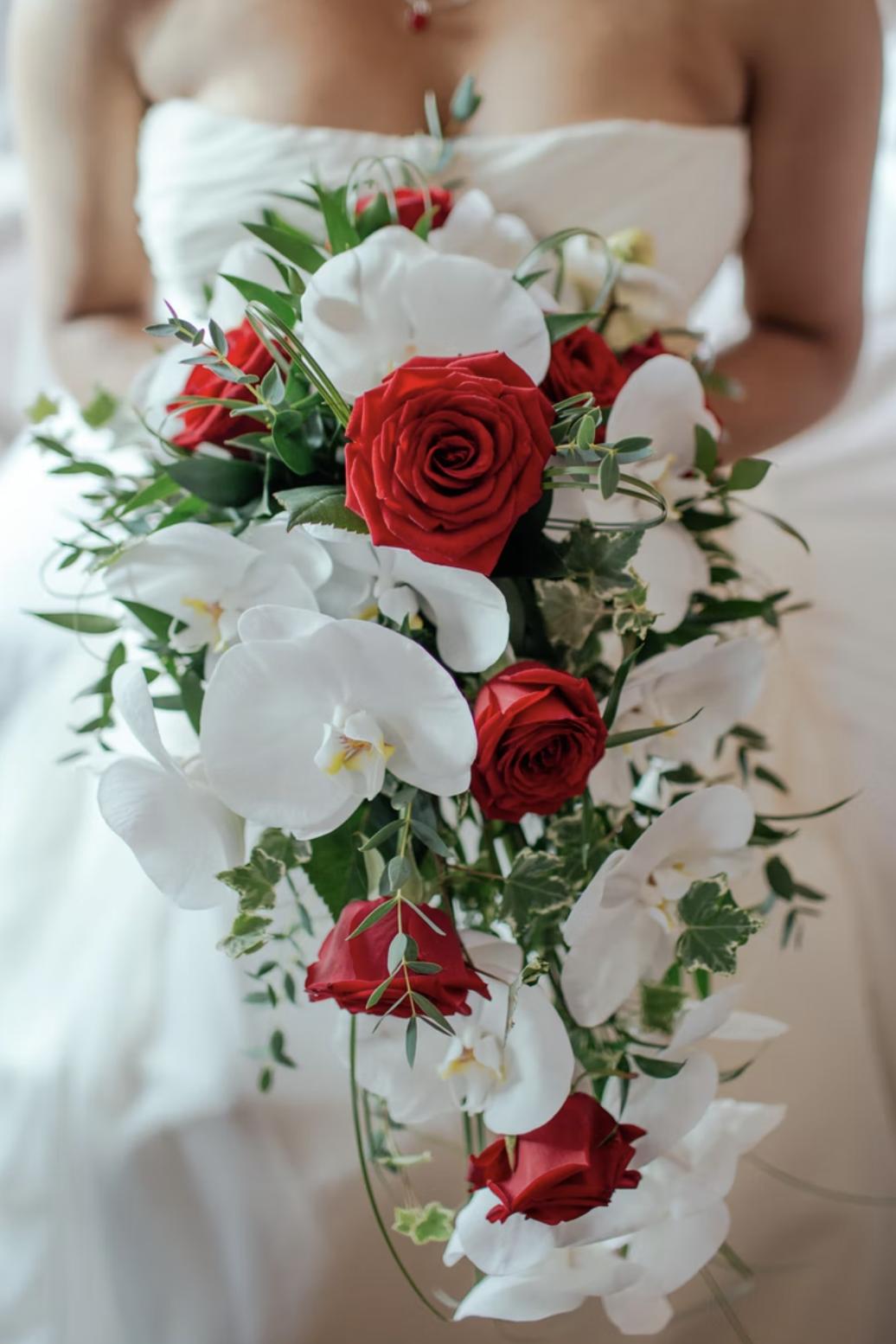 A teardrop bouquet is a long and trailing style that starts large at the top and drops into a flowing point.
Teardrop bouquets––also known as cascade or shower bouquets––are one of the more formal styles, making them ideal for grand, traditional wedding days. As teardrop bouquets tend to be quite large, the arrangements work well with ballgown wedding dresses or gowns with a spectacular train to offer some balance. This style could be perfect for nearlyweds who want to make a statement as they walk down the aisle. If you're dreaming of a bespoke teardrop bouquet design, Elegant Flowers in Wicklow has got you covered.
5. Rustic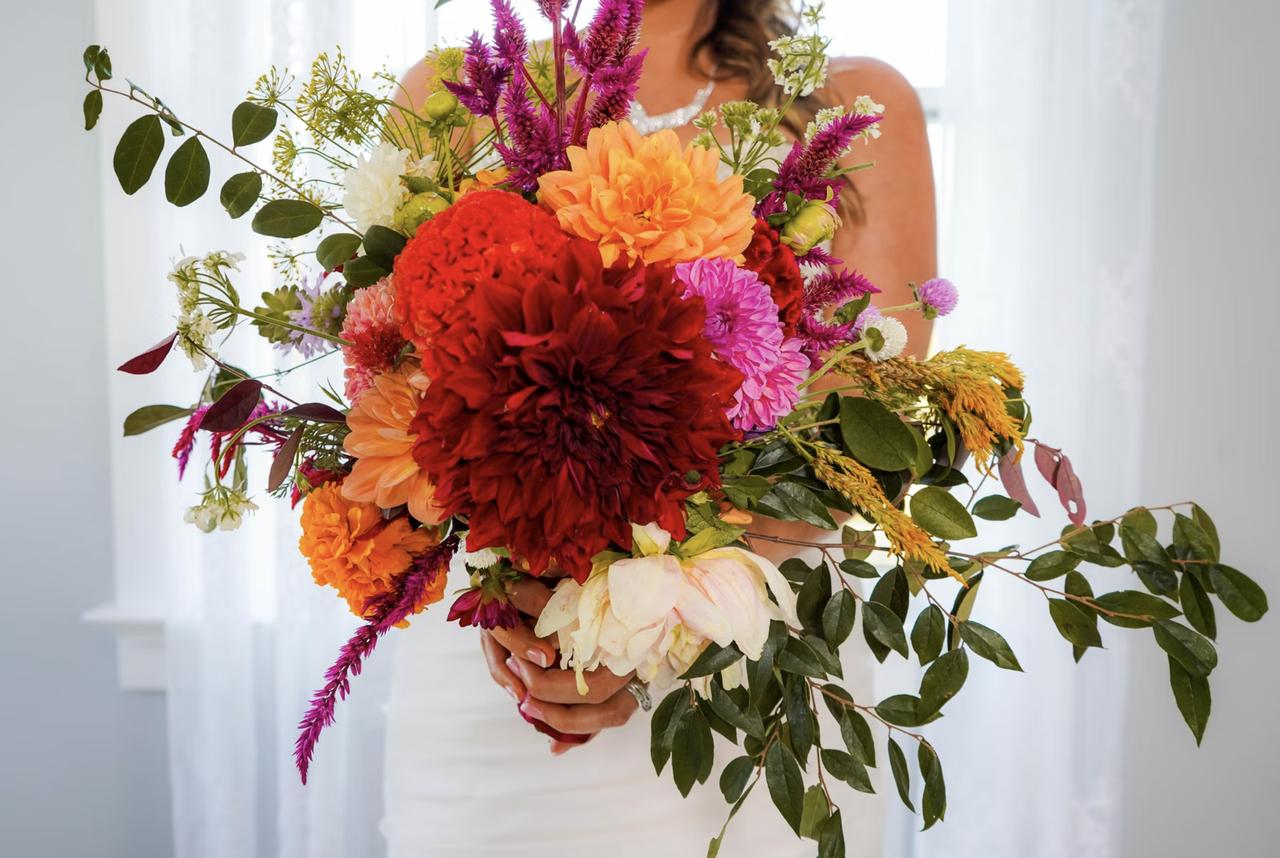 This is a loose arrangement that features lots of different blooms at different lengths all hand-tied together.
Rustic bouquets are very on trend and allow you to get a bit creative with your wedding day look. Nearlyweds wanting a relaxed aesthetic for their milestone event will love this nature-inspired aesthetic. If you want to really embrace a boho theme for your celebration, then ask your florist to include wildflowers. Blossoms such as cornflowers and lavender will achieve an organic bouquet style. For whimsical designs, Best of Buds Wedding Flowers in Killarney has got you covered.

Find Out More
6. Crescent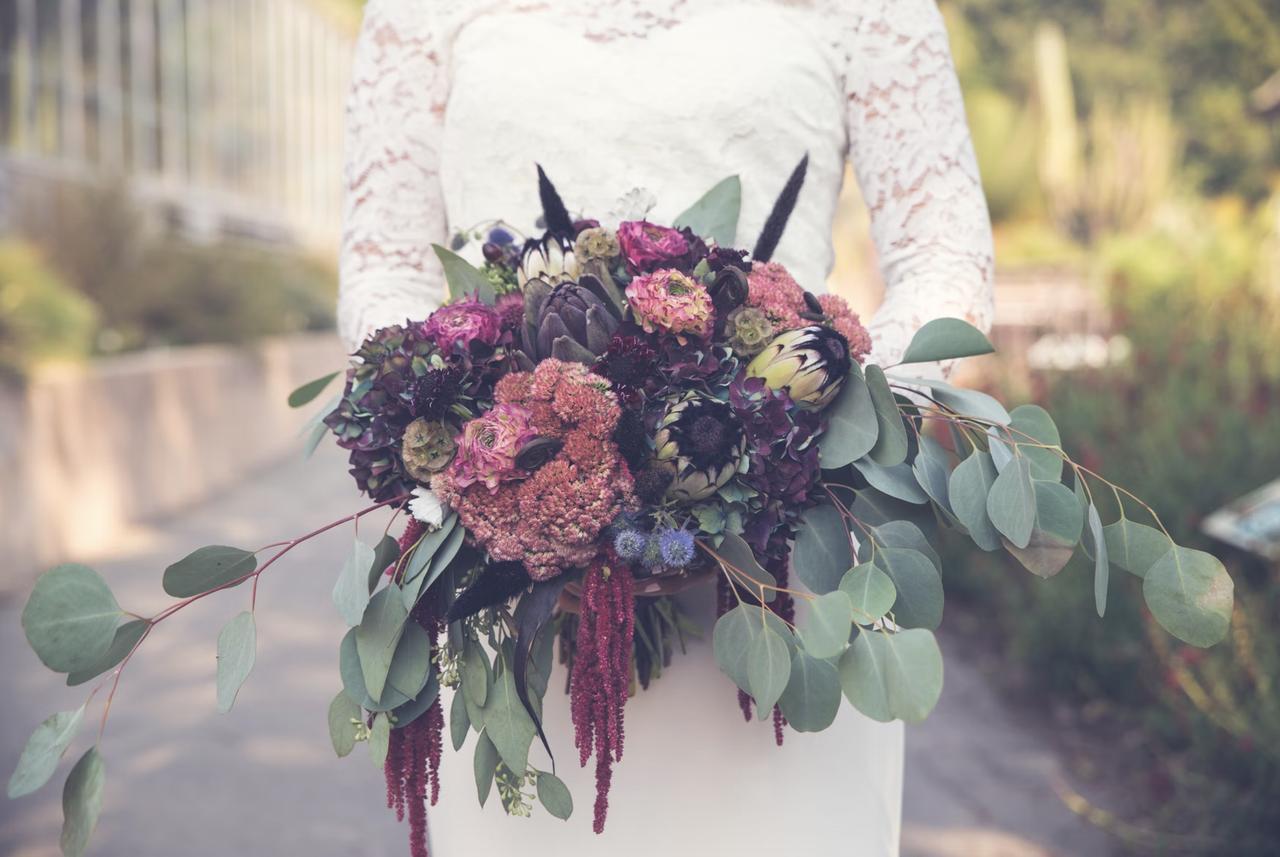 A crescent bouquet is a delicate style that falls into a half-moon shape.
If you have a very light and delicate dress then crescent-shaped bouquet is a perfect option. The delicate design works beautifully with tulips, roses, daffodils, and peonies, as well as many other eye-catching blossoms. You could even carry a larger crescent bouquet while your wedding party members hold smaller versions if you'd like! To begin curating a crescent bouquet that aligns with your vision, get in touch with Wedding flowers with love, based in Carlow.

Find Out More
7. Pomander
A pomander is a spherical bouquet that is suspended from a ball.
The pomander bouquet—sometimes known as a "kissing ball"––is a popular style in the USA and is traditionally carried by wedding party members. The hanging ball of flowers is thoughtfully put together with wire and is easy to hold throughout the day, thanks to its ribbon suspension. Why not add a string of beads or pearls to the design––like this refined option––add a touch of sparkle?

Find Out More
8. Basket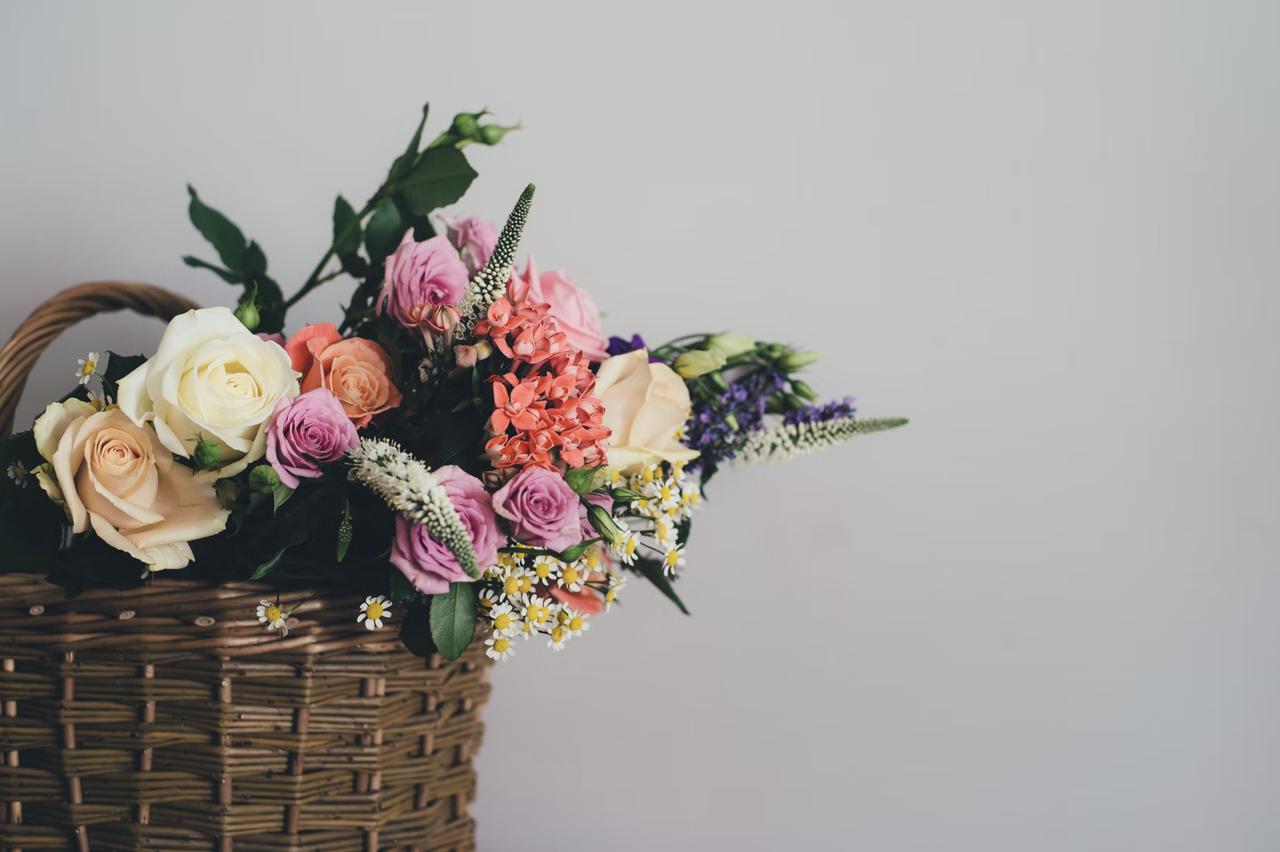 A basket bouquet is an arrangement of flowers that is placed in a basket and can be carried down the aisle.
With the ongoing trend for boho-chic and vintage-style weddings, basket bouquets are becoming increasingly popular and are something a bit different for nearlyweds wanting to make a statement. To really embrace the style, be sure to ask if your florist can also weave blooms into the basket as a beautiful finishing touch! Check out Kildare's Daisys Floral Creations for more basket bouquet inspiration.
Find Out More

Now that you're familiar with bouquet styles, you'll want to pick out the perfect blossoms for your lush arrangement. Whether you're planning a sun-kissed summer celebration or a cosy, wintry bash, our guide to seasonal wedding flowers has got you covered.