Wedding Stationery Considerations
What to Consider When Choosing Your Wedding Stationery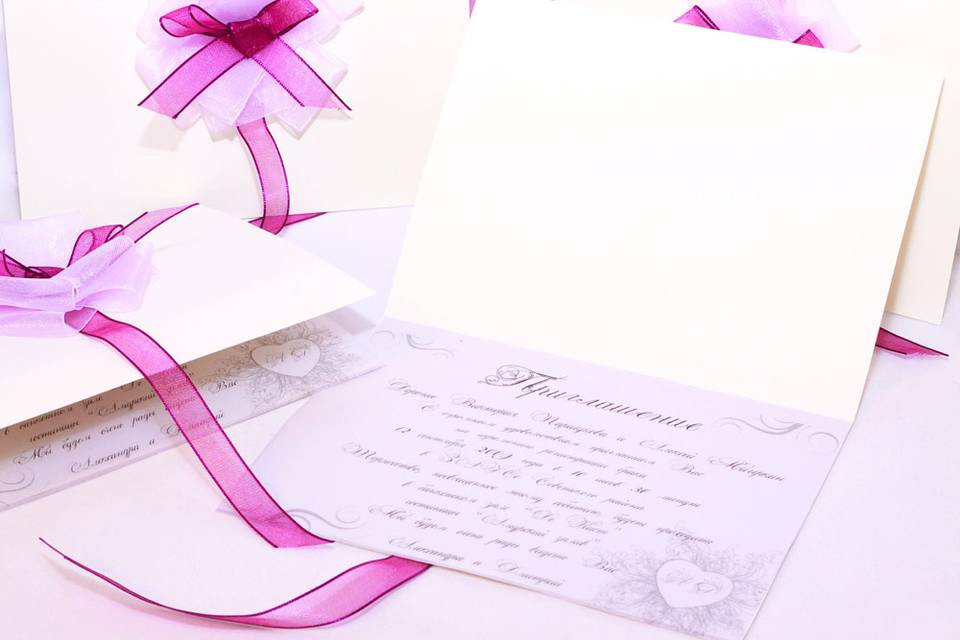 There are so many choices of wedding stationery out there that at times it can be overwhelming when deciding which one to go with. Should you go with colour or plain, elegant or funky; will you use your own creative talents to do your own or will you leave that task to the wedding stationers? One thing to keep in mind is that your invitations should reflect something about the bride and groom and consider the style of the wedding you are planning.
Choosing Your Style
Conventional wedding invitations were mostly formal ivory or white card with black or dark grey print. This is still very popular for more formal weddings, however the choice of invitations available today is vast, with a style to suit all themes, budgets and personalities.
With multi coloured backgrounds, textured paper, gilt edges, organza ribbons and the use of personal photographs, the choice is endless. You therefore may want to reflect on what is important to you and your requirements.
Points to Consider
Will your wedding be — romantic, themed, relaxed, elegant, semi-formal, fairytale, funky.
Seasons — you may wish to carry the time of year you have your wedding through to the invitations.
Religious or civil — the venue you get married in will influence your choice; this will also be the same for beach, garden, hotel and so on.
Organic — there are many ways to carry this theme through to your wedding and it can start with invitations. They can be printed on recycled card using wild flowers to decorate.
DIY — for the creative! Allow time and consider the points mentioned when designing your invites.
Planning
Even the simplest of weddings need careful planning. With regards to your guest list, this should be discussed and agreed by all who are involved in contributing financially to the big day. As soon as the invitees and style of wedding has been established, you should be ready to choose either a professional wedding stationery supplier or looking at craft sites and magazines for inspiration for your cards.
It's worthwhile researching suppliers; get some brochures and packs and check out their websites. Look for a supplier who will not charge for any examples made for you and ensure that the supplier will not expect payment for a whole 'new' order if you find you need to request more numbers than had originally been agreed.
Ordering Your Invitations & Extras
As well as the invitations you will also need envelopes to match. You may also want to consider ordering, RSVP cards, thank you cards, menus, place cards, Order of Service cards for each guest; if you're having a church service, remember to add extra of these for the Vicar and choir, etc.
In terms of invitation numbers, be careful not to make the common mistake of assuming you need to order 100 invites because you have 100 guests. Bear in mind the couples who will need only one invite and any family members under the age of 16 can be added to a family invite. You should also send invitations to your wedding party, including parents.
When placing your order, add extra to allow for people you may have forgotten or for any mistakes made on the envelopes. And don't forget to keep one for yourself as a keepsake!
Allow ample time for stationery to be printed and addressed. (Consider numbers and timing if you have a calligrapher or wish to do this yourself). Invites should be sent out two to three months in advance of your wedding.
Printing & Wording
Engraving creates a textured raised effect; however this can be an expensive option. A less expensive alternative is Thermography which produces almost the same effect. For smaller numbers, Calligraphy is another option and can be done by hand or computer.
Considerations need to be given to the family relationship when wording your invitation. A good supplier will be able to advise you on this if you have any anxieties or questions.
When sending your invites, don't forget to enclose your RSVP cards too! The style of wording for the reply cards can follow your invitations. Today, the bride and groom tend to choose more personal, creative wording. 
Information You Need for Printing
Wedding date, time and place
Reception venue and timings
Parent's names / Name of hosts
Full names of the bride and groom (including middle names)
Time to Post!
Before you drop your invites in the mail box, be sure to proofread them very carefully. Have someone else check the wording for a fresh eye view!
Send your invitations two to three months ahead. Allow extra time for mailing to any overseas guests and plan extra time if you hear of any postal strikes that may impact on the delivery system!
Choosing and creating your invitations should be a pleasurable part of the wedding planning process. Once you've decided on the style and number of guests, you can enjoy watching your ideas turn into reality. Remember, they don't have to cost a lot to look great. Be organised, do your research and have fun.
Browse our wedding stationery gallery for more ideas.